Happy & Safe Independence Day
07-03-09, 06:17 PM
Join Date: Apr 2007
Location: Near Buffalo, NY
Posts: 4,239
Happy & Safe Independence Day
---
The band played for an early celebration on Wednesday. It was a small-town park, and the focus of the celebration was to honor the town's military Veterans.

By the time we finished the sun had set. The sound system played a pristine version of the National Anthem at a wonderfully loud level. A flag waved atop the tallest structure in the park, lit by a single spot light. When the anthem ended the fireworks started.

The sound system fell silent. A large portable light system was then turned on, focused on the group of uniformed Veterans ... some holding photos of their fallen brothers. The fireworks were their backdrop.

The entire crowd of 3,000 had risen from their chairs during the anthem. They never sat down again, and they never stopped cheering for the entire duration of the fireworks show.

In my 55 years on this planet I have never experienced anything like it.

About 25 miles up the road is another small town. My band is playing there tomorrow for their Independence Day celebration. I'm told it's more like a carnival, with rides, corn dogs, fried dough, games, contests, entertainment, and of course, fireworks.

I'll probably cry again when the first bomb bursts in the air, but not because of the fireworks. All I will see in my mind is that group of people from Wednesday who sacrificed -- and held photos of those who made the ultimate sacrifice.

Happy 4th, friends.
Sponsored Links
07-04-09, 05:20 AM
Let Freedom Ring
---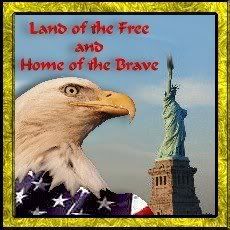 Credit: PatriotIcon.org
07-04-09, 04:35 PM
Banned. Rule And/Or Policy Violation
Join Date: May 2007
Location: Wisconsin
Posts: 8,629
Yes, we can never forget the sacrifices made by others so that we are here and able to enjoy our independence and freedoms.

On a light note, I heard some rendition on tv this morning of when Rosanne Barr sang (well...not really sang in many people's definition) the National Anthem. I can't remember for what event it was. But I can't imagine anyone choosing her over say someone like Sandy Patty, or someone with a quality voice like that.
Posting Rules
You may not post new threads
You may not post replies
You may not post attachments
You may not edit your posts
---
HTML code is Off
---