23 February 1945
02-23-12, 04:42 AM
23 February 1945
---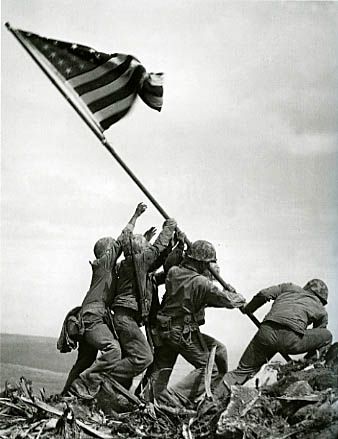 Sponsored Links
02-23-12, 02:51 PM
Probably one of the most courageous acts caught on film. Gotta remember, they were on top of a hill/mountain with no cover.
02-23-12, 03:16 PM
Is that the original photo or the later one?

I think there a difference in the people and the wind direction.

Any way you cut it, it is certainly very symbolic and the timing is appropriate..

Dick
02-23-12, 04:31 PM
Join Date: Aug 2009
Location: USA
Posts: 4,941
The first picture was with a smaller flag. Then they got orders to put a larger one up. I believe that is the larger one and the famous image.

I think at the point that flag went up, those guys were not in very much danger of being hit. It was the highest point on the island by far. Even though they were tough to root out, I don't think the remaining Japanese had the guns to hit them from their positions. I'm largely speculating since I was no where near the island at the time.
02-23-12, 06:36 PM
At least the GIs were smart enough to have the wind at their back.

My uncle was there or just a little later (Army signal Corps) and I will have to look at the old photo he had, although I heard the story. Even then, the presentation, publicity and politics were present.

Dick
02-23-12, 07:02 PM
Join Date: Aug 2009
Location: USA
Posts: 4,941
02-23-12, 08:41 PM
Join Date: Jan 2011
Location: United States
Posts: 2,446
Not trying to be political but it is a shame how veterans and the military have been treated it sure isn't the way they were treated in the past. Now they get treated more like trash than human beings. I have never been in the military as I couldn't qualify because of health reasons. My dad was though and back in the day he mustered out they treated the military better.
02-24-12, 04:24 AM
Join Date: Mar 2005
Location: USA
Posts: 44,014
I know many of the Vietnam vets were treated bad when they returned home but I've not seen any of that for the modern day vets, in fact many times the celebration of their return makes the news..... at least in my neck of the woods
02-24-12, 05:02 AM
This is the Pulitzer Prize-winning "second" flag raising. There's a story that Joe Rosenthal, the photographer, "staged" the second raising, but he did not; just happened to be in the right place at the time.

For the record there are six people in the photo, five Marines and a Navy corpsman; only three left Iwo Jima alive:

Their fates:

Mike Strank - Mike died on March 1, 1945. He was hit by a mortar as he was diagramming a plan in the sand for his boys. Mike is buried in Arlington National Cemetery.

Harlon Block - Harlon was Sgt. Mike's second-in-command. He took over the leadership of his unit when Sgt. Mike was killed. Harlon was killed by a mortar blast hours later on March 1 at the age of 21. Harlon is buried beside the Iwo Jima Monument in Harlingen, Texas.

Franklin Sousley - Franklin was the last flag-raiser to die on Iwo Jima, on March 21 at the age of 19. Franklin is buried at Elizaville Cemetery, Kentucky.

Ira Hayes - Survived the war, but was troubled by memories of the fighting and died at age 32. Ira is buried at Arlington.

Rene Gagnon - Also survived the war. Rene is buried in Arlington National Cemetery, the Flag Raiser buried closest to the Marine Corps Memorial.

John Bradley (USN) - Survived the war. Died January 11, 1994 at the age of 70, the last surviving flag raiser. John is buried in Antigo, Wisconsin.

=========================================

A little personal historic trivia: I was in attendance when the sculptor of the Marine War Memorial at Arlington (depicting the flag raising), Felix de Weldon, was named an Honorary Marine in 2001.

In my collection of memorabilia, I have a small bottle containing some of the black sands from the beach on Iwo Jima.
02-24-12, 05:57 AM
Join Date: Dec 2005
Location: USA
Posts: 3,188
I have to agree with Mark. Today's veterans are probably treated better than at any time I can remember. Not so for the vets during Vietnam they caught a lot of crap from the media and the parents of the "Occupy" creeps.
02-24-12, 06:57 PM
Join Date: Jan 2011
Location: United States
Posts: 2,446
Treated better by ordinary folks like you and me but for what they do for our country they don't get paid as much as the should and don't get the same help they should to get loans. Now the military is being downsized and I don't see them getting the support they should get. There are just too many gaps for things that need fixing. Certainly better than during Vietnam I agree with that.
02-25-12, 05:36 AM
Join Date: Dec 2005
Location: USA
Posts: 3,188
HedgeC - Low pay is a misconception that many people have. It's probably a holdover from the pre AVF military when pay was awful. When I enlisted (early Vietnam era) my pay was $70 a month.

Currently a PFC's base pay is probably around 22K depending on years of service. Not a lot of money considering what is expected, but not starvation wages either, especially since the PFC is probably a 19-20 years old HS grad. However, military pay is not as simple as that. There are allowances (quarters and subsistence) that will add another 10K-12K to his annual income. These allowances are not taxable so their effective value is even higher. Along with allowances there are incentive and specialty pays such as flight/submarine/hazardous duty etc.

Then you have to consider payment in kind. This PFC pays no medical/dental insurance. If he's married his family also gets free/low cost medical. He gets low cost life insurance (SGLI $400K for about $25 a month). He also gets commissary and BX privileges. I have shopped at a local commissary for nearly 30 years and I can vouch that the savings are substantial probably as much as 30% over local supermarkets. A senior enlisted guy (E-9) is probably making in the 90K+ range.

Don't misunderstand me. I think that military guys earn and deserve every penny. I just wanted to
point out that military pay for the AVF is a bit better than a kid can make flippin' burgers.
02-25-12, 10:21 AM
As my original post was not meant to touch off a discussion, I'll close the thread now.
Posting Rules
You may not post new threads
You may not post replies
You may not post attachments
You may not edit your posts
---
HTML code is Off
---