Frost Tonight
05-30-12, 11:51 AM
Join Date: Jun 2002
Location: Northern Minnesota
Posts: 1,498
Frost Tonight
---
Tonight: Widespread frost after 1am. Otherwise, mostly clear, with a low around 30. Northwest wind around 5 mph becoming calm.
Geezz. I have these plants almost to the roof right now but they cannot tolerate
any
frost, they'll just wilt. Stalk looks like bamboo with different leaves, I'd sure hate to cut them down this early in the year.
Brother suggested I turn on a water sprinkler and keep them wet all night.
Would this work or is he pulling my chain?
Thanks
Sponsored Links
05-30-12, 01:41 PM
Join Date: Mar 2005
Location: USA
Posts: 44,013
They water the strawberry fields around here when frost/freeze is expected so I'd say there is a good chance it will work.
05-30-12, 01:50 PM
The do the same on the orange groves in FL and CA I believe...the water (when not frozen) keeps the temp above 32 and if it does freeze it somehow provides some insulation.
05-30-12, 03:40 PM
That's about the size of it, the ice on the outside is at 32 degrees, but the fruit under the ice is slightly warmer, but they don't usually resort to that unless it's going to be a "hard" freeze - low temperature for extended time; short forays into freezing temps can actually be beneficial.
Only frost I'll be seeing this week will be on my beer glass.
05-30-12, 10:04 PM
Join Date: Jan 2011
Location: United States
Posts: 2,446
You could try old sheets I have done that in the past and it works fairly well to keep the heat in so the plants are warmer. You just want to make sure you pull them up when the sun comes up.
05-31-12, 09:31 AM
Join Date: Jun 2002
Location: Northern Minnesota
Posts: 1,498
Weather service threw me a curve. Late yesterday they dropped the frost advisory saying patchy frost after 4 with a low of 35 so I thought I'd be alright.
Looked at my garage at 5:30, little white with a temp of 31.4°.
What clowns.....Eveleth airport showed a steady temp of 32 from 3:30 till 6:30.
05-31-12, 09:50 AM
Baldwin -

You are in an area where a few miles can make a difference, especially when there is no wind.

While working up there, it was -40F in Virginia, MN. On the way to Mountain Iron, our windows (4 people in the car) would frost up when the went into a low where it was obviously colder. On the plant site we had several "official" recoding thermometers at different location to docement the weather for working conditions. On the top of the ridge, it was also -42F, but down in the low areas on the plant site on the north and south, it was -52F. The rock excavation was halted because the cold could break the stick on a big shovel, but the dirt&clay movers/scrapers were running full speed 24/7 to keep a fresh, unfrozen face to excavate.

It can be a crazy place weather-wise. One month after the -52F, it was below 0F every morning for a month, but I was doing some surveying a month later and there was only 6" of frost in the ground since there was a nice 20" snow cover that started very early in the season.

You must have put those tomato plants in much earlier than the traditional Memorial Day planting date. I rarely got any ripe tomatoes if I waited that to that date, but have to be lucky and have a warm summer.

Dick
05-31-12, 10:21 AM
Join Date: Jun 2002
Location: Northern Minnesota
Posts: 1,498
If it was tomatoes that would be easy. This is some sort of bamboo that is up past the windows already. Here is a fall picture from years ago: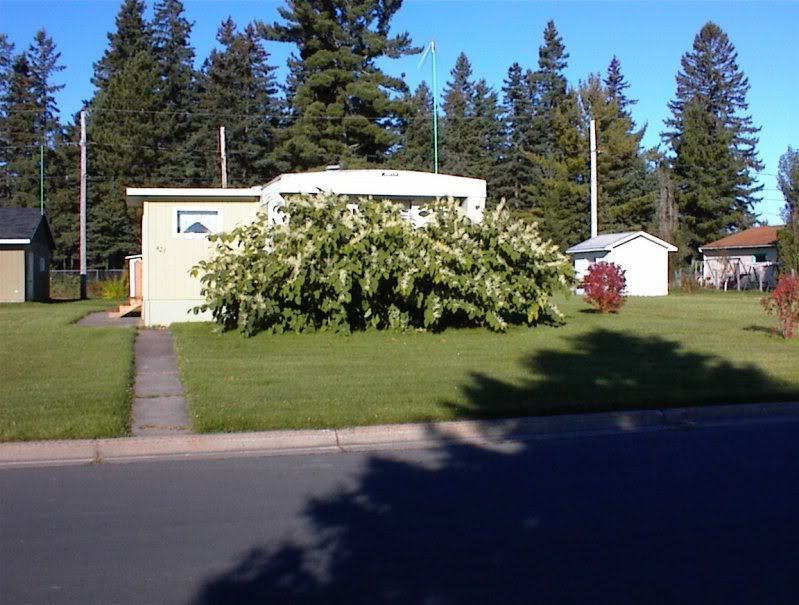 I've had to cut them down from frost when they were a foot or two high before, never this late though when they're almost to the roof.
05-31-12, 03:53 PM
Aaah, looks like crepe myrtles we used to have. Know how to prune crepe myrtles?........with a backhoe
When bamboo is harvested, before they can get the truck loaded with the cuts, the new growth is at about 24" high from where they cut it. I've never heard of bamboo being harmed permanently by frost. Yours may be a different type, though.
05-31-12, 06:40 PM
Join Date: Jun 2002
Location: Northern Minnesota
Posts: 1,498
Finally found it, Japanese Knotweed.....
Japanese knotweed - Wikipedia, the free encyclopedia
Frost doesn't permanently damage it, the above ground stuff just goes to mush. Neighbor had some of this and the best way to kill it is just keep cutting it low till it finally gives up.
Weather service must have received a few calls today after cancelling the frost advisory last night. Advisory tonight from 7pm. Ha, I have 55.8° at 8:30.
Oh well.
Posting Rules
You may not post new threads
You may not post replies
You may not post attachments
You may not edit your posts
---
HTML code is Off
---