Not sure if this should go in motorcycles, trucks, or heavy equipment
09-24-12, 11:37 AM
Not sure if this should go in motorcycles, trucks, or heavy equipment
---
Guy is having a little problem with his transmission...anyone want to try to help.....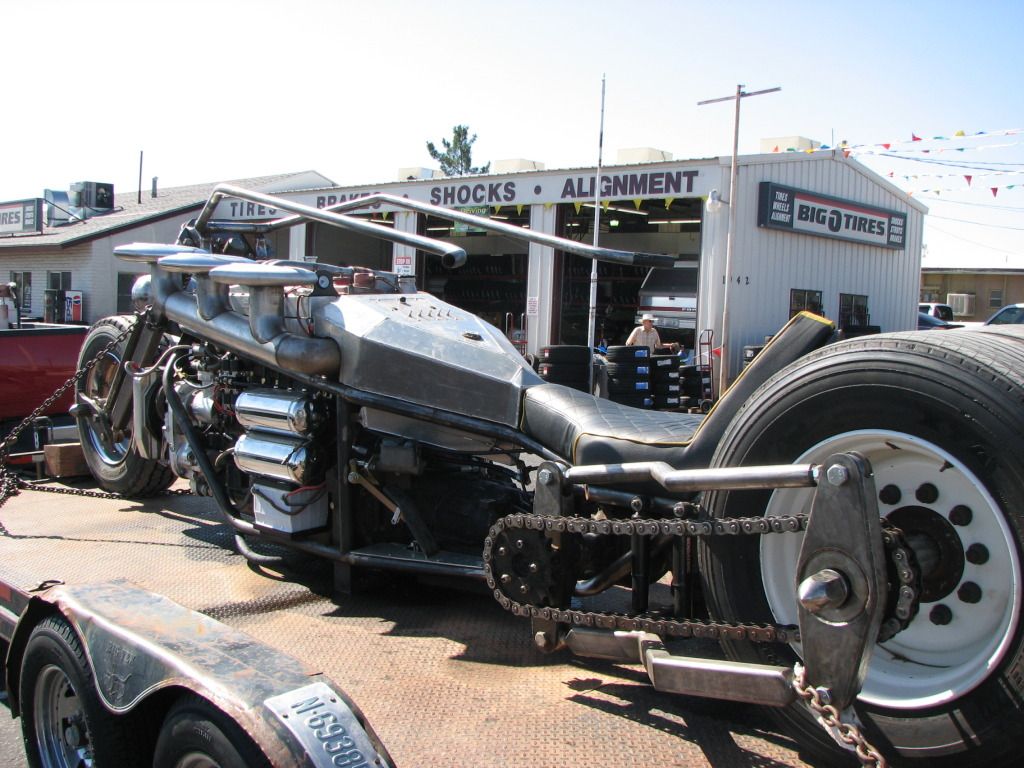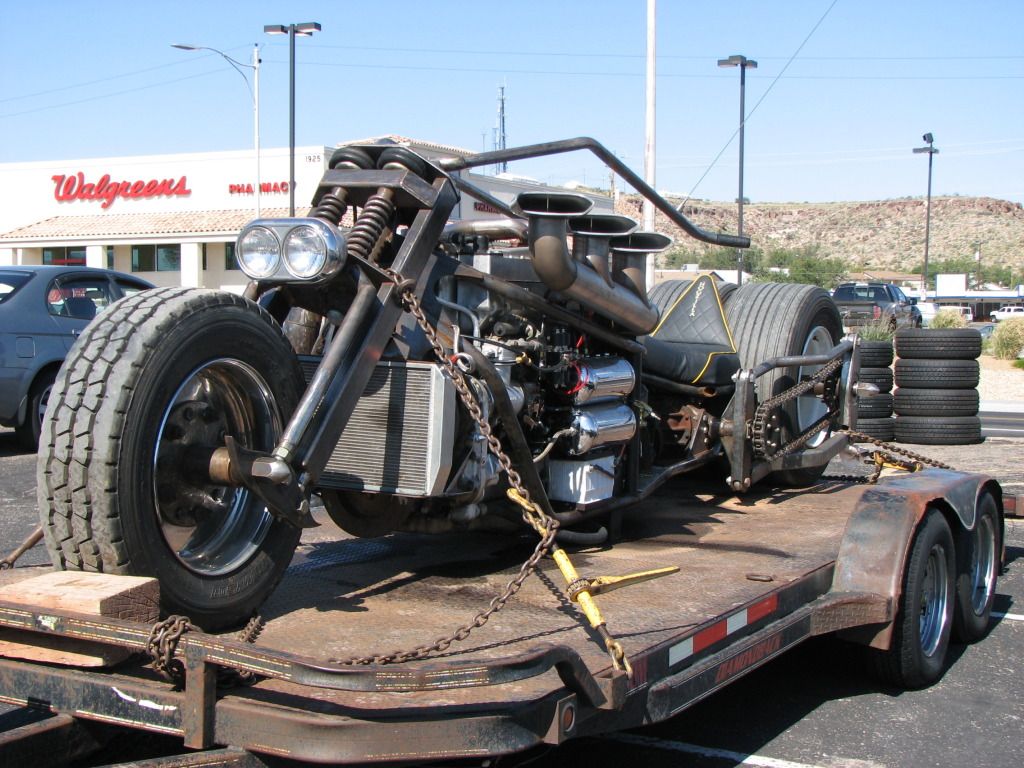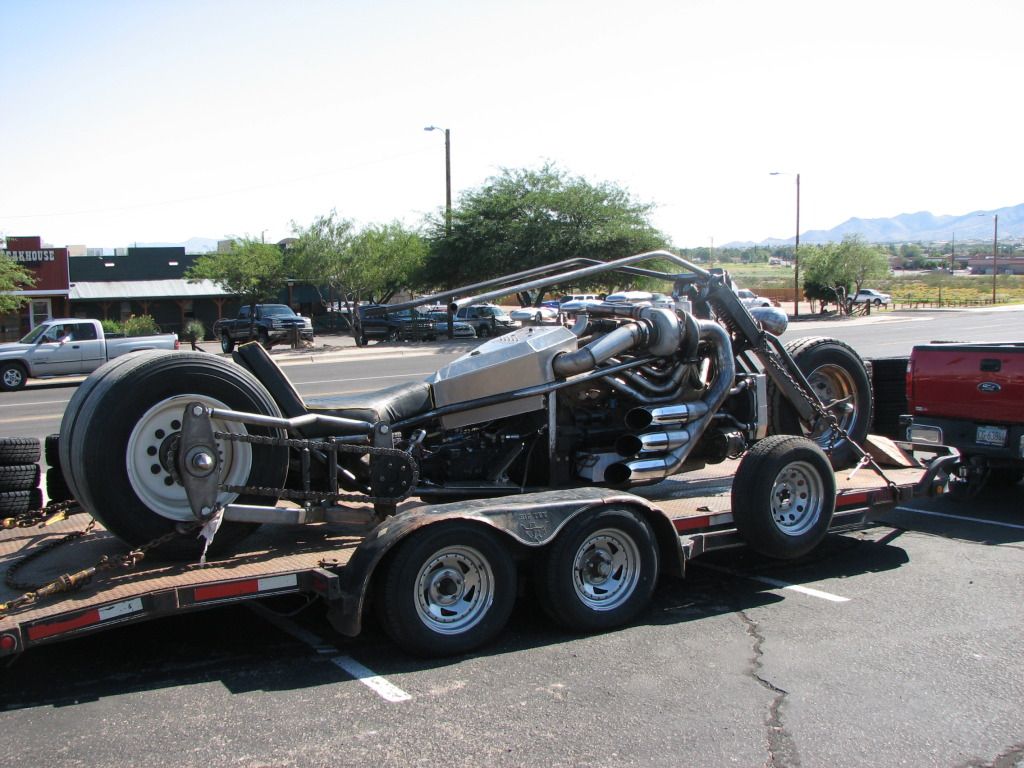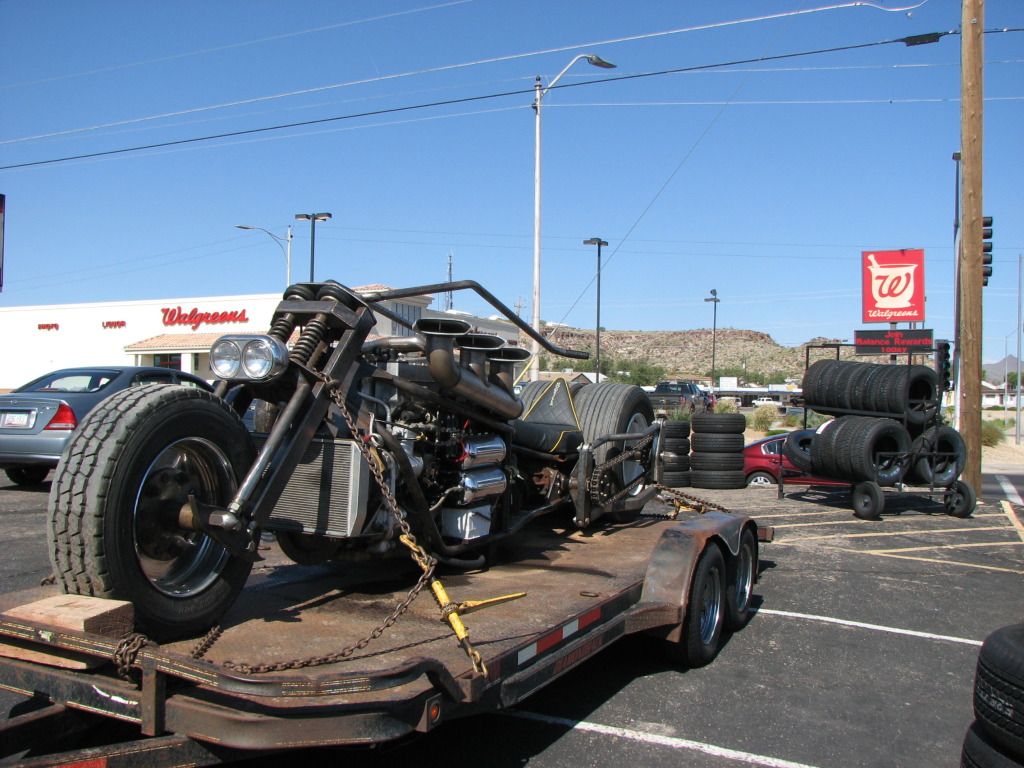 400HP 1500 ft/lb Cummins Turbo Diesel
Thats the back of an F-350 for size reference.....but yeah....it was big!
Sponsored Links
09-24-12, 11:58 AM
Join Date: Oct 2004
Location: WI/MN
Posts: 18,717
Wow! That can actually be driven?
09-24-12, 12:07 PM
Not on the road...lol. The tuning radius looks like it's about a block. But yes, it does run and function, he fired it up for the crowd (all guys) that had gathered when he needed a tire on the trailer replaced. If I had been at the gym 15 more minutes I would have missed it. It's basically an exhibition/drag bike he's been working on for years. As you can see it's not fancy. On the seat is stitched "Hawgzilla"

I wish there was a person there for perspective but the trailer tires are 15" rims and I think the exhaust tubing is probably 6". That tells you something....
09-24-12, 12:59 PM
Join Date: Mar 2005
Location: USA
Posts: 44,030
Reminds me of a motorcycle show I watched on the History Channel [I think] A boy had built a long bike sporting 3 chevy small block V8s. Supposedly the builder was the only one that could ride it and he had trouble with turns. The biggest thing I remember is the guy that built it died..... in shoot out with police in the parking lot of the bank he just robbed.
09-30-12, 01:10 PM
What a fine turbo set up!! Not that it would bolt up to my Dodge, but, wow!! The guy I bought my Cummins from built racing trucks...diesel. Better RPM, more torque, and turbo....way ahead of gassers. He had one on the rack which looked pretty generic that was dual turbo 5.9 liter 6 cylinder running 600 HP and getting 15 mpg
Hey, the turbo does all the work. You just gotta get it revved past the waste gate setting.
Posting Rules
You may not post new threads
You may not post replies
You may not post attachments
You may not edit your posts
---
HTML code is Off
---