Peacemaker Tall Ship
07-28-13, 12:05 PM
Join Date: Jun 2002
Location: Northern Minnesota
Posts: 1,498
Peacemaker Tall Ship
---
If I had known they were this nice I might have stood in line for a couple hours for a tour.
Duluth Harbor Cam
Maybe next time.
Sponsored Links
07-28-13, 01:41 PM
07-28-13, 07:09 PM
Join Date: Jan 2011
Location: United States
Posts: 2,446
I enjoyed the live cams too Baldwin. What I thought was of most interest was the elevator bridge, I have never seen anything like that before.
07-28-13, 07:22 PM
It is called the Aerial Lift bridge
Aerial Lift Bridge - Wikipedia, the free encyclopedia
and has been in Duluth for over 100 years.
I have always enjoyed visiting there and watching the ships come in. Thanks for the link Baldwin!
07-28-13, 11:59 PM
Join Date: Jan 2011
Location: United States
Posts: 2,446
Thanks for the Wikipedia link it had a good bit of detail I also think the cameras were positioned well so that you could see the whole area well. Much better if you can go there in person but if not then the cameras are a good substitute. I bookmarked the link so I could look again.
07-29-13, 04:58 AM
I've been on it! It is truly a majestic ship. The tour was free, all they asked for was a donation when you exited (which you feel obligated once you are on it). The people who sail it are self supporting taking donation and selling hand made pottery which you can watch them make. The ship is their home and they open their home up to the public at every port of call. The only place they had anyone really keeping watch on things was at the helm. There was a nice talkative gentleman sitting with nautical charts answering all the stupid questions from us lay people. Hoping they stop by Yorktown VA again.
07-29-13, 07:17 AM
Join Date: Jun 2002
Location: Northern Minnesota
Posts: 1,498
You're welcome. According to the news the ships will be leaving today between 10:30 and noon.
czizzi, when you take a tour do you get to go down below decks? For some reason I thought you just walk around topside and off again, maybe not. Here is a picture of the galley I just found. Yeah, I think I could live on that.
http://www.wanderlustwonder.com/wp-c...ker-Galley.jpg
I don't know if you'll hear much but to listen go to the link, scroll down to Duluth Harbor Marine and click listen....
St. Louis County Minnesota Live Audio Feeds
07-29-13, 09:51 AM
Join Date: Jun 2002
Location: Northern Minnesota
Posts: 1,498
Looks like they all left, very cool. I'll definitely go down for a tour next time they are in town.
In case some of the flatlanders think Lake Superior is nothing but a mill pond, here are a few pictures with a nice walleye chop on the water.....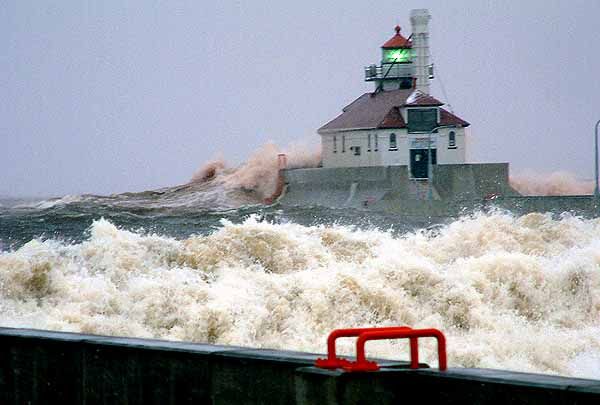 07-29-13, 03:29 PM
The tour takes you through the main deck, in the galley as pictured and throughout the pilot station and sitting lounge. They have slide shows of the creation and history of the ship. It was once just a cruising yacht for some wealthy dude. Sat in dry dock for a number of years until these people purchased it. They retrofitted it to be a tall masted ship. The slide show of the transformation was quite interesting. You are then free to wander the multiple outer decks (several levels) and hang over the side and gasp at the water below. You feel the gentle sway of the ship on water, can view a typical state room and bath. But the belly of the ship is off limits. The people who live on it have a pleasant "hippie" sort of feel to them. After all, they open up their home to any stranger - Peace, Love and whatever......Like they have found their utopia or something.
07-29-13, 03:43 PM
Join Date: Jan 2011
Location: United States
Posts: 2,446
I see the weather there can be kind of bad Baldwin I wouldn't care to be there during a bad storm. Since you were sharing a webcam of the water from your neck of the woods I thought I would share a camera from my area. It is of the Annapolis Yacht Club and the boats docked there, never been there myself but it reminds me of going to a restaurant in Annapolis that has the best crab cakes you could ever eat. I don't remember the name of the place now and it might be closed now it's been a long time since I went there. Here is the link
Annapolis Harbor Webcam - Annapolis Yacht Club
. This is more a daytime camera than a nighttime camera and they have another link to another camera there but this one is more interesting.
Posting Rules
You may not post new threads
You may not post replies
You may not post attachments
You may not edit your posts
---
HTML code is Off
---