Truss question
06-02-14, 12:03 PM
Truss question
---
so my first shed build is moving along......slowly and I have come to the roof trusses. It is a gambrel roof so 4 pcs, obviously. I have each joint fastened with 2 3.5 inch screws (one going in either direction). I am now reevaluating the stabilty of the joints when they are under load. I am wondering if the screws are nearly enough for the downforce it will experience with plywood, shingles, and snow, not to mention me roofing it!. I know I could take them down and add gussetts (probably should have done the from the start but I didnt). Am I being over analytical? I know the plywood will add the necessary stability to stop swaying but I am concerned about the downforce (mostly on the outer joints) thoughts? I know what the safest move is, I am wondering if it is necessary? IF one does not use gussetts, what is the proper way of making trusses?

Thanks!
Sponsored Links
06-02-14, 12:20 PM
So, you made up your own trusses and toe screwed each joint together? I too would be concerned about the down force. Because you've got part of an arch so it will try to push the walls apart if there is not enough strength in the truss joints. I'd make plywood gusset plates and attach to the sides of your joints. You could pretty easily add them even if your shed is already assembled.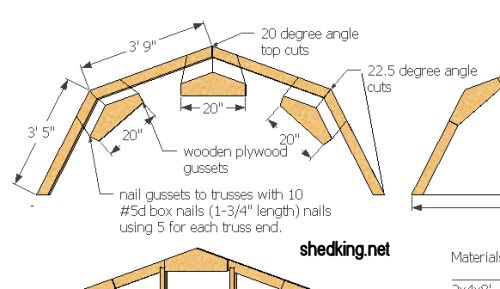 06-02-14, 12:36 PM
I'd add gussets like PD suggested. I know not all screws are the same but I wonder if the screws are adequate since they are more apt to snap while nails will bend some.
Posting Rules
You may not post new threads
You may not post replies
You may not post attachments
You may not edit your posts
---
HTML code is Off
---