Sealing my shed
05-24-20, 03:31 PM
Sealing my shed
---
Hello all! I'm new to this forum. I just bought a house, and there is a metal shed sitting on a slab of concrete in the back. The shed is maybe 8 ft x 14 ft. My backyard has an 8-foot concrete wall around it and the unique thing is that the shed sits in the corner, and uses the concrete wall for 2 of the 4 walls. So, I have 2 metal walls and 2 concrete walls...along with a metal roof. After good rains I am left with some puddles inside. I am not really handy, so I need someone to help me cuz I gotta to seal this thing up so I can frame it up and make it into a little shop. Thoughts?
Sponsored Links
05-24-20, 04:33 PM
Nobody has any idea of what you have there, but having fence walls as part of the shed is not right,

Show some pictures but I bet tearing down and building right are going to be the top responses!

05-25-20, 05:31 AM
To at least somewhat answer your question, there are many sealants for metal roofs. The first question is, what kind of leak are we talking about? Rust hole, nail hole, a rip, loose sheets, etc.

You can use silicone for small spots depending on a few factors.
Something larger like a rip needs to simply be replaced.

I haven't been associated with a mobile home for many, many years but, we used to use a product to repair those roofs that you can roll on like paint. The product back in the 70's was called "Cool Seal", but I understand now its not a top choice. There are better brands of roll on sealant. Again, all of these products are for mainly small leaks/issues.

It also depends on what type of metal roofing you have. If its a roll roof like a mobile home, you may have a bigger issue if its a bigger hole or a rust issue.
If its sheets of tin/metal, you can replace those relatively easy if its a larger leaks/issue.

Lots of questions, if's, and's & buts here. Without knowing the story, I agree........ start over. Either that shed was built by someone very inexperienced or cheap. Either way, on the face, it doesn't sound like something I would put very much money into. Especially a "shop" where my tools & equipment would be stored.
05-25-20, 06:29 AM
Without photos it's pretty hard to even begin.
Putting photos in your post.
If it was framed up on a pad, water could be running in under the walls for all we know. Since you have retaining walls on 2 sides, water could be coming from that higher ground. I think you have to figure out the source of the leaks and once we know that, maybe we could offer a better suggestion than just guessing.
05-25-20, 01:02 PM
Hopefully this helps
---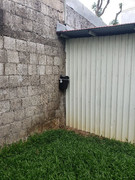 As you can see, I have 2 Metal-Concrete corners and a concrete-concrete corner.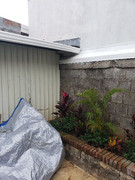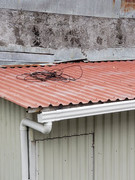 Most of the leaking comes from the seam the flashing is supposed to cover.
05-26-20, 05:13 AM
Looks like there is already a flashing on the top of the wall.

I would get a galvanized sheet and tuck it under this flashing and then down the wall and out over the metal roof at least 6 inches,

Cannot see what kind of shape that top flashing is or how it is attached so you may want to remove it and replace it or make it part of your new flashing,

PS: Looks like there may have been a flashing here in the past because the wall look a lighter color above the shed,
05-26-20, 08:50 AM
I do not think spray foam will do anything.

You want to seal/calk the top and along the outside edges.
To calk it I would run a bead of calk just on the inside edge of the Flashing. Then when you install the flashing it will seal but be under the flashing protected from the elements. And any excess that squeezes out can be smoothed out.
Perhaps a few daps on the flashing to help hold it on the wall.

I would make it 6 inches wider than the shed so that if water does get in through the side it will run down outside the shed itself.

I cannot see the inside corner but it also should have a L shaped flashing running down it and again out and onto the roof.

Posting Rules
You may not post new threads
You may not post replies
You may not post attachments
You may not edit your posts
---
HTML code is Off
---