Best sheet metal screw?
12-11-14, 12:23 AM
Join Date: Jul 2006
Location: USA
Posts: 260
Best sheet metal screw?
---
I want to attach a bracket to 3/4" cold rolled steel channel that's in my wall. The channel is used as a stud (metal lath is tied to it). Unfortunately I have to drill into the 1/2" flange, which is what's facing the wall, not the 3/4" webbing of the channel. I'll be attaching wood blocking with a bracket to the channels and a grab bar will be attached to the blocking.

Could someone recommend a quality brand or the best grade or strong material for sheet metal screws? I know there are bolt grades but I haven't found the same for sheet metal screws.
Sponsored Links
12-11-14, 02:37 AM
Join Date: Mar 2003
Location: NC, USA
Posts: 18,559
When you say 1/2" I assume you are saying the steel is 1/2" thick. In that case it's not a good application for a sheet metal screw. I would drill and tap the beam since it's so thick and use a bolt. There are self drilling and tapping sheet metal screws but I've not had good luck with them above about 11ga.
12-11-14, 05:48 AM
Join Date: Oct 2008
Location: New England
Posts: 10,154
I've never run into metal that thick other than an I-beam, so I'm guessing he is referring to some gauge of metal and those are the face dimensions. If solid steel, then Pilot has the approach.

If it is something like 11ga, then a higher grade sheet metal screw is probably a mute point, as the sheet metal itself will be the limiting factor.

I'll wait for the op to clarify.

Bud
12-11-14, 06:53 AM
He is probably referring to steel stud U channel that is usually used to tie wall studs together to add strength.
I have also seen these used as part of a suspended drywall ceiling installation.
A normal self-drill tapping screw should work if this is what you have.
Only caution is being thicker than a steel stud, make sure you slow down when seating the screws or you may snap the heads off.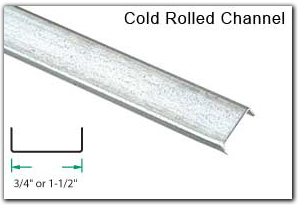 Image courtesy of sweetsconstructiondotcom
12-11-14, 10:07 AM
Join Date: Jul 2006
Location: USA
Posts: 260
Originally Posted by GregH
He is probably referring to steel stud U channel
Yes, that's it. Here's a picture of the wall. I chipped away the plaster so I know exactly where to drill and reinforce things and can fit a full 2x6 in there but I'm still a little worried about the small size of the screws and the amount of metal I'll be drilling out from the flanges of the studs if I use a comfortably large screw. I definitely won't be getting a noname screw on Ebay but maybe I'll trust my local home center.
I'm planning on screwing three brackets in back of the wood, one where each stud will be, and screwing the brackets to the studs. Then twisting wire around the brackets and studs for extra pull-out prevention in case the screws break. Then using wire to attach the lath to the studs around the wood. Then maybe anchoring the wood to the lath which I guess will require cutting holes in the lath. I'm not sure how many screws I'll use on each end of the brackets.
Posting Rules
You may not post new threads
You may not post replies
You may not post attachments
You may not edit your posts
---
HTML code is Off
---