Stripped hex set screw - how to remove?
02-19-20, 06:44 PM
Stripped hex set screw - how to remove?
---
I have a Lenox hole saw arbor 7L that has a stuck set screw which is used to secure the "dial" with the two pins (shown as "2" in the first image).
I can't figure out how to remove or loosen it. Is it possible? I have already tried to use a slightly larger metric hex key and tapped it in, but that didn't help, probably made it worse.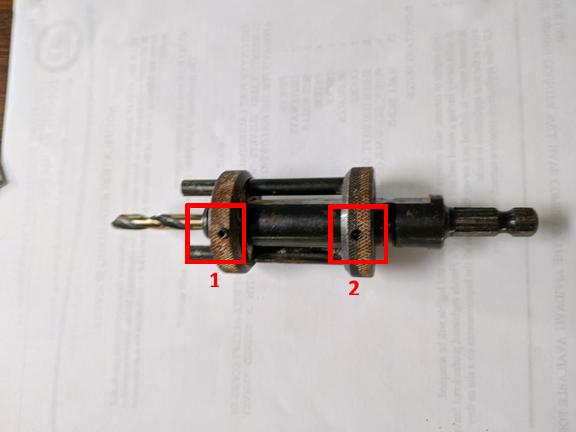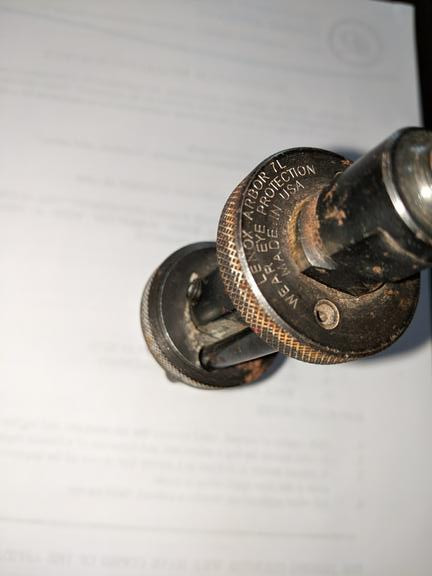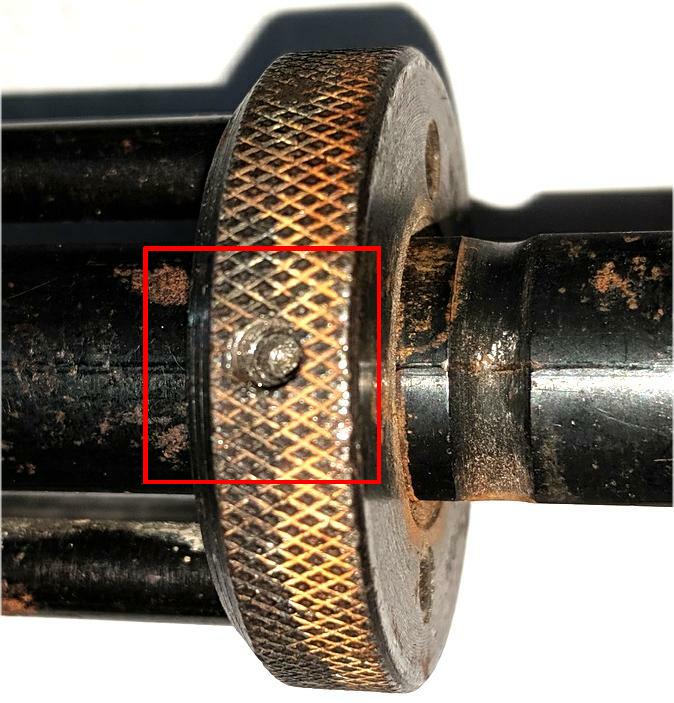 02-19-20, 08:18 PM
That's a tough fix. Looks like you will need to drill out the hex key and then use a tap-out.

If I were you...
1) douse the damaged hex key with penetrating oil. Heat the collar with a propane torch, then quench in ice water. Repeat about 2-3 times to break the threads of the damaged hex key loose.

2) plunk the tool into a Velveta cheese box, bad hex key facing verticall straight up. Fill the box with hot liquid wax and then let cool to create a "brick" so that you can clamp the arbor onto a drill press without having it roll or move.

3) clamp the arbor on a drill press, stripped key facing straight up, then starting with your smallest drill bit, carefully drill out the center of the hex key. Use plenty of cutting oil. Step up to larger and larger drills.

Finally, switch to a tap-out and remove the damaged hex key.
02-20-20, 04:44 AM
Join Date: Feb 2001
Location: SW Fla USA
Posts: 12,018
02-20-20, 04:52 AM
I guess to me you might also want to look at how much it is worth? I don't know what you value your time at per hour but, with the amount of work you are going to go through to try and free this up it might be better to just buy a new one. Just a thought.
02-20-20, 05:47 AM
Easy outs dont go down that small that I recall seeing.

if you have not stripped you might be able to heat up with acetylene, propane just doesn't give enough heat which may break it loose but it's going to take all the paint with it.

That doesn't work, next option is drill and tap!
02-21-20, 04:45 AM
If you have a reversible drill, go to a mill supply house and purchase a left hand drill bit. With the drill in reverse, drill through the stuck set screw. Using heat from a torch while drilling, hopefully the set screw will release and thread out instead of being drilled. If you can get the set screw out of the other disc, take it with you and get a LH drill bit the diameter of the tap drill for that set screw. If not, get a bit whose diameter is slightly less than the tapped thread inside diameter.