Goodman compressor unit not turning on.
05-27-10, 12:15 PM
Join Date: May 2010
Location: USA
Posts: 3
Goodman compressor unit not turning on.
---
Last night we noticed the temp rising in our house. The fan from the air handler was blowing, but the compressor unit was not on. It was not frozen up, didn't seem too dirty, the compressor is not making an humming or other noise. We turned the thermostat off.
Upon waking, we turned the thermostat on cool and it cooled. However, within a few hours, the compressor is no longer coming on again.
Any advice or input would be greatly appreciated.
The unit is about 14 years old. It is a Goodman heat pump.
Sponsored Links
05-27-10, 07:37 PM
Probably your contactor or a capacitor...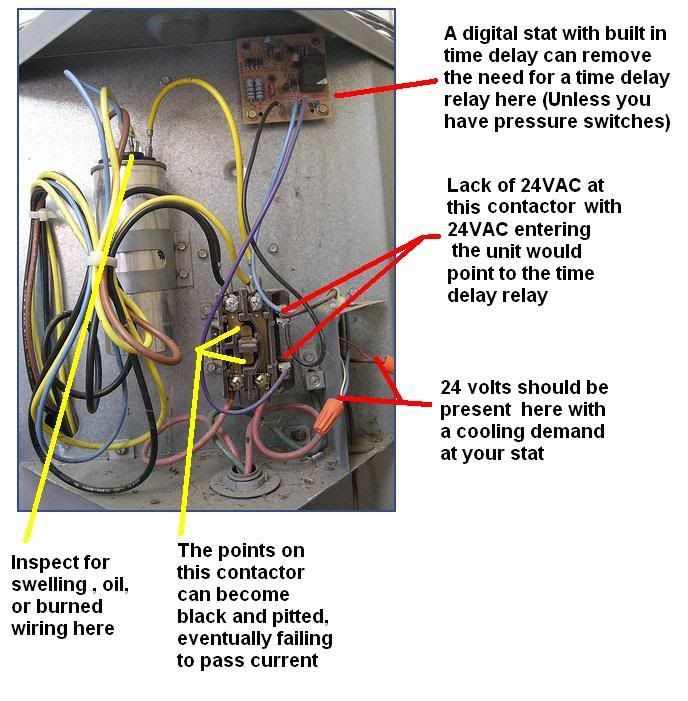 05-27-10, 08:03 PM
Join Date: May 2010
Location: USA
Posts: 3
Thanks for replying
---
I appreciate the reply and especially the pics. I will try to check out the capacitor and the contactor tomorrow. Of course this had to happen the day my husband leaves for your neck of the woods for the week. If it is not something simple, I may try to sweat it out, literally, here in St. Pete until he gets back next week. With the pics, I am sure I can do what you suggest. My husband had the compressor unit top off this morning. I don 't think anything is digital on it. I will have to see if it has pressure switches.
I know not to play with the capacitor without discharging it first. I don't think we have a resistor, but I can get one I'm sure.

The model is Goodman CPKE 36-1 compressor unit.
Goodman A42-05 Air handler
Thanks again. I will report back tomorrow.

Kim
06-03-10, 10:43 AM
Join Date: May 2010
Location: USA
Posts: 3
What I found
---
Thanks again for the help. I am sorry I didn't get back to you until now. I could not get the top of the compressor and fan off by myself. I decided to go to my parents until my husband got home.

We just turned the AC on after sitting for almost a week and the compressor turned right on and is working. I am not sure how long this will last. Last week, the compressor turned on without a problem after we let it sit overnight, but it only worked for a few hours, before not working again.

My husband said the compressor unit hummed when he turned on the cool and it wasn't working last week, but he said the hum continued after he pulled out the cutoff, leading him to believe the hum was in the 24 volt system.

My husband is thinking if it cools until the thermostat turns off the compressor, and then won't turn on, it is likely the contactor. If the compressor quits before gooling the house to the thermostat temp, it is likley something else.


Does this sound right. Any insight and advice would be appreciated.

Thanks for the input and help.

Kim
Posting Rules
You may not post new threads
You may not post replies
You may not post attachments
You may not edit your posts
---
HTML code is Off
---