Thermostat upgrade with heat pump, W1, W2, and Y
06-05-10, 04:50 PM
Join Date: Jun 2010
Posts: 2
Thermostat upgrade with heat pump, W1, W2, and Y
---
I'm trying to upgrade my thermostat to a Honeywell TH8320, and I'm not sure what wire configuration to use.

My current setup is as follows:

Orange "O" wire to O terminal
Red R to R
Black T to T, with a 650 ohm (I think) resistor to the C terminal
Green G to G
Yellow Y to Y
White W1 to W1
Brown E to E
Blue W2 to W2

The Honeywell manual only refers to W1 and W2 wires when discussing conventional systems, but I'm pretty sure my system is a hear pump. Can anyone offer any advice on how to connect this? Thanks in advance.
Sponsored Links
06-06-10, 07:08 AM
Join Date: Feb 2010
Location: usa
Posts: 623
re wire it like it was, with black going to C. universal tstats... tut
06-06-10, 08:39 AM
Join Date: Jun 2010
Posts: 2
The problem is that I don't know what to do with the W1 and W2 wires. As I said, the manual only offers explanations of W1 and W2 in the context of conventional heat systems, and in conventional systems the W wire is connected to the terminal that is O/B in heat pump systems. Since I have an O wire, I can't connect the O and the W to the same terminal (or can I?).

Is it weird that I have a Y, W1, W2, and O? I also have an E, which isn't considered in the conventional system diagrams.
06-06-10, 11:41 AM
Join Date: Feb 2010
Location: usa
Posts: 623
sorry i was still kinda asleep when i wrote that but im awake now. it is weird you have a w1, w2, and an e. w1 is the heat from the heat pump, w2 would usually be stage 2 heat being either gas furnace backup or 2nd compressor on the condenser and e would be electric strip backup which you should have if you dont have gas backup. do you have one of those? and im lookin at a pic i found, there does not seem to be an 'e' or a "w2" terminal on that tstat and it looks like O and w are the same point. i would say return this tstat, universals are never good, go strictly heat pump and make sure it has all the terminals.
06-08-10, 05:37 PM
Join Date: Feb 2010
Location: usa
Posts: 623
if it does not have an "e" terminal its not a true heat pump t stat
06-08-10, 06:50 PM
I'd like too look into that C a little further.
What is the make and model of your old stat?
This is a Honeywell Q674E 1049 subbase..
The Honeywell VisionPro TH8320 is an excellent thermostat.
Your options on stage 2 and 3 heat..
Connect both to W2 or connect white to W2 and tape off blue.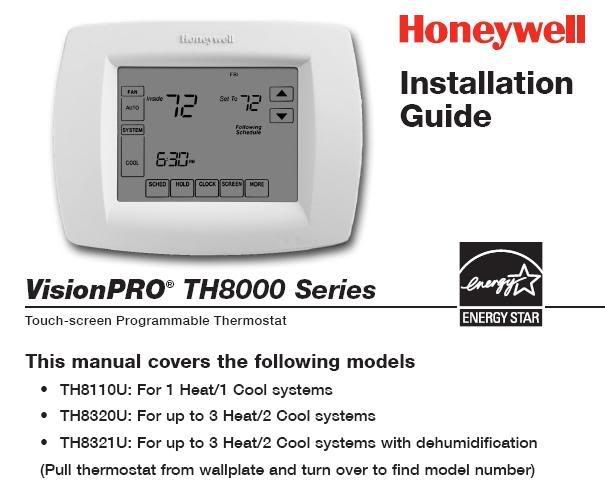 Posting Rules
You may not post new threads
You may not post replies
You may not post attachments
You may not edit your posts
---
HTML code is Off
---