What's wrong with my AC - Compressor shuts down after 2 min
06-21-12, 12:35 PM
Join Date: Jun 2012
Posts: 4
What's wrong with my AC - Compressor shuts down after 2 min
---
I've been blasting my AC for the past 2 weeks and it worked very well. I'm not sure if I might've overworked it...
Since the weekend, the fan would turn on, but the compressor does not (I cannot hear the distinctive noise from it). Not sure how old the unit is, but I've lived here for almost 3 years now.

This AC is not the window kind. It's located somewhat in the middle of my condo. It is also used for heat in the winter.. not sure what type of AC unit this is called (Edit: after some research I believe this is a heat pump)

I've tried shutting down power for 10 min, and then turn it back on. In the first 2 min, I can hear the compressor active, and cold air comes out of the vent. But afterwards, i hear a thump, and the compressor noise is gone, and no cold air comes out. can any one provide a diagnosis as to what the problem may be? could it just be my thermostat acting up or does it require a technician? would it be a major expense job?
Sponsored Links
06-21-12, 03:31 PM
Does the fan in the outdoor unit continue to run when it stops cooling?
06-21-12, 03:47 PM
Join Date: Jun 2012
Posts: 4
Hi I don't think there is an Outdoor unit. I live in a condo. The fan is integrated into the ac unit I think

The fan runs even after the compressor shuts off
06-21-12, 06:52 PM
Sounds like a geothermal heat pump(water source heat pump).
Is this a Florida heat pump, A Water Furnace or a Climate Master?
Post the make and model.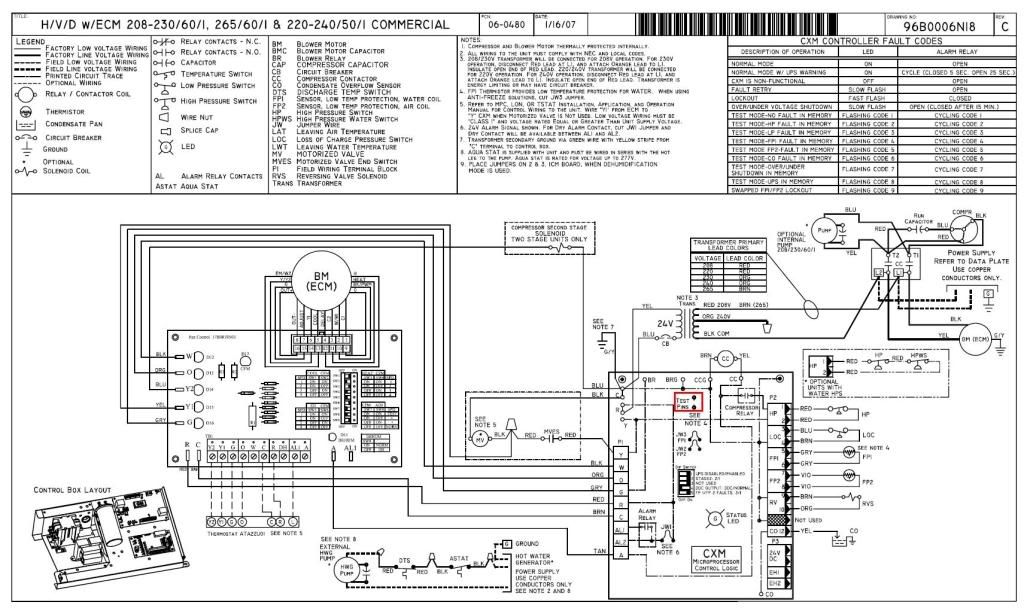 06-21-12, 07:11 PM
Join Date: Jun 2012
Posts: 4
hey
here are some info i took down from the stickers on the unit
HYS signature series
water source heat pump
model designation - HRP-60
factory charges 32.5oz R22
Electrical - 208/230V -1P - 60Hz
Compressor - FLA 8.5A, LRA 47A
Capacitator: 45uF/440VAC
Blower: FLA 0.68A
MAX CIRCUIT AMPS: 9.2
MAX FUSE SIZE: 15A
here's a photo of the diagram. sorry for the quality, i only have a 3gs iphone camera handy
thanks in advance for your kind help
06-21-12, 07:35 PM
Does the fan in the outdoor unit continue to run when it stops cooling?
A furnace or other heat source can be contained within a structure. An a/c system cannot, regardless of whether it's a wall-shaker or central.
06-22-12, 05:43 PM
Wow that looks like an old water source heat pump. The newer models have a diagnostic LED to aid in trouble shooting.

If the 45 microfarad cap appears swollen on top, you can turn off the breaker(s) and wait 5 minutes, then replace it. If not I recommend having a pro take a look at it.
06-24-12, 06:46 PM
Join Date: Jun 2012
Posts: 4
hey houston, and everyone who replied

thank you so much for taking the time to help me. i actually found the solution and it is actually way simpler than anyone would have imagined.

i pulled out filter and without it, it is running fine now. may be because i have a rabbit, and my place is very dusty. will definitely have it replaced tomorrow

thanks again everyone
Posting Rules
You may not post new threads
You may not post replies
You may not post attachments
You may not edit your posts
---
HTML code is Off
---