Lennox G1404 Furnance blower motor wiring foul up
07-10-12, 04:11 PM
Join Date: Jul 2012
Posts: 4
Received 0 Votes on 0 Posts
Lennox G1404 Furnance blower motor wiring foul up
---
I removed my blower housing whichincludes the motor to oil the motor and pulled two wires loose (ablack one and a red one) going from the motor to the wiring insidethe junction box. There was another black wire that was notconnected coming from the make up box on terminal 3 so I assumed itwent to it and I connected the black wire to it.. I re installed theblower assembly with the black wire connected as stated. Now thefurnace blower runs all the time (Thermostat is set to auto) time butthe air conditioning compressor cycles as it should when cooling iscalled . There was a wire nut off two red wires in the junction boxthat apparently came off at the same time I pulled the blowerassembly out. I just put the wire nut back on the two wires twistedtogether. However, there is the red wire from the motor mentionedabove. I don't know if this is supposed to be connected to the twowires or not that were missing a wire nut (wire nut was in thejunction box) so I did not connect it to the two red wires that weremissing the wire nut mentioned above.


So with that description of what I did,what makes the fan motor run continuously?
Sponsored Links
07-10-12, 06:13 PM
Is this a 1989 Pulse gas furnace?
How long has it been since that unit has been inspected?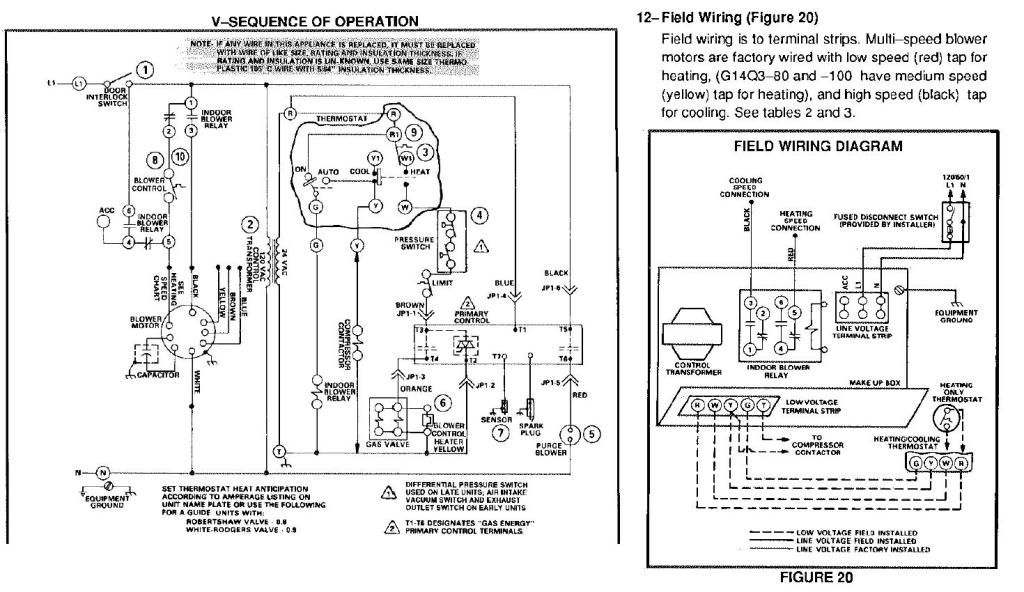 On this diagram I see that fan red connects to terminal 5 and fan black connects to terminal 3.
L1 feeds terminal 1.
07-11-12, 01:45 PM
Join Date: Jul 2012
Posts: 4
Received 0 Votes on 0 Posts
Lennox furnace blower wiring foul up
---
Yes, this is a 1989 onstallation of a Lennox G1 404/5-100-7 100K BTU with dual fuel heat pump and LP gas. It was inspected a few years back and I received a free carbon monoxide detector. The wiring diagram is the same as the one you supplied.
I have attached a view of the junction box as I thought it should be reconnected which is obviously wrong because the fan runs constantly. So I connected per your suggestion however I noticed L1 goes into a terminal strip that feeds the Lennox auto ignition system and to an approx 3 X 5 aluminum box located (see inside view) at the top left hand side of the furnace with the upper cover off.

The pictures I have attached shows my previous wiring and the "after" changes following your suggestion. I am also attaching a view of the furnace with the top cover off.

After I reversed the wiring per your suggestion, the blower runs constantly as it did before. However, now my Honeywell thermostat shows the fan as "On" and I can not get it to stay in the "Auto" even though I select Auto at the thermostat. Any suggestions?
07-11-12, 02:03 PM
Join Date: Jul 2012
Posts: 4
Received 0 Votes on 0 Posts
Lennox G1404 Furnace blower motor wiring foul up
---
I fortgot to thank you for your comments. It's nice to know someone out there has a heart for a poor unemployed builder.

Here is a better view of the inside of the furnace wiring. Now if I could just get the thermostat to register Auto instead of On I would be there!
07-11-12, 02:22 PM
Join Date: Jul 2012
Posts: 4
Received 0 Votes on 0 Posts
Lennox G1404 motor wiring
---
IT WORKS JUST LIKE YOU SAID IT WOULD.

After I made the wiring reversal on the two wires as you suggested, I plugged in the furnace and the motor came own. I said oh S#@$, unplugged the furnace and then tried to change the thermostat from On to Auto. Well, dummy me did not know the furnace had to be plugged in before you could set the fan from on to auto. So, I went back downstairs on a whim and plugged the furnace in and the blower came on so then I was able to change the thermostat from On to Auto and the problem was solved.

Lesson learned? You bet....don't pull on the wires when you remove the blower assembly for the motor oiling!

Thanks again and long live Texas. I'm from Georgia but I have hunted Javalina there and love San Antonio.
07-11-12, 05:48 PM
SIDE NOTE: Please have that heat exchanger pressure tested by a competent Lennox tech before heating season, it could save your life.
12-18-14, 01:41 PM
Join Date: Dec 2014
Location: usa
Posts: 2
Received 0 Votes on 0 Posts
did the same but with the yellow wire
---
I did the same as you but the yellow wire going from the motor to the control box came out. Do you have any idea where it went in the box?Thanks
Posting Rules
You may not post new threads
You may not post replies
You may not post attachments
You may not edit your posts
---
HTML code is Off
---