heat pump / air handler no longer works after trying to install honeywell thermo
10-21-13, 03:27 PM
heat pump / air handler no longer works after trying to install honeywell thermo
---
Hi,
I had one of the old mercury thermostats so I thought I would replace with a digital thermostat. So I followed the directions, flipped breakers off and terminated the wires. I flipped the breaker back on and tested it. I heard it click like it was going to work when I adjusted the setpoint above the actual temp but it didnt' work. In fact, that was the last time I heard a click when adjusting it.
The honeywell help guy had me touch the green wire and some other wire (can't remember) and said that the fan should kick on but didn't. So he said I must have shorted something by following their directions I suppose.
Anyway, i hooked my old thermostat back up and it doesn't work now. The breaker isn't tripped. Any ideas what this is? are there typically fuses in these units that might need replaced?
thanks!
10-21-13, 03:49 PM
You probably popped a low voltage fuse in the air handler or furnace.

How did you wire the new stat?

Did you write down the original terminal = wire combination before removing the old stat?

What was the make and model of the original stat?
10-21-13, 05:02 PM
What did you do with the blue wire?
Your new stat does not look like the correct model for a heat pump with Aux heat.
Post the make and model of the new stat.
10-22-13, 03:34 PM
It is a honeywell. RTHL2310/RTHL221 Series. I put the blue wire in the "B" slot on the honeywell.

So you think this is the wrong thermostat and may have shorted something when I installed it? What would be the right thermostat for what I have?

thanks!
10-22-13, 06:23 PM
Join Date: Oct 2012
Location: Jersey
Posts: 63,153
From page 2 of the installation manual:
This thermostat cannot be used on heat pumps with auxiliary/backup heat or on multistage systems.

On page 8 of the manual it states that the C wire is not needed. You connected the common wire to the wrong place and hopefully just blew the fuse on the control board.

Find the board and look for a 3A or 5A plastic plug in fuse.

As far as what thermostat to use...... I'll let Houston handle that.
10-22-13, 08:55 PM
I recommend the Honeywell RTH6350 or the RTH6450 (with autochangeover capability) for this heat pump with Aux heat.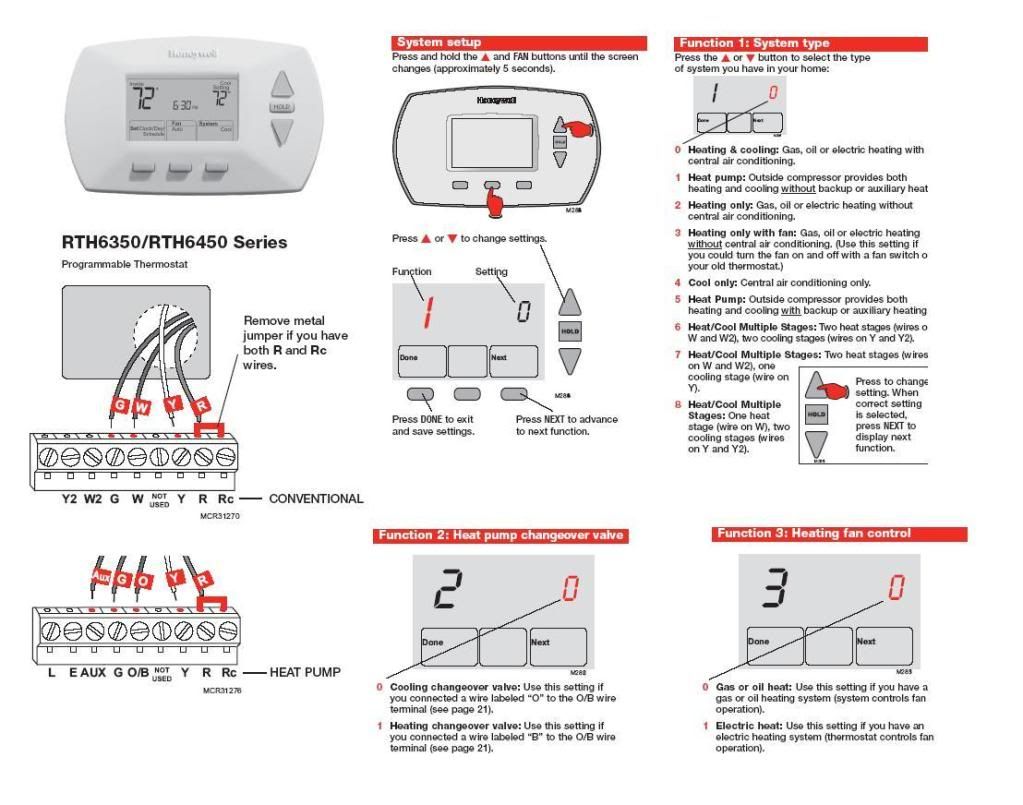 10-25-13, 05:45 AM
Honeywell rth2410b thermostat
---
I replace my thermostat about 6 months ago. Using the Honeywell rth 2410 b. Air conditioning works fine. I turn the heat on last night and nothing works now . My heat never came on. Now when I try to turn the air conditioning on the heat on it just flashes. Check my Low volt fuse it still good. Any ideas on what I might have done wrong please help
10-25-13, 11:20 PM
How did you wire your thermostat?
12-20-14, 08:44 PM
To mufan: outcome??
---
I realize this is an old thread, but I came across this and it exactly describes my problem.

Mufan, I'm wondering if you can describe your fix? I did the same thing: installed a new thermostat (not compatible with my equipment), heard one click (as if air handler was kicking on), then nothing. Put on the old thermostat and still nothing.

I'm a complete novice with HVAC, but I thought I could find the burnt-out part with a little poking around. I'm just not sure what I'm looking for, so any help you could pass along to point me in the right direction would be helpful.

I have a Trane TWV025B140A1 air handler. Taking it apart, I noticed that the transformer smelled funky in the box to the left (after taking off the upper panel on the air handler) where all the thermostat wires terminate. I assume this is what needs replacing, but I would appreciate confirmation. Otherwise, I couldn't find a fuse anywhere (or at least nothing I recognized as a fuse.

Just bought this house, so not original installation guides are available, unfortunately. Thanks!
12-20-14, 11:12 PM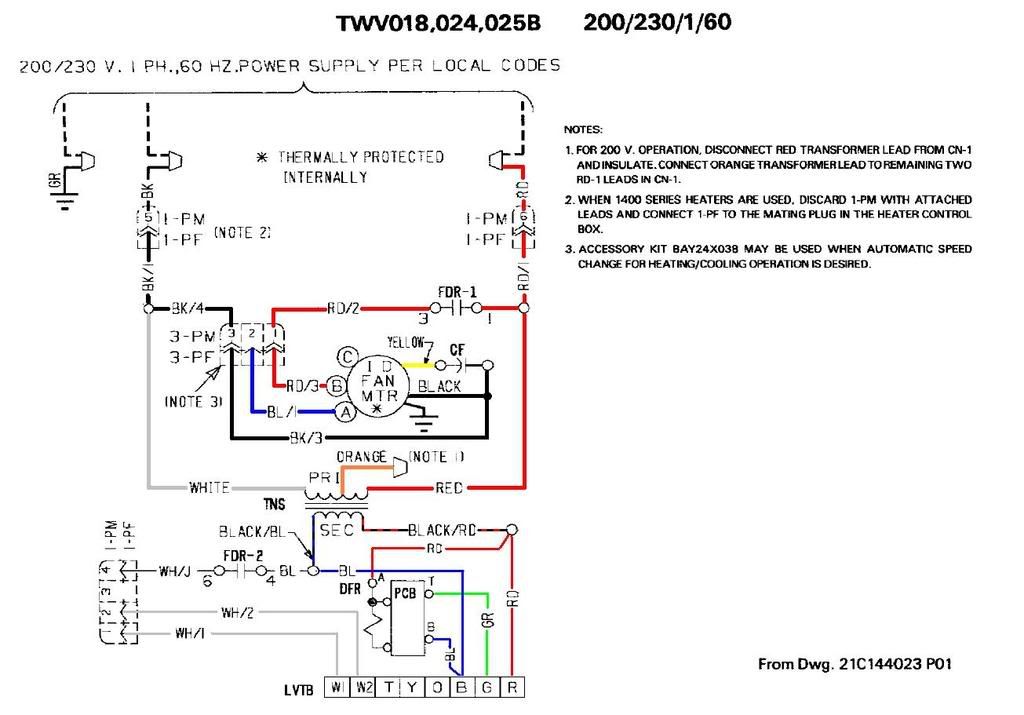 Trane's B terminal is 24 volt common. This will be the C terminal on the new thermostat. If you connect Trane B to the new thermostat's B terminal it will pop the low voltage fuse protecting the transformer.
Unfortunately Trane and Rheem were slow to start shipping there units with fuses. When you replace the transformer you might consider adding a 5 amp fuse in the low voltage side to R.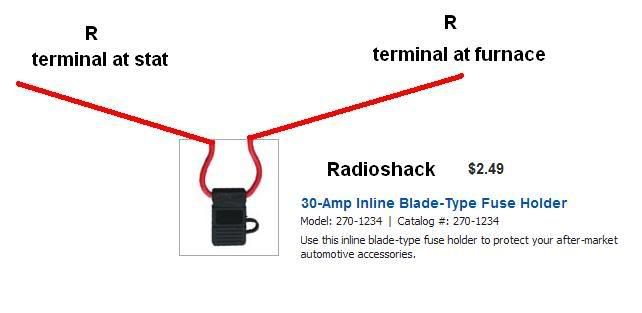 I don't see a fuse in the diagram but if you had a fuse it might look like this...