Trane Ground Source Heat Pump Compressor Won't Start
11-24-13, 07:55 PM
Join Date: Nov 2013
Location: USA
Posts: 3
Received 0 Votes on 0 Posts
Trane Ground Source Heat Pump Compressor Won't Start
---
Thanks in advance for your help. I'm trying to get some heat in the house on a cold night. This is a Trane ground source unit, circa 2000. It's model number is GSUF048. This morning the unit's fan was running but no heat. The 2 amp fuse was open. I replaced it and cycled the power on the unit. Same story but the new fuse has not failed. At this moment the compressor and water pumps do not respond to a call from the thermostat but the fan turns on. I can manually force the compressor and pumps on from the relay. I thought it might be a bad transformer, but no dice. Replaced and same story.

Any ideas would be appreciated. I have a volt meter and can perform basic troubleshooting operations.
Sponsored Links
11-24-13, 08:31 PM
Join Date: Oct 2012
Location: Northern NJ - USA
Posts: 54,149
Welcome to the forums.

There aren't many people around familiar with the geothermal systems.
I couldn't find any useable info like schematics on the system.

Maybe Houston (HVAC mod) has a better idea.

Doesn't that system have some type of re-heat system like electric coils for backup ?
11-24-13, 09:05 PM
Join Date: Nov 2013
Location: USA
Posts: 3
Received 0 Votes on 0 Posts
Emergency Heat
---
Hi PJMax,

Yes, the system is equipped with emergency heat coils. The ground source systems are not fundamentally different than the air-to-air systems as I'm sure you're aware. I was just thinking there may be some safety switch or reset switch of which I'm unaware. I know diagnosing such systems remotely is difficult, I just thought I might catch a break and be missing something simple.
All the best,
Gator
11-24-13, 10:44 PM
Join Date: Oct 2009
Location: Texas
Posts: 7,410
http://www.trane.com/webcache/un/wat...2_07011998.pdf
I see a normally open and a normally closed stat in line with that 2 amp fuse.
I'd check the wiring to them as well since the fuse blew.
Does you unit have a variable speed blower or a PSC blower?
This is the variable speed diagram...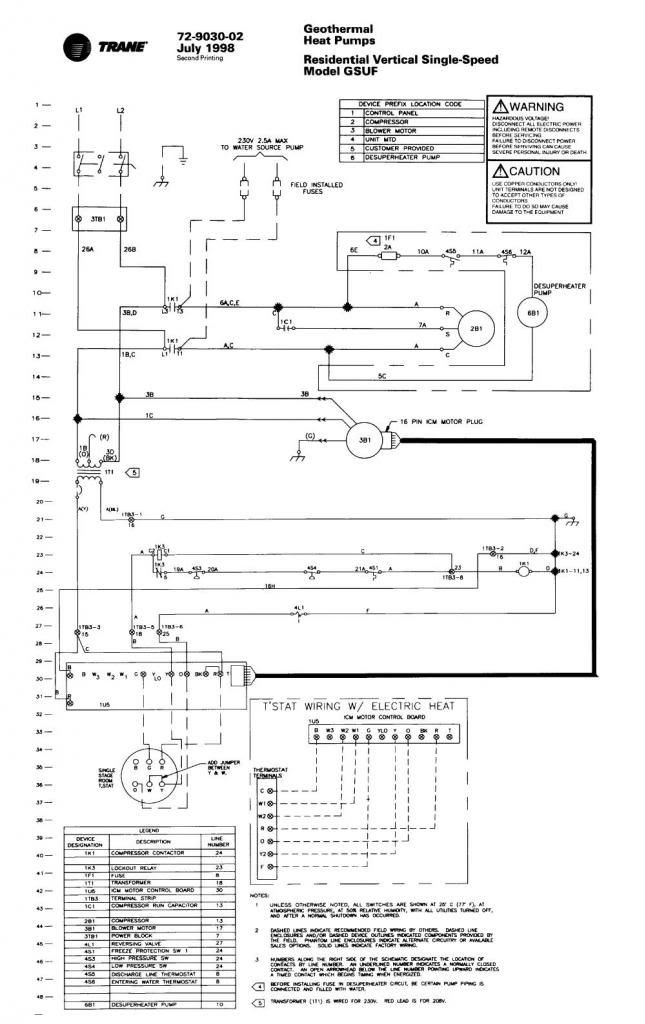 11-25-13, 06:52 AM
Join Date: Nov 2013
Location: USA
Posts: 3
Received 0 Votes on 0 Posts
Variable
---
Houston,

It's a variable speed fan.
Posting Rules
You may not post new threads
You may not post replies
You may not post attachments
You may not edit your posts
---
HTML code is Off
---