Heat pump fan not coming on
02-28-14, 07:06 PM
Heat pump fan not coming on
---
The unit tried to start up and then we heard a humming but the fan would not kick in. We could smell like electrical smell. Found capacitor had leaked liquid. We replaced the cap and the unit would run constantly and not shut off when it reached it temp on stat 68. I lowered stat to 55 and it seem to work right. Tonight it went to start up and it did it again started humming and would not come on. Outside unit came on. Same smell. What is wrong? It has been very cold here in Va.
Sponsored Links
02-28-14, 07:23 PM
Heat pumps can have a separate capacitor for the compressor and fan or a dual capacitor to serve both. If you have a dual capacitor the wiring arrangement is important.

Did you replace a dual capacitor? If not, you may have a second cap that may require replacement.

If you post the make and model number, we may be able to bring up a wiring diagram.
02-28-14, 08:01 PM
http://www.trane.com/webcache/un/spl...5_04012001.pdf
Okay, this is an air handler. Are you getting 240 volts AC between red and black to the motor?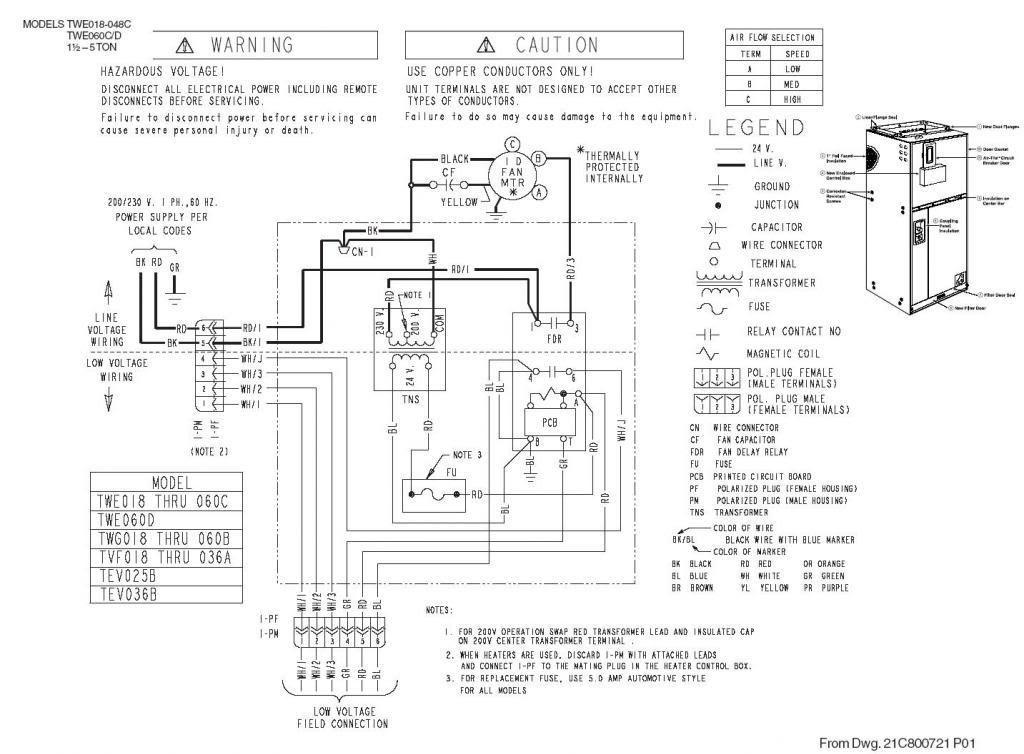 02-28-14, 08:25 PM
I have no tester right now to test it. When it was starting it didn't seem to drag or act like it was a struggle. The capacitor I replaced has only lasted 1 1/2days when humming started again. I read that a faulty relay could cause capacitor to stay engaged longer than needed and overheat it. I may have to get some one to come look at it cause I know nothing about these but was hoping for a quick fix. Question. does it matter what type of filters you use. We always used the blue thin see thru type, and now tried the newer ones that you can,t see thru. Can that slowly cause a problem?
02-28-14, 10:41 PM
It is unlikely that your filter selection has any impact on the motor failure.
A start relay must take a start capacitor out of the circuit after startup but your air handler motor does not use a start cap. It uses a run capacitor which stays in the circuit the entire time that the motor runs.

It is probably going to be the FDR (fan delay relay) or the motor if you correctly installed the correct capacitor for the motor. A voltage measurement to the motor should help determine which.
Posting Rules
You may not post new threads
You may not post replies
You may not post attachments
You may not edit your posts
---
HTML code is Off
---