Lennox 13HPX on AC tripping to the 5 min anti-short cycle
07-19-14, 07:57 AM
Lennox 13HPX on AC tripping to the 5 min anti-short cycle
---
I have a 2006 Lennox 13HPX in my shop and it worked great until last week. I walked in and the squirrel cage fan was running; but, the compressor was silent. Every few minutes, the compressor fan would kick on for about 30 seconds and then stop. The red and green lights were alternating slow flash (1 sec on 1 sec off) and according to the diagnostics code, this is a 5 min anti-short cycle delay. I tripped the power for a few seconds and checked the diagnostics and the lights were flashing simultaneously slow (normal). So, i restarted the system. The unit ran like it should (it was 102 deg F outside and the shop was up to ~80 on the inside. The exit duct close to the coil was ~65 (normal for this system). I came back about an hour later and the unit had tripped off again and was in the 5 min anti-short cycle delay again. If the unit sits long enough (several hours) it will indicate normal (slow simultaneous flash).

I would sure appreciate some suggestions as to what to test / troubleshoot. I am decent with electrical power, controls, hydraulics and mechanical. I enjoy learning and am ready to pull the fluke meter out - I just need to know what to check. Or if it could be a pressure issue, I can check that as well (just need to know the ranges).
Sponsored Links
07-19-14, 09:55 AM
Join Date: Oct 2009
Location: Texas
Posts: 7,426
Check for melted wiring in the outdoor unit.
Take look at the contactor.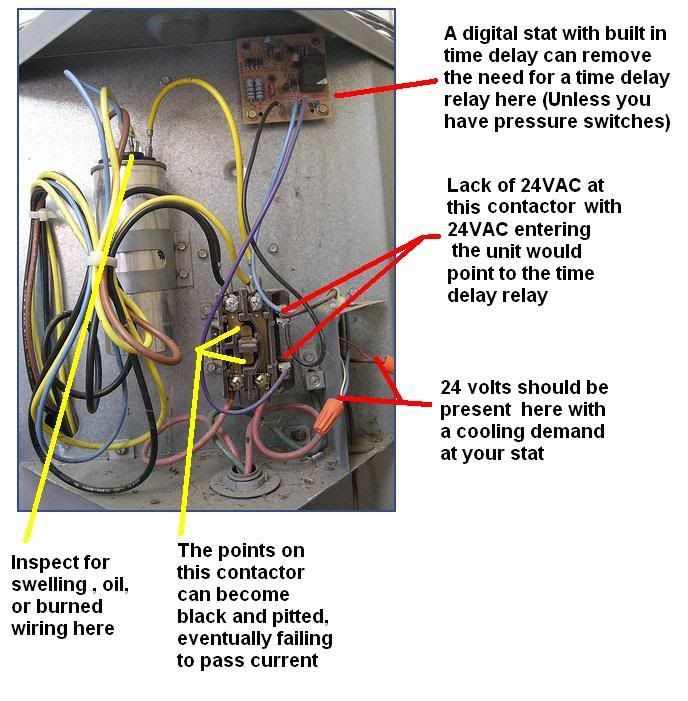 Turn off power to the outdoor unit and wait 2 or 3 minutes for the cap to bleed down. Take note of which wire is on Com, F, and Herm, unwire and check your capacitor.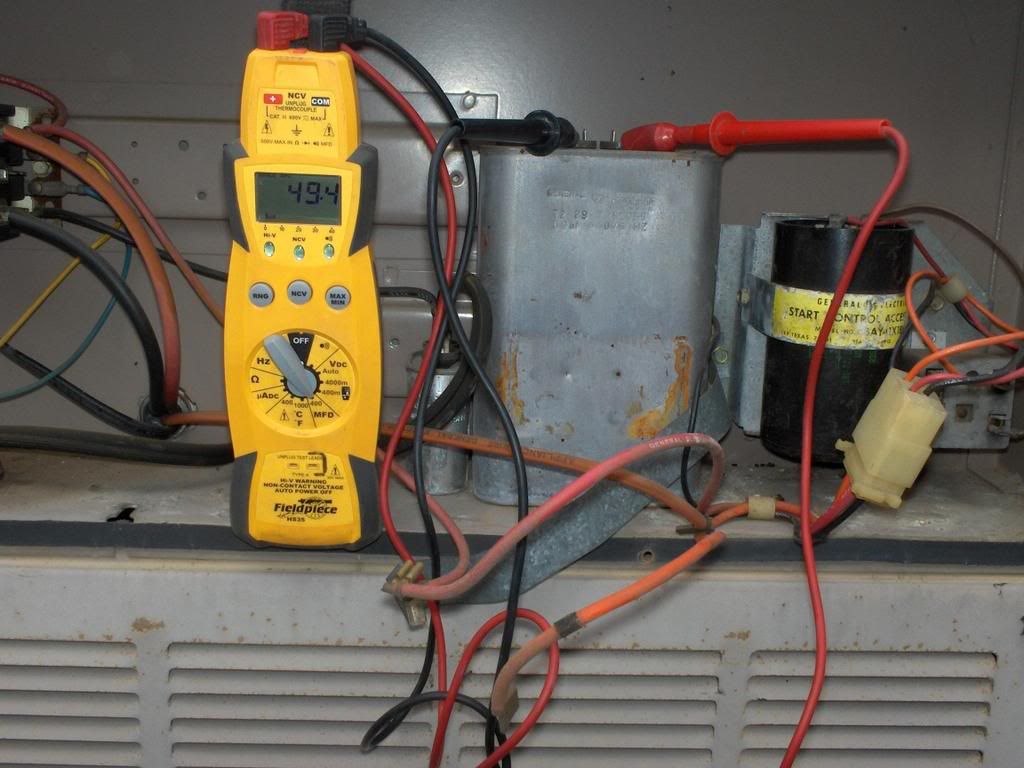 Fluke uses this symbol on meters.
---
Last edited by Houston204; 07-19-14 at

10:27 AM

.
08-16-14, 03:11 PM
Monitor the system and check the error code right when the system shuts off - should tell you if there's a pressure issue. I think your unit is a heatpump - you most likely have a defrost board, not a simple time delay.
Posting Rules
You may not post new threads
You may not post replies
You may not post attachments
You may not edit your posts
---
HTML code is Off
---