Help! Electric Trane XR12 HVAC Not Blowing Warm Air
12-28-14, 09:12 AM
Help! Electric Trane XR12 HVAC Not Blowing Warm Air
---
I have a Trane XR12 HVAC and I turn it on and the thermostat current temp says 59 and I set it for 78 and I felt the vents. It is blowing air, but not warm air. Even after 1.5 hours, the room temp barely went up from 59 to 60 degrees! I went outside and checked the unit and the motor is running and the fan is blowing, but the house is not warming up. I even turned up the temp to 85 degrees and don't notice much heat coming out. Just slightly cool air. What can I do to troubleshoot and resolve?
Sponsored Links
12-28-14, 09:38 PM
Thanks for the response. How do I know what she swollen capacitor looks like? Would the body be swollen or the contacts at the top be swollen? How much would a replacement cost? Are there any safety items I should be aware of in doing the replacement if it's needed?
12-28-14, 09:55 PM
Join Date: Oct 2009
Location: Texas
Posts: 7,426
A capacitor can hold a charge for a few minutes after removing power.
Most units have a dual capacitor that serves the fan motor and the compressor motor. If you have a dual cap it is important to snap a picture or write down the color = terminal combination in use.
Match the voltage and microfarad value of the existing cap if you replace it.
this is a 5 uF plus 40 uF dual capacitor that is very swollen on the terminal side.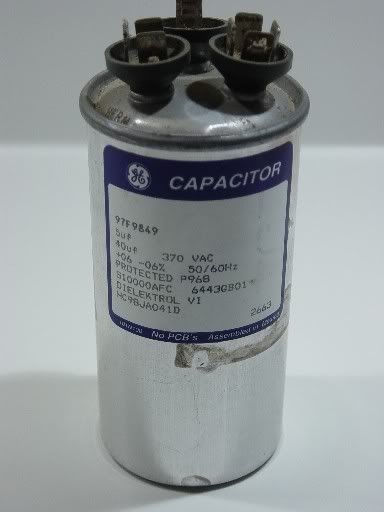 A cap should not be swollen.
35 dollar meters are available that can measure capacitance...
Posting Rules
You may not post new threads
You may not post replies
You may not post attachments
You may not edit your posts
---
HTML code is Off
---