Started Getting X/L Alarm on my Heat Pump
12-28-14, 06:15 PM
Started Getting X/L Alarm on my Heat Pump
---
I have a York YHJF30S441S1 Heat Pump and York AHV36C3Xh21C Air Handler. Was installed March of 2014. It is hooked up to a Honeywell Prestige 9421 thermostat with ECM. It has been running fine with non issues until yesterday morning. I was not home to see what was going on but got the e-mail alerts "Your heat pump needs service". When I got home there was nothing abnormal showing on the thermostat. I checked the alert logs and it showed Heat Pump Fault on A-L/A terminal. All of them appeared to clear themselves. there was one yesterday morning and 28 this morning. All were around 620AM-640 AM (not sure if this has any relevance but thermostat goes from sleep to wake and temp rises 4 degrees at 7AM). There are no alerts through the day when the heat pump runs and I raised the temp after looking at the logs and inside/outside units came on just fine, sounded fine and put out plenty of heat.........
12-28-14, 06:22 PM
There were 28 faults this morning ?!?!
12-28-14, 06:32 PM
If he had a 4 degree differential.... would you get that code if the heat strips came on because the heat pump couldn't recover fast enough ?
12-28-14, 06:39 PM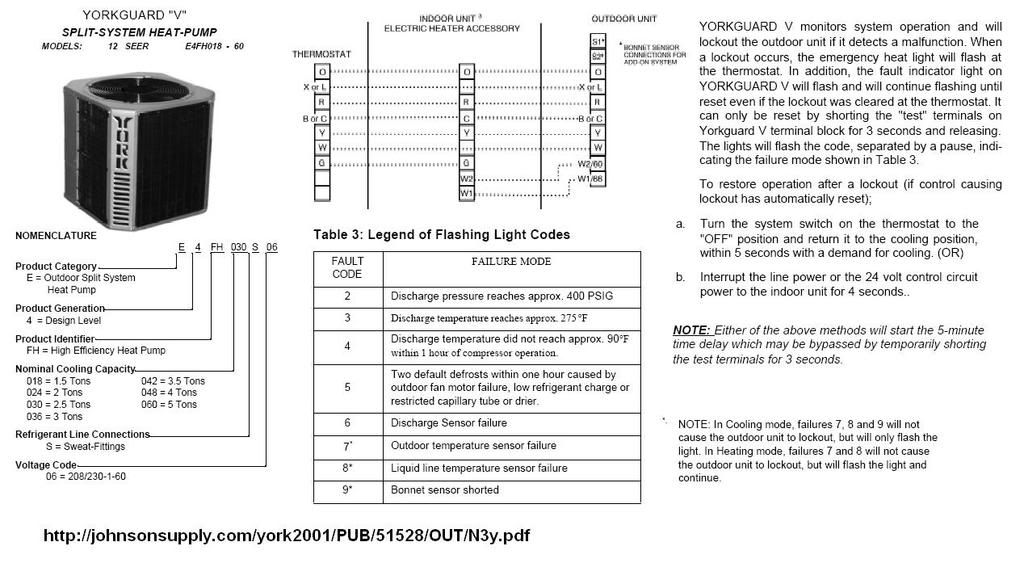 I couldn't find anything on the York Guard 6 used in that model but I would expect a similar code as the older model with the 5 series.
I would check the filters and indoor coil.
12-28-14, 07:15 PM
I think this is the proper manual link
http://www.upgnet.com/pdffileredirec...uim-b-0412.pdf
it is at least the same codes I remember seeing in the printed manual when I was home to look at it.
2 flashes: Pressure switch lockout - last mode of operation was heating
3 flashes: Pressure switch lockout - last mode of operation was defrost.
ON: Incorrect Defrost Curve - Jumper Selection
When the control locks out the compressor because of a pressure
switch lockout, it will energize the X/L output as shown in Table 3. The
control has a three second delay between fault code flashes.
If the conditions above exist during cooling mode, the system could be
in the loss of charge condition
Again this has only happened during the morning when going from 65 degree sleep to 69 degree wake. Never had an issue before just started. No I don't think there were 28 codes I think the "flashing" just made the thermostat think it cleared and came back on with each flash. (you would think with the price and smarts of the thermostat that it would recognize flashes).
Also the electric heat strip is only active when 1. unit goes into defrost mode or 2. the temp is 20 degrees below the set point.
Compressor is locked out at 35 degrees and heat is then from oil fired boiler hot water baseboard.
12-28-14, 08:31 PM
There is no LED on the thermostat, it only shows an alert. The outdoor unit is right outside the window so I was thinking that I could put an LED light on the outside of the unit so I could see it flash if the thermostat alerted. what voltage LED do I need? Do I connect it on the L?A alarm terminal and on the common??
12-29-14, 04:27 AM
No The L terminal is conneted from the outdoor unit to the EIM. It shows a display that the terminal is active but I am guessing it cant tell that it is a flash or give the number of flashes. From what I can tell everytime the L terminal energizes thermostat throws alert deeneergize alert clears. Also no alarm this morning (of course we were at the house so we could see the outdoor unit and make sure everything is working