Grossly ineffective geothermal system in brand new home
07-28-16, 10:40 AM
Grossly ineffective geothermal system in brand new home
---
Hi, I'll try to keep this brief, here is some important background:
Southwest Ohio
Newly built home, 5000 square feet (including some heated/cooled unfinished areas)
ClimateMaster Tranquility 30 5-ton unit, 2 stage cool, 2 stage heat + 3rd stage electric heat
Horizontal loops supposedly 6 feet below surface (no other info; trying to get loop schematic)
Thermostat remains at one setting, 73°F; other obvious energy conscious efforts (e.g. doors/windows not left open)
Now the bad news:
Over this past (2015-to-2016) winter, a VERY mild one at that, our unit cost us a lot of money by running electric heat far too much. Now into summer, there have been days where it fought a losing battle: 2nd stage cooling all day, yet inside temp rising.
Winter: loop temp as low as 25.3°F out with 30.6°F in (when outdoor 32°F)
Summer: loop temp as high as 107.5°F out, 92.4°F in (when outdoor 93°F)
See the 2 attached images for more details.
I don't know much about geothermal/ground source heat pump, but those numbers make it look to me like the loops are laying on top of the ground... which they're not.
We've been stuck in the middle, for months now, between our home builder, the loop/excavator contractor they used, and the HVAC company (who really prefers to do the loops with their own people). We're getting NOWHERE while they all just point fingers at each other.
So I would appreciate ANY feedback from anyone knowledgable on here that can help.
Thank you!
07-28-16, 01:09 PM
Based only on the displayed "Leaving Air Temperature" I would think the system is undersized for your house. Heating temperature of 95 and cooling temperature of 50 are consistent with any heat pump and if these temperatures do not properly heat and cool your home then it is a matter of total BTUs being delivered into the home.

So, either the insulation and air sealing of the house is woefully inadequate, the designer made some huge mathematical errors or the installer didn't know what they were doing, quite possibly a combination of all these factors and a few more.

Sad to say but I think it will take quite a bit of work, including new ductwork, to fix this problem. Might be time to consult an attorney and ask about suing everyone connected to the project.

Just my opinion.
07-28-16, 10:06 PM
Join Date: Oct 2009
Location: Texas
Posts: 7,425
I suspect that you have low water flow. I doubt that you are near 3 GPM per ton.
15 degrees delta tee on the water side is high.
Was this loop purged with a purge cart?
Do you know the entering and leaving water pressures?

I checked an older 45,000BTU geothermal on the 21st that had 95 degree entering water temperature with an 8 degree delta tee that was still giving me 56,000 BTU heat of rejection.

It looks like I was running 17.68 EER on that old geo.
07-29-16, 05:38 PM
Thanks for weighing in, everyone.

Houston204, I'm happy to expand on some things if you'll bear with me:

The HVAC company slowed the pump down as something to try. As shown in the winter picture, it used to be 13-14 GPM. After slowing it down they told me it's now around 10-11. The side effect of the thermostat now showing "N/A" for flow rate is annoying, by the way.

Slowing the pump down caused the higher difference in loop in/out water temperature, which at first I thought was a good thing. Ultimately it doesn't seem to have helped. Also it bothers me that the lower flow rate is a deviation away from what it's expected to be (pointing to there being a more fundamental problem elsewhere).

A month ago the HVAC company found the loop pressure at ZERO, so they added more water to 30 PSI (can't remember in or out), ran it for 5-10 minutes and it dropped to low 20s, added more again to 30, and again it dropped. The following day the loop contractor did a flush/fill to 40 or so with a cart, and it seemed (at the time) to actually be holding pressure, at least much better than it was able to the previous day. So that's another mystery with our system.

Would 92+ °F be considered normal for the loop water into the unit? (And conversely 30°F in during the winter?)

Thanks again!
07-29-16, 06:20 PM
Join Date: Oct 2009
Location: Texas
Posts: 7,425
So they dropped from the top of the range to the middle of the range.
I bet that made an impact on your heat of rejection and efficiency.
I really like the display on that user interface (MUI).
I would still put a manometer and thermometer to the duct work and a thermometer and digital pressure gauge to the Pete's plugs. A voltage reading and the amperage of the compressor, blower and pump would also be some tests that I would perform.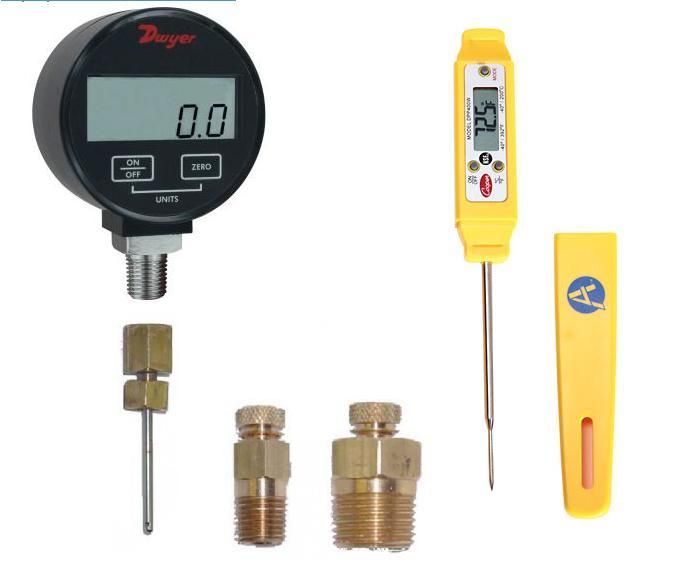 I am seeing entering water temperatures between 85 and 95 degrees lately but I have never seen winter water temperature below the 50's.
I have only seen heat strips on Geothermal equipment twice and I see houses with geo units regularly.
The performance is much better when you have a small lake on your property.
I checked a Tranquility 27 49,000 BTU model on the 11th that was running 30.51EER with 77.9 degree entering water and 12 GPM.