Need help wiring a heat only thermostat for electric fan forced garage heater
12-11-16, 07:11 AM
Need help wiring a heat only thermostat for electric fan forced garage heater
---
I am using a Honeywell TH1100DV Heat only thermostat with a QMark MUH072 7.5KW electric fan forced heater. The thermostat connects to the "C" and "G" terminals on the heater. I am not sure which terminals I use on the thermostat. My options are "W" Heat relay, "C" 24V Common and "R" Power.
Sponsored Links
12-11-16, 08:35 AM
Join Date: Oct 2009
Location: Texas
Posts: 7,426
Are you referring to a 7 amp fan center that someone field installed to control a small electric heater?

If R is power and nothing is connect to R then we don't have power at the stat?

If the stat is using batteries, I can see only using R and G at a fan center ( If we are talking about a fan center).

On a Fan Center the G terminal closes the relay to send power to your unit.
This relay normally energizes a fan but if you wanted to control a 27 amp heater this relay could energize a contactor to power that heater.

Post some pictures of your wiring.
12-11-16, 09:57 AM
Join Date: Oct 2009
Location: Texas
Posts: 7,426
I cannot read the heater diagram.
Cropping the image before posting will often result in a better picture.



Many manuals have a manual number on the bottom of the front page.
It may be possible for me to get the manual in digital format with this number.
12-11-16, 10:13 AM
Join Date: Oct 2012
Location: Northern NJ - USA
Posts: 59,044
Looks like just a closure is needed on R and W1.
marley/system/files/node/field-file//5200-11106-001_final.pdf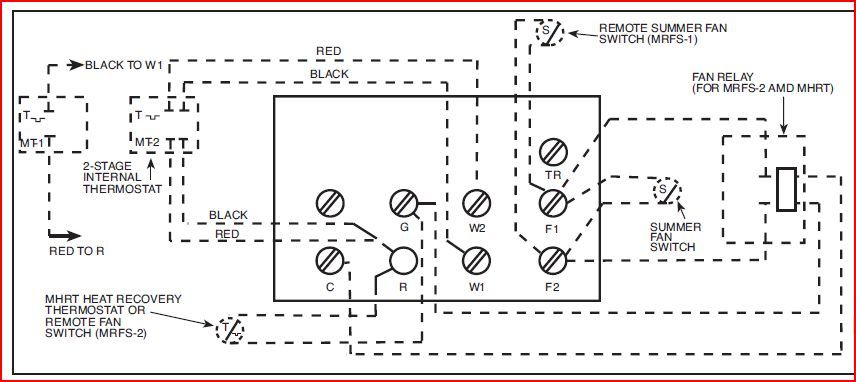 Posting Rules
You may not post new threads
You may not post replies
You may not post attachments
You may not edit your posts
---
HTML code is Off
---