Am Standard Heat Pump Compressor Problem?
10-31-17, 03:03 AM
Join Date: Jun 2010
Location: USA
Posts: 9
Upvotes: 0
Received 0 Upvotes on 0 Posts
Am Standard Heat Pump Compressor Problem?
---
My heat pump is approx 7 yrs old and up until now it has worked perfectly. It is the end of Oct. and I recently switched from A/C to Heat and I have noticed that sometimes when the thermostat kicks on the heat pump will try to start (I can hear humming) but will only hum for about 10-15 seconds and then shut off. This process will go on for awhile and it will finally start and run as normal. I have reset the breakers a few times and it seemed to make it start normally, but still not sure if I have a bad breaker or it's a heat pump problem. Yesterday I had an HVAC tech come out and he said it's possible the compressor may be going bad. He also told me the breaker was NOT part of the problem. He put a device on it that attached to the start capacitor that is some kind of "starter helper" (cost- $200) and for a period of time it would start up and run normally. But this morning it has gone back to the humming for 15 secs. then shuts off, and it does this repeatedly. It sounds as if the humming is the interior fan running, but I could be wrong. It is keeping the house at the set temperature. Could someone tell me if this is normal? Or is my compressor really about to fail? The HVAC guy told me that a new compressor would cost over $2000. This is only the beginning of winter and I'm hoping it will get me through it without having to shell out that kind of money. Any help would be appreciated. Thanks.
10-31-17, 09:03 AM
Join Date: Oct 2009
Location: Texas
Posts: 6,459
Did he measure the capacitance of your run capacitor using a digital multi-meter?
If it measure good I would turn off power to the outdoor unit, put on some safety glasses and inspect the compressor terminals for melted wires.
It wouldn't be this bad but one wire may be melted...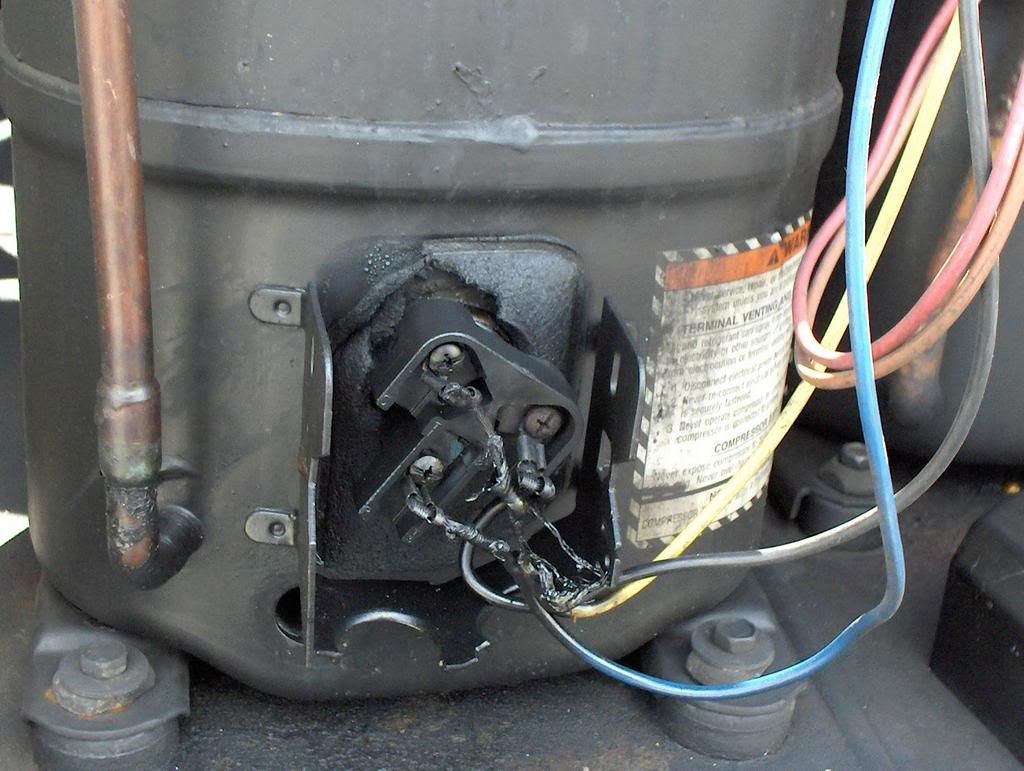 10-31-17, 09:31 AM
Join Date: Jun 2010
Location: USA
Posts: 9
Upvotes: 0
Received 0 Upvotes on 0 Posts
Houston204, thanks for replying. Yes, he checked the capacitor with a multi-meter and said it was working within it's normal range. While he had it apart yesterday he and I both checked and none of connections were burnt, melted, or damaged. Since I first posted my heat pump has started working normally. It finally kicked on and stayed on until it satisfied the thermostat setting, but it was on Auxillary Heat. Since that time it has kicked on and off just like nothing is wrong, and it is keeping the thermostat temp setting just right. That is what is so confusing about this, it works sometimes and sometimes it doesn't. I have called a different HVAC company to come out, so I'll see what they have to say.. I'm trying to avoid being scammed, but it's hard to find honest people these days.
10-31-17, 09:54 AM
Join Date: Oct 2009
Location: Texas
Posts: 6,459
Did you check the connections inside of the compressor as well?

A term lock kit is a lot cheaper than a new unit.
11-02-17, 04:06 PM
Join Date: Jun 2010
Location: USA
Posts: 9
Upvotes: 0
Received 0 Upvotes on 0 Posts
Houston204 - Here's an Update: :::::

A new HVAC tech from another company came today. He did a thorough check on all connections, amperages, refrigerant, etc. He set the thermostat for it to kick off and on and it behaved normally. He was here for about 2 hours checking everything he could check. I stayed with him the entire time and asked questions about the readings he was getting. He said they all were within normal limits. The conclusion he came to was that the compressor is about to fail, just like the last guy said. He suggested putting a "Crankcase Heater" on the compressor to keep it warm during very cold weather that is coming this winter, but like the Hard Start Kit he said that would be a temporary fix as well. And I didn't think of it at the time, but the times when it would act up last week it was in the 30s at night, and he suggested that could be the key. Something about the refrigerant in the compressor getting cold and turning liquid instead of gas? He said the Heater would prevent that. Does this sound accurate? So now I've got 2 guys telling me the same thing. Would you get a 3rd opinion? By the way, since he left I have switched back to A/C and let it kick on and off a couple of times, and it worked okay. Then I switched back to Heat and tried the same thing...everything is working fine now. He suggested the Crankcase Heater as a temporary "band aid" until I can save up the money to invest in a new compressor. I'm thinking of doing that. What do you think?
11-02-17, 04:10 PM
Join Date: Oct 2012
Location: Jersey
Posts: 62,480
I think a crankcase heater is a very good idea. Down where Houston lives they aren't used but up North here..... I would consider it a good investment. If I had a heat pump system.... I'd have a heater.