Heat Pump Operating Cost
10-13-20, 07:23 PM
Heat Pump Operating Cost
---
Has anyone done research on the average KW / month used to heat their house with a 3 ton heat pump in climate zone 4A?
Sponsored Links
10-14-20, 05:13 AM
You can search online for estimates. But, the cost is totally dependent on your home. A well insulated home with the same size unit could have a power bill half that of a poorly insulated home.
10-14-20, 06:10 AM
Ok, so let's assume a Manual J calculation was done and it was determined a 3 ton, as mentioned in the OP, was the correct size unit. With this in mind, all we should need is the average amount of the time the unit runs in the heating months, like from October - March and the watts used. Is there any of that data available?

Evidentially there is information available or the heat pump probably wouldn't have been developed. Links to estimates would be beneficial. Can you provide some of the links you recommend for estimates?

The reason I'm attempting to do this research is our unit is old, and at present we have Propane heat. Propane prices not being regulated in any way a supplier can charge whatever he likes and as you may know Propane prices can vary from $0.90 / gallon to $3.00 over night. I'm wanting to get away from the propane nonsense.
---
Last edited by SandburRanch; 10-14-20 at

06:39 AM

.
10-14-20, 08:05 AM
I purchased a large gallon propane tank. Owning the tank freed me to purchase fuel from any supplier which helped with the price. And, have a tank large enough to last more than a year+ allows the flexibility to purchase when the price is low.
10-14-20, 08:30 AM
Originally Posted by Pilot Dane
I purchased a large gallon propane tank. Owning the tank freed me to purchase fuel from any supplier which helped with the price. And, have a tank large enough to last more than a year+ allows the flexibility to purchase when the price is low.
Good point. I should ALSO mention the retirement investing term
"dollar cost averaging"
as a way to increase your purchasing power and smooth out the price you pay for things in a volatile market. Instead of trying to anticipate tomorrow's price, just purchase the same dollar amount at regular intervals. The result of purchasing a set DOLLAR amount instead of a set number of gallons is that you end up buying less when it's expensive and buy more when it's cheaper. With a large tank, you can actually make the price fluctuations work for you. The graphic below is about stocks, but the concept applies to propane just as well-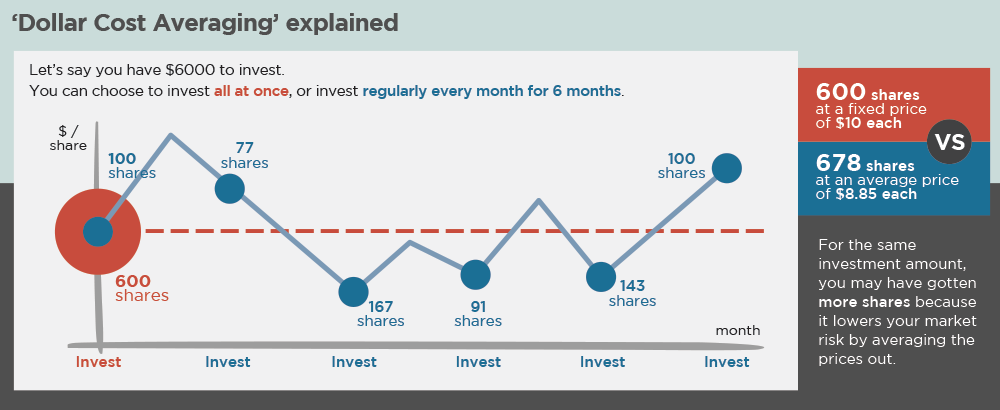 10-14-20, 12:47 PM
So to solve this problem of heating efficiency cost of Propane vs heat Pump I need to look for a 1,000 gallon tank and create a historical graph of propane prices.
Kind of makes me wonder if this is what a HVAC contractor is telling potential clients when he is pushing heat pumps.
10-14-20, 01:01 PM
I have a heat pump and my elec bill is normally under $100 spring, summer and fall. In the winter it more/less doubles. According to what you see on TV, a heat pump is cheaper to run than propane or natural gas BUT we have TVA power which may be cheaper than other locales.

Heat pump heat isn't as warm as gas! If you stay inside you'll never notice but if you come in froze to the bone - it's hard to get warmed back up with a heat pump.
10-14-20, 01:24 PM
Heat pumps put out a warm heat while gas puts out a hot heat. If you stay inside you'll never notice the difference but I can attest if you come in froze, it takes a long time for you to get thawed out with a HP.
10-14-20, 02:01 PM
Join Date: Oct 2012
Location: Northern NJ - USA
Posts: 59,074
Your talking about a relatively cold zone. That means more than likely you'll be requiring the use of back up electric heat to supplement the heat pump. The price of electric will also figure heavy into the equation.
Heat pump vs fossil fuel comparison
10-14-20, 04:04 PM
I'm also in climate zone 4a. Look at a high efficiency heat pump that works down to ~15°F.
During REALLY cold spells, add a heater that burns propane, kerosene, or wood pellets.

My office was a former 7-11 store, HVAC setup was dual heat pumps with dual electric backups.
Initial setup sucked current as soon as it went below 40 degrees.
We paid commercial rates for electricity, so we took the up-front costs and switched to "high efficiency 2 stage" heat pumps that were efficient down to around 20° F. Worked out well. I added extra insulation in the ceiling, so the daytime heat went into the masonry walls & concrete slab. A programmable thermostat let the interior temperature drop down into the 50s at night so that the heat pump never had to run during the coldest hours
That way, the electric heat didn't run when it was REALLY cold, instead, the heat pump ran during the day when it was warm, heating up the brick walls and concrete slab floor.
---
Last edited by Hal_S; 10-14-20 at

04:36 PM

.
10-15-20, 09:49 AM
If you have records of your annual propane usage , you can make a pretty good estimate of your needs thus:

(gallons per heating season) * 27 (kwh per gallon of propane) * 0,80 (estimate of combustion efficiency) = (the enrgy that your house uses per season)

for example:
750 gallons * 27 * 0.8 = 16200 kwh

for a heat pump with an average coefficient of performance ( the kwh of heat achieved per kwh of electric energy consumed) of 2. say, your electric requirements will be 16200 / 2 = 8100 kwh .... say your electricity cost is the US average, , 13 cents per kwh, your annual heating bill would be around 8100 & 0.13 = $1053..

A coefficient of performance of 2 is pessimistic - a good heat pump , properly installed, in a reasonably temperate location (NC) is more like 3... which would mean ~ $700 in the concocted example.


10-15-20, 11:29 AM
Thanks dsomerv
I have a reasonable record of a few years of annual propane usage but we cook and heat water with propane also, but I could possibly average the use of the 6 months of heating for a comparison. If we were to go with a heat pump we'd keep the propane for back -up.

I'm really surprised an engineering firm has not put a meter on a heat pump that records, conctactor time energized, outdoor ambient temperatures, wind speed, dew point temperatures, barometric pressure and possibly more.

I've visited with our electric Co-Operative and they aren't interested, possibly because they've dumped their incentive packages they at one time boasted of going total electric etc.

10-16-20, 06:56 AM
presumably the cooking and water heating component would be roughly what you use in the non-house-heating seasons - so , for example, if you took (6 months winter) minus (6 months summer) that'd be a fair guess

As for the lack of instrumentation ... in the 45 years that I've been using heat pumps, there have been no significant advances in technology - a few manufacturers now offer fancier electronics, and some monitor subcooling and superheat but general a disappointment in the advancement of engineering department.
10-16-20, 10:34 AM
You might check the Bosch 18 SEER: Variable speed compressor w/ constant indoor airflow. The HVAC contractor has two in his house with NO backup heat. He's been quite comfortable for the two winters he's had them. We too are in 4A (Sussex County, DE) w/ 18F design.

I'm spec'ing dual fuel for most clients: Efficient heat pump heating down to 30F, then gas heating for the remaining 20% of the winter.

The constant indoor airflow means you don't have to worry about outlet "throws" changing like you do with two speed blowers.
Posting Rules
You may not post new threads
You may not post replies
You may not post attachments
You may not edit your posts
---
HTML code is Off
---