Antique Radio Problems
10-08-11, 11:43 AM
Antique Radio Problems
---
Inherited an old radio my grandpa used to listen to the Twinkies:
Name on the front says Beverly...
The guts of this thing look like nothing I've ever seen before: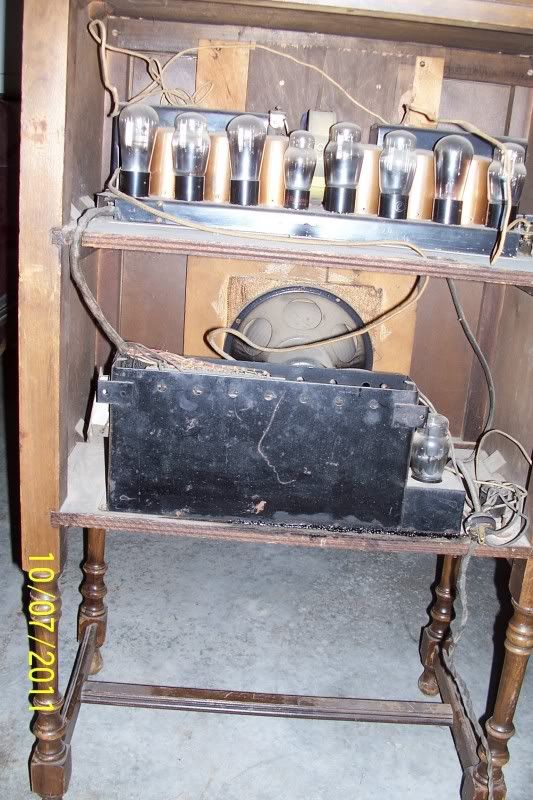 That big black box has a hundred wires going to and from it. Is that some sort of power supply?
What I can't figure out is where all the wires go and a couple odd plugs:
Plug 1 goes up top to the radio. Plug 2 comes from a small transformer I think by the speaker. There are two wires coming from the female and someone hooked them up to plug 1. Doesn't look right to me, I'm afraid to plug it in.
The wire you plug into the wall is out of sight, laying on the floor. Anyone ever seen such a contraption and know where these wires should go?
Thanks
Sponsored Links
10-08-11, 05:12 PM
Join Date: Mar 2005
Location: USA - N.E.Tn
Posts: 46,514
I remember those old radios
I don't know anything about the wiring but usually one or more tubes have gone bad when it refuses to work. I'd start by cleaning up all the dust, maybe remove a tube at a time to make sure they have good connections. Hopefully somebody knows about the wires.
10-08-11, 10:06 PM
Tinkering with it tonight I noticed that round metal piece (last picture bottom right) with the screw sticking up must be for another female plug for plug 1 to go to. Must have been broken so we're good to go.
Plugged it in.....no tubes light up.
Checked the voltage on plug 1 and I get 120 so voltage is coming out of the big black box.
I'm not really sure how to turn this thing on. Below the dial (pic 2) there is a small toggle switch but I get 120 V from plug 1 with it in either position. Not sure what that means.
Mystery to me.
PS. I think I'll pull all the tubes and bring them to the drug store tomorrow to check on the tube machine.
10-09-11, 11:00 AM
Ask around at local communications radio repair shops for the names of ham radio operators in your area. Many of the technicians are hams themselves. Preferably, find one of us OOT's (Old Old-Timers) as we're more likely to have worked on or with a radio of that vintage.. Most of us really enjoy getting our hands into old radios like this. If you didn't live so far away, I'd already be in my car.
p.s. I haven't seen a tube tester in a drugstore in decades. That's really cool.
p.p.s You might have a better shot at finding help on the forums at
Antique Radio Forums • Index page
---
Last edited by tldoug; 10-09-11 at

11:16 AM

.
10-09-11, 01:12 PM
You may want to try looking for a Sam's diagram. They use to be available for every radio and TV made in the US. They showed voltages at various points so you could trouble shoot and the values for all the components. Here is one on line source:
Sam's Schematic Collection Components: HTML, Photos, Diagrams, Schematics
but I haven't checked how far back they go. You might need to find one of their yearly collections on Ebay for your radio.
Baldwin, there will be fuses. There should be at least one low voltage ac supply, usually just a transformer tap on the secondary of a multi-tap transformer for the filaments. The tube number will tel you that voltage. A "6k-gt" would be a 6 volt filaments. Exceptions would be newer radios with series wired filaments and no filament transformer. Probably off the same transformer there are taps to supply high voltages, sometimes as high as 400v, to the plate voltage rectifier circuit. That usually consisted of a diode tube to one or more electrolytic capacitors and a choke. In very old radios sometimes the speaker winding was used as a choke but that can cause hum.
Plug 2 comes from a small transformer I think by the speaker.
The speaker would have a matching transformer. That could be it.
10-09-11, 01:51 PM
I have an old radio, turned it on, identified which tubes didn't light up, and just started replacing them. (found most all of them on Ebay). Sometimes I would buy a lot of 6 bulbs (cheap) just cuz it had one in it that I needed. There are also cross reference sheets you can find online that help you figure out which bulbs can be substituted when the one you have isn't available. Was kind of fun to do.

Unfortunately for me, my restoration came to a halt when I found that there is some noise dampening paper and mica containing electrolytic capacitor of some type that "dries out" and creates static that overwhelms any frequency I'm tuned into. Fixing it is possible but it's not something I have time to do right now.
10-09-11, 02:12 PM
Thanks guys, I'll check this out after a bit....way too much sports on today.
I've done a couple searches for 'Beverly radio' and 'Beverly electronics' and I can't seem to find a thing. Strange.
Vikings finally win one
but Detroit/Texas game tonight cancelled by rain
10-09-11, 07:50 PM
Baldwin, there will be fuses.
Ray,
I looked tonight, using a mirror to see the backside, if there is a fuse I don't have any idea where it could be. I might just have to start taking the whole thing apart.
10-10-11, 02:28 PM
Join Date: Apr 2007
Location: Near Buffalo, NY
Posts: 4,239
Received 0 Votes on 0 Posts
Just so you know ... those vintage tube radios can have capacitors that act like batteries. They can hold 400+ volts for hours after you unplug them. Be very careful!
12-07-14, 08:37 PM
Join Date: Dec 2014
Location: USA
Posts: 1
Received 0 Votes on 0 Posts
I've inherited an antique Radio that looks very near equal to the Beverly
---
I can't believe it! I hope to learn what you've learned about your radio.... history etc.
Posting Rules
You may not post new threads
You may not post replies
You may not post attachments
You may not edit your posts
---
HTML code is Off
---