Vintage Radio matic stereo system
06-29-14, 12:52 PM
Vintage Radio matic stereo system
---
Trying to find some info and how much its worth. I found a vintage radio matic sound system at a school i clean that said trash or good home. its got a Pioneer SA-6500 II amp installed and a Philips Turntable model 777 direct control and a Superscope cassette deck model CD-304 which doesn't work. No tuner installed and i don't think it was ordered with one as no holes are drilled to run the wires from the tuner to the amp. It says radio matic sound system model SL-500 on the label. Can anyone tell me how old it is and the value. The amp alone is going for like 140 by itself.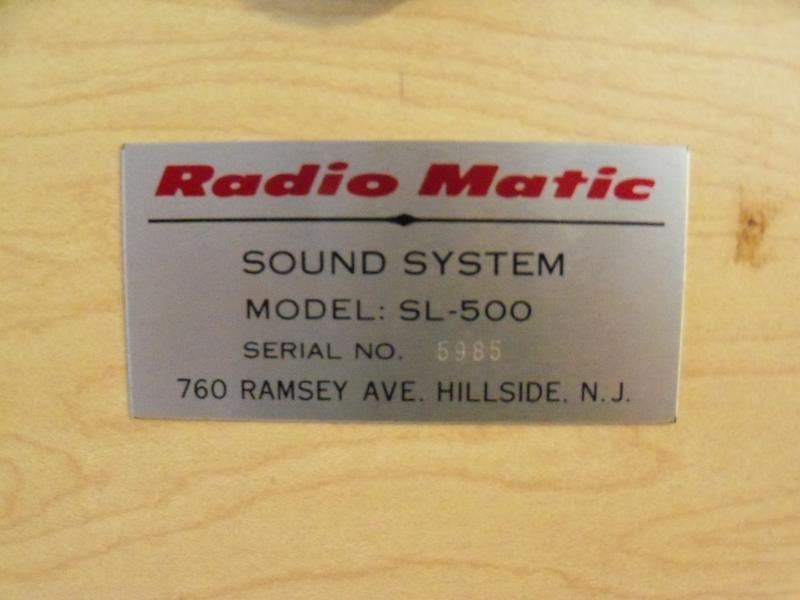 06-29-14, 01:33 PM
Join Date: Oct 2012
Location: Jersey
Posts: 63,101
I recognize the address in Hillside. I thought I may have known the company but it says established or originally registered in California in 1947.

That piece looks like an item designed strictly for a school or the teaching arena. I doubt it's worth much today as it sits. I see that unit is missing a speaker.

The Pioneer amp vintage is around 1977.
The Superscope CD-304 vintage is around 1978.
That may be a Philips AF-777 model turntable. Vintage also around 1977-78.
06-29-14, 02:01 PM
The speaker was replaced at some point as they both work. great sound only issue is the cassette does not play rwd or fast forward and all superscope tape decks on ebay have the same issue.
06-29-14, 02:07 PM
Join Date: Oct 2012
Location: Jersey
Posts: 63,101
The problem with many cassette decks of that vintage is the rubber parts either harden, stretch, or dry out and fall apart.
06-29-14, 02:18 PM
Yeah I took it apart and could see nothing obvious wrong. belt it still intact and looks to be good. might be a burned out motor. I might upgrade it with a modern rack mount cassette. I can still get the correct tuner for it off of ebay.
10-25-15, 08:30 PM
So now the amp is acting up as per this thread
http://www.doityourself.com/forum/ho...ml#post2473467
. I figure I would revive this thread for posting about the amp. I am thinking of going with a 3000 watt amp. Now at 8 ohm speakers which are installed its 300 per channel but someone else said that running it in stereo it is only 150Watt per channel. I couldn't find any info on one of the 10-12 inch speaker installed in those bottom cases but label suggested it was 12watt but I can't see it being 12 watt with a 30 watt amp. They also have 2 tweeters installed with what looks like a battery or fuse installed between the 2 tweeters. Would I have to replace all 3 speakers to run the new amp even if the volume is only every half way. I like a lot of bass though. This is the amp I was eyeing
Amazon.com: Pyle Home PT3300 3000-Watt Power Amplifier: Electronics
cause I can't find anything else I like with multiple RCA inputs. Most have one or twist lock connections.
EDIT found this one
http://www.ebay.com/itm/261957754051...%3AMEBIDX%3AIT
I assume that would be the better choice?
---
Last edited by flirty1; 10-25-15 at

10:53 PM

.
10-25-15, 10:48 PM
Join Date: Oct 2012
Location: Jersey
Posts: 63,101
An amplifier rated at 300w per channel amp is 300w output to each speaker.

That model Pyle suggests it could produce 3000w peak power. That will never happen.
It would have a problem producing 300w per channel but that's not an issue in your case. For your application it will produce plenty of power at an attractive price.

Those "battery like" things connecting your tweeters to your woofers are capacitors and are used as a crossover to block the bass signal from getting to the tweeters.

In order for a woofer to produce bass it needs to be in a sealed enclose with a port. The sealed enclosure is designed to control the speaker cones' movement so it doesn't self destruct. It looks like the speakers are in an open cabinet in your rack and used like that will never produce deep bass. It may be enough bass for your application but you need to watch you don't blow the speakers out by over-driving them with too much power.
10-26-15, 08:02 AM
Your amp likely just needs cleaning to eliminate the level differences. Can you hear a "scratchy" sound when you rotate the volume or balance knobs? Move the selector switches? Very common and unless stored in an oxygen-free environment any 30+ year old gear will need some attention because the contact surfaces oxidize over time.
You can take it to a stereo service place (even a TV shop), or do it yourself. The important thing is to get the right stuff to spray into the controls. The best available is Deoxit F5 Fader Lube. Unlike many cleaners, it's safe for use on volume controls and switches that contain plastic parts.
Fader Lube
10-26-15, 05:14 PM
The speakers are in 2 boxes hence the handles on the speaker grills. They pull out so you can place them farther apart. I have to remove a bunch of screws to remove the back of the speaker box but yeah there not sealed with no access and air tight etc. The 3000 watt one would only give 300 watts per channel with 8 ohm speakers but a review said that if running the speakers in stereo and not bridged that I would only get 150 per channel. Which is better for my application? The 3000 watt one or the 300 watt one And yes it does the scrachy noise when turning knobs but faintly. I used to have to mess with the input selector knob to get both speakers working.
10-26-15, 06:33 PM
Join Date: Oct 2012
Location: Jersey
Posts: 63,101
Bridged mode means running both left and right channels together for a mono output.
You don't want that.

Even 150watts per channel is plenty for what you have there.
10-27-15, 12:01 AM
I went with the 300watt refurbished one which with discount was $63 Will see how it works. I already replaced the cassette player that was in it with a duel deck one by the same company. Will upload a updated picture once installed.
10-31-15, 03:23 PM
Here is the finished Upgrade. The gray wire coming out of the tuner is my makeshift FM antenna. The 2 red wires go to the 12 volt power supply for the CD player just didn't hook it back up yet. So far good sound at half bass.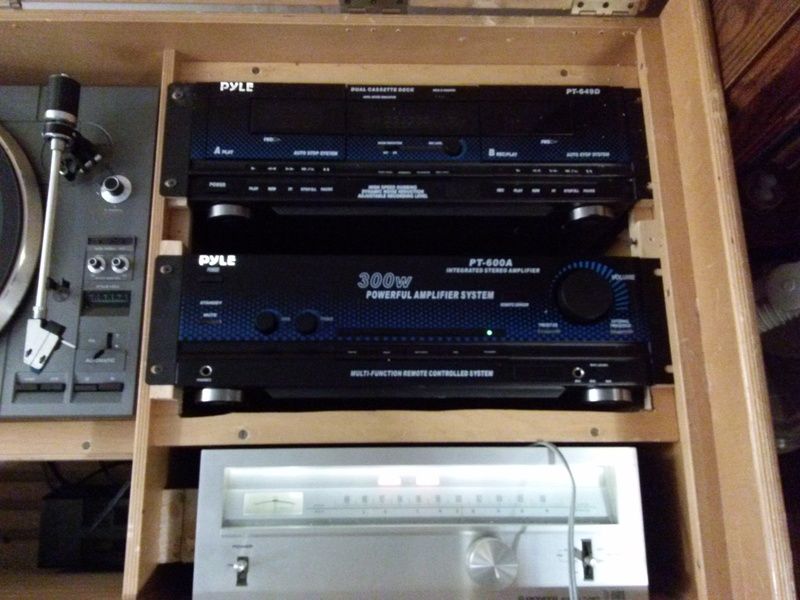 back of the Old pioneer amp. Looks like it was also custom built as it has a extra jack for a 1/4 inch headphone connector which was connected.
11-01-15, 03:33 AM
Join Date: Sep 2015
Location: US
Posts: 1,068
The red disc pictured in the original post brought back memories of radio transcription discs in the '50s and '60s. By tradition, transcription discs played inside-to-outside and turned counter-clockwise. To alert the person playing the disc, they were a different color. All I saw were red but there may have been other colors.