Comcast Cable TV cable repair
02-26-20, 04:19 PM
Comcast Cable TV cable repair
---
OK I may sound a little postal please bear with me.
I have been with Comcast for a number of years, both internet and cable TV service. For some reason three weeks ago something happened to the cable TV service. If I turned on the TV I can watch whatever channel that comes up all day long but if I try to change channels it will refuse with a "unable to connect to internet error" but my internet has no issue, working fine with no interruption. Called customer service and they said to check all connections and did a system refresh. After that they said the signal has noise which means it's either the cable X1 boxes or the wiring. They suggested that I upgrade my boxes at a store. So the next day I removed the two TV boxes, went to the stores and switched to two new boxes (identical boxes by the way so no "upgrade"). Went home and activated the boxes and everything worked fine, for about 48 hours then the issue returned.
Called customer service again they did another refresh and asked me to check my cables and connections being tight. Then said they will have a tech come to visit. I scheduled a visit last week, on Thursday between 12 to 2pm and no one showed. I went back to work. I called that evening to customer service again and asked why no one showed, they said they do show an appointment but no notes and all they could do is to reschedule.
So rescheduled to Monday 10-12, I asked them to have the tech call me 30 minutes prior to coming out so I can come back the meet him. Monday no showed again and at 3pm I got a call saying "I am here no one is home" I said I am 20 minutes away but I thought you would call me before coming over so I can meet you...he left.
So two missed appointments.
So yesterday I decided to do some digging myself. I swapped the cables around, had the one going to the cable modem (which works because I have no issue with the internet) go to the X1 boxes, and tried different combinations and doesn't matter, I have the issues on the TV changing channels.
I then looked at the lines outside, making sure nothing was nicked by a lawn mower, all looks good until I traced it to a green box in the back alley. In that green box there is only ONE cable connected (guess I am the only one haven't cut the cord) and there are like 5-6 other cables disconnected.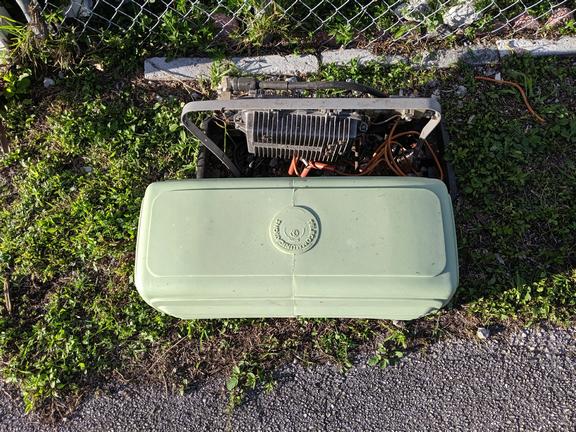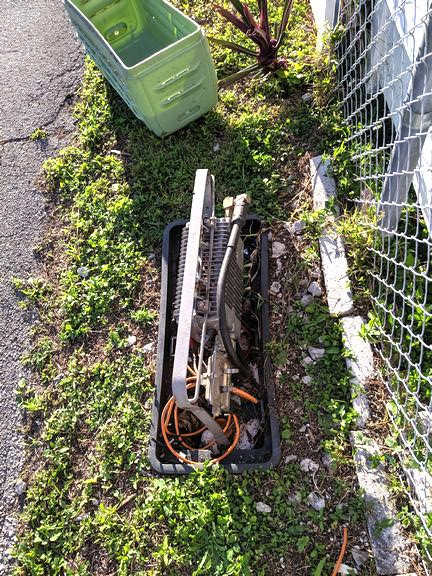 Upon close examination, the single connected cable has been pinched badly. May be a car bumped into it or whatever.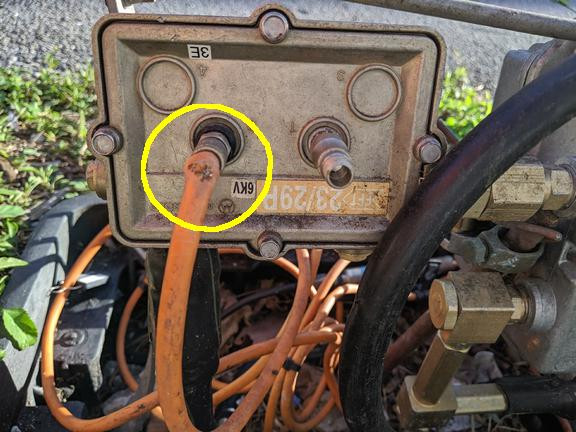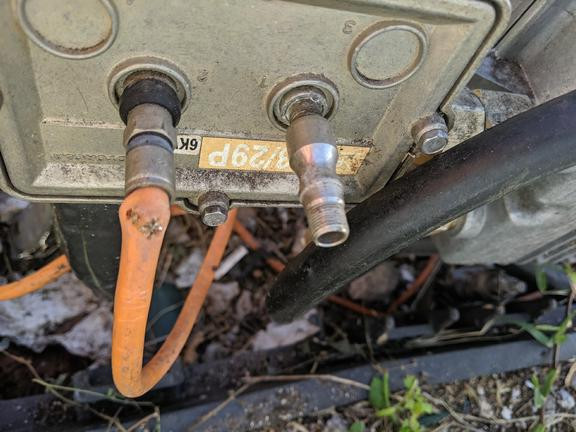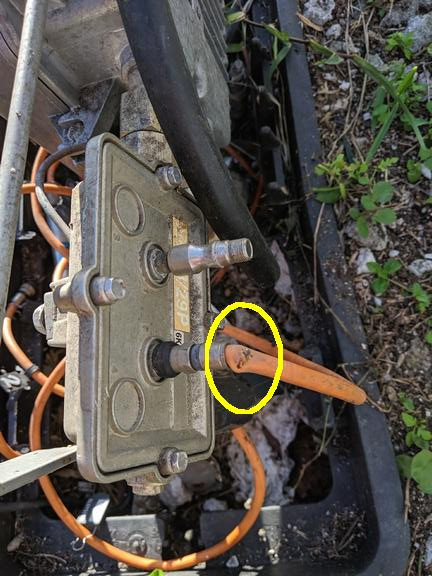 In order to make sure this is the cable feeding my home, I disconnected it and my TV and internet service was interrupted.
Next, I twisted and bent the cable where it pinched in the opposite direction and it seems to intermittently made things better. But a few hours later it went bad again.
I am reasonably sure this is the real issue here. So I called Comcast and said hey I think I identified the issue can you send someone out to remake the connection, I don't need to be home and you can come whenever. They said no, I have to be home, and they have to schedule it. I told them they already missed two appointments and I actually took time off work to wait for them only to be no showed. They wouldn't fix the cable unless I schedule a tech appointment and wait at home.
So my question is, I think this orange color cable is just a regular coaxial cable may be RG59, RG6 right? I haven't worked with these outdoor buried cables but I do have the tools to strip and crimp regular inside coaxial connectors. I know this is Comcast's equipment and technically I am not supposed to do anything to it but I am sick of waiting for them and it should only take me 3 minutes to fix this myself. Is there any reason I cannot just cut this off behind the pinched cable, strip and crimp it with a regular RG6 connector myself?
02-26-20, 05:30 PM
Comcast subcontracts their outdoor cable work. Advance communication with the person in the truck will never happen.

If I were you, I would do what you suggest, but with a big caveat. Are you sure that's RG-6, meaning are you sure your connector will fit on it?

Years ago when I moved into my current home, my Comcast signal was compromised, like yours. They finally rolled a truck and replaced all the buried coax from the street box to my house. But they didn't use RG-6, they used something noticeably thicker. RG-11 maybe? The point being that an RG-6 connector in your junk drawer may not fit the cable.

Sorry about the blurry photo. I couldn't get my phone to focus. The cable on the right is from the street; the cable on the left goes into my house. You can see the difference in thickness and some kind of adapter in the middle to join the 2 sizes.


02-26-20, 06:35 PM
Good point, I had assumed what I have outside in orange is just some ruggedized coax cable suitable for burial. I will take a regular RG6 and compare the thicknesses of the two to see.
02-26-20, 06:58 PM
The orange means communications cable.
That is more than likely RG-11 tri-shield coax and it does not like to be bent sharply.
02-27-20, 06:31 AM
OK here are some additional pictures of a RG6 cable I have next to the orange comcast cable. They look similar in diameter and the copper conductor looks the same (to me).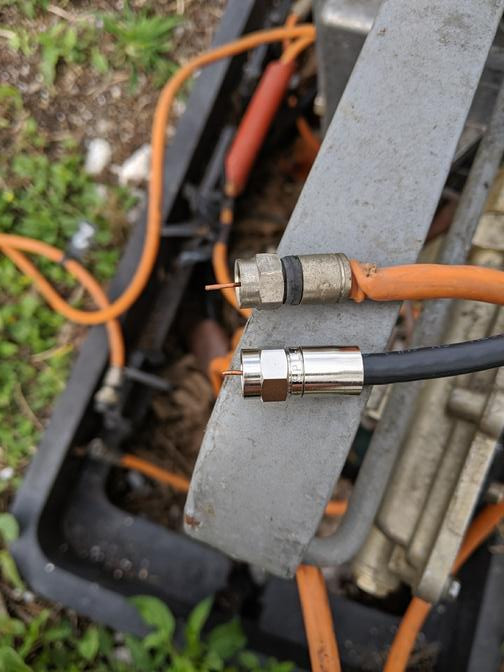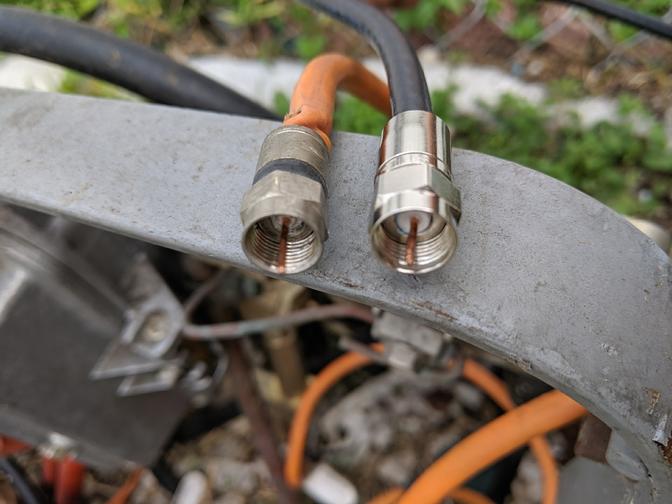 On the existing connector at the end of the orange cable, there is a label on it saying "PPC EX6".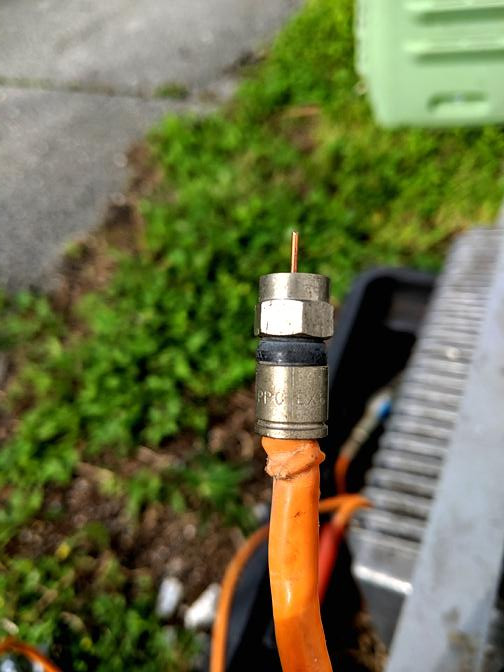 Does this confirm it is a RG6?
02-27-20, 07:52 AM
That is RG-6 then..................
02-28-20, 06:59 AM
Are there different kinds of RG6 connectors?
I used a standard coax stripper to strip the orange cable. It seems to strip fine and I folded back the braided shield, there is some gel like coating smeared on it which I assume is for the exterior weather proofing.
Then I tried to use a standard RG6 F compression connector on it. The foam core (which is inside a thin layer of aluminum foil) will not insert into the smaller hole of the connector. I thought may be I didn't strip it right and strip it again at a lower portion of the cable, same result. I was able to compress the connector onto the cable, but the foam core wouldn't push in all the way so right now I have an extra long copper conductor.
The service seems to be back to normal after a system refresh myself. Hope that will last. If I can figure out what I am not doing right I would like to remake that connection.
02-28-20, 09:35 AM
There is RG-6 and RG-6 quad shield. Each has its own connector.
The quad shield has a larger center core and four layers of shielding.
05-10-20, 03:55 PM
Most cable companies use direct bury (orange) RG6 from the roadside station unless the run is more than ~100 ft. I would certainly try cutting off a couple of inches of that damaged RG6 and replacing the F-connector.

Your time will come - Comcast Cable TV will be gone in 5 years! Do yourself a favor and get YouTube TV over the internet - help the process along!

08-01-20, 04:11 AM
I work for Dish and have worked for Comcast before, your process is the right one, that connection is damaged and hopefully when you stripped the coax you didn't see anything with a "white powder" residue. If you do, that means that moisture has made its way into that coax and is travelling through the insulation and rotting that entire cable.

As far as the fitting goes, you're on the right path.

1.) Cut a fresh end off of the cable straight across.
2.) Put the cut end flush with the back edge of the strippers, and give a few turns until it feels "loose"
3.) Pinch and pull the strippers off to remove the outer barriers.
4.) Fan out ALL of the metal fibers (but do not remove) and leave aluminum intact (the metal fibers in there are what the fitting actually clamps onto and some systems use as a ground as well)
5.) Use a fresh fitting and center the white insulation with the middle.
6.) Push and twist the fitting into place--the white insulation should be flush with the inner bevel (don't go further)
7.) Compress and cut off any excess copper wire from outside of the fitting.
8.) Use a 7/16ths wrench to torque the connection just past snug.