Wiring He260 to Amana furnace
10-02-09, 06:04 PM
Wiring He260 to Amana furnace
---
Just purchase the Honeywell He260 and would like to wire it to my Amana Furnace DMS90904CXA without using the sail switch or possible transformer.

On the circuit board I see a HUM-H prong protected with a red rubber cap, from reading the service manual this HUM-H connector is energized when the blower is on and is 115V. I assume I have to attach the supplied transformer from Honeywell, black wire to HUM-H and white wire to Neutral. Now that leaves me the two connections on the transformer (24v) labeled R and C.
I am just a bit lost now as to what I connect this to. Should I connect the R to Humidistat -> Humidifier -> back to C on the transfer? If so what about the C that is on the furnace which is also labeled 24V and possible connection for Humidifier?

on my furnace there is already a 24V 40A transfer connected, can I use that?
is it possible that there's two options for connection, 115v and 24v?

any help or direction as to where I can find information regarding this would be appreciated.
10-02-09, 07:14 PM
Join Date: Oct 2009
Location: Texas
Posts: 7,425
Do not use the furnace C terminal. You do not need a sail switch if you have a 115vac Hum terminal.
I'd wire it like this...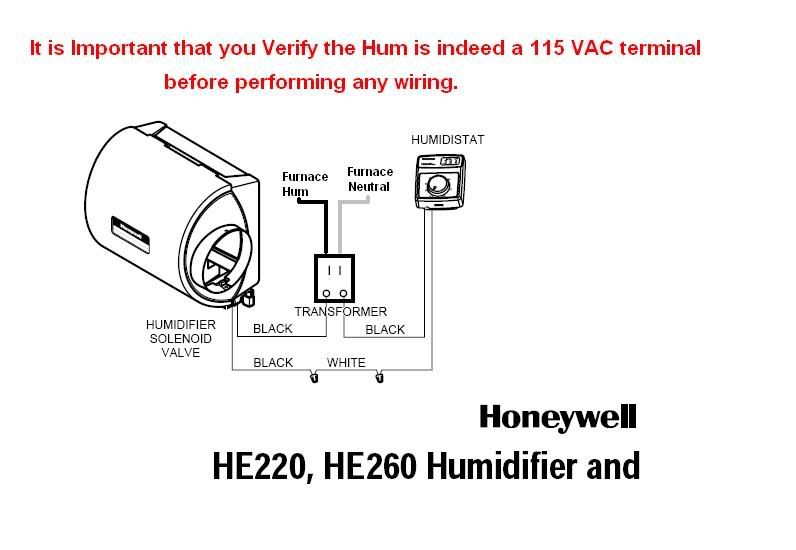 ---
Last edited by Jay11J; 10-02-09 at

08:19 PM

. Reason: changed from ULR to IMG
10-02-09, 07:23 PM
thanks a lot Houston, that picture did clear some things up plus from reading the rest of the forums I think I am pretty sure I know how I am gonna install this system.

Will tackle this firsting in the morning.
10-02-09, 08:26 PM
Good art work there Houston.
Yep, wire it like he shown there. I would advise a single out let, or like I done on mine.
That way some one can't plug in something else that may be a higher amp that may hurt the board.
10-03-09, 09:33 AM
Hi Jay/Houston.. and anyone else
on the service manual it says
All 80% & 90% furnaces have an integrated ignition control
that is equipped with line voltage accessory terminals
for controlling power to an optional field-supplied
humidifier and/or electronic air cleaner.
Accessory Load Specifications
Humidifier 1.0 Amp maximum at 120 VAC
Electronic Air Cleaner 1.0 Amp maximum at 120 VAC
can I still connect the 24v transformer onto this terminal without causing any problems?
page 61 and 62
http://www.acwholesalers.com/EasyEdi...e%20manual.pdf
10-03-09, 02:01 PM
Hi Jay,
it's not a plug in type transformer, it's one of those you have to wired up.
anyway I am thinking of not using the transformer, can I attach the humidifier/humidistat from the yellow wire off the Blower pressure switch (in the burner compartment) in series to the C commons (in the blower compartment) on the furnace and not use the Hum-H/Neutral which is 115v, while the other option is already 24v. correct me if I am wrong.
see diagram below RED 24V, BLUE 115V.