Nest Thermostat with GeneralAire Humidifier
11-05-12, 05:37 PM
Nest Thermostat with GeneralAire Humidifier
---
I searched through many of the threads on the forums regarding installation of the Nest 2.0 thermostat with a whole home humidifier setup. I saw the schematic posted by one member here, and although it was very helpful, I am still in need of some help (I am very new to HVAC, thermostats, humidifiers, etc.).
There are two wires (red and black) that connect to a metal box inside my humidistat:
The same two wires connect to what I assume is the solenoid on the humidifier attached to my furnace:
Based on some of the replies to previous posts I assume that I need to install a relay, however I am not sure exactly how to do this. I would appreciate if someone could point me in the right direction, ie. which wires to attach to the relay, if I should attach one of them to the C on the Nest, etc. Again, I have seen the schematic but I must say I am struggling to understand how it applies to my system. Additionally, I was hoping if someone could tell me which relay would be recommended, and where I could purchase one. Below is a picture of my Nest wiring:
Any help would be greatly appreciated!
---
Last edited by Stu42; 11-05-12 at

07:40 PM

.
11-05-12, 07:30 PM
before we go ANY further we need more info. What schematic are you referring to? What is the model number of your humidifier, what is the model number and make of your furnace?

Your picture did not show up. Can you post a link to it?
11-05-12, 07:48 PM
11-05-12, 08:13 PM
I think you will find that if you follow the red and black wires from the solenoid valve you will find that they do NOT both go directly to the humidistat. One should go to a transformer. One should go to the humidistat or a proving device. We really need to know how it is currently wired or you can start over and wire it differently. I do recommend using the relay with a separate transformer of the humidifier, but if you don't want to do that the nest can directly control the humidifier.
11-05-12, 08:27 PM
I tried to follow the wires as far as I could, however I lost them pretty quickly. It looks like they were spliced with some other wires before running off into the wall. I couldn't spot them running to a transformer:
I live in a condo so unfortunately I don't have the option to re-wire the setup. I apologize for being so unhelpful, like I said in my original post this is all very new to me! Without knowing whether or not the humidifier is connected to a transformer, what are my options for having the nest control the humidifier?
11-05-12, 09:06 PM
You will still need to find the wires from the thermostat to the heat pump.... Here is a schematic: It is not specific to your installation, but is to depict how to wire the humidifier. Do NOT pay attention to any wires other than C and * in the schematic.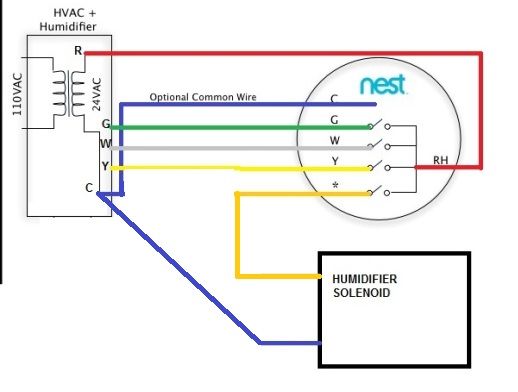 11-06-12, 07:51 AM
Thanks for all your help! I have one final question. Since I am unable to run a new wire from my humidifier to the humidistat/thermostat, would it be possible to disconnect say the black wire from both the humidifier and the humidistat, then run a new (single) wire from the humidifier solenoid to the C on the furnace? Then, connect the red wire already ran to my humidistat to the * on the nest, and leave the black wire unconnected?