Fishing terms
01-06-03, 02:32 PM
Fishing terms
---
I was reading an issue of "Crappie" fishing magazine and ran across two terms that I wasn't familiar with. Thay were "gizzard and threadfin" shad. Would someone explain just what they are and how do you identify each.
01-06-03, 05:48 PM
01-07-03, 08:56 AM
Gizzard and threadfins are often so thick in SC freshwaters that the lake is a virtual stew.

I've tried small live threadfins for crappie several times with only moderate success. When the threads are on the surface they are EASY to load up on with a 5' cast net. I've got a day's worth of bait in the first throw. Little buggers, no bigger than a medium-sized goldfish (4-5" I guess is the biggest I remember catching).

Gizzards are a different story. Often harder to find. Look for coves and protected shallow (less than 8 ft) waters that are calm. Look for odd looking surface action- little "flits" and "spits". This often turns out to be gizzard shad. I normally only got one or two, if any at all, in my 5' net. I think they outswim it. Anyone trying to catch them would be wise to buy a saltwater cast net made specifically for menhaden (like a saltwater shad and big and fast). The mesh is bigger (less sinking drag) and heavier (more lead per foot), and much more expensive in general (some well over $100).

Gizzards are my favorite- very nasty and oily, wonderful catfish (chunked) and striper (live) bait. My best catfish day EVER was because of me finding an unlucky flock of big gizzard shad. Cut them into chunks (even the head- dice it so it bleeds and leaks FAST) and hold on. Unfortunately, large turtles like gizzard shad too. I caught a 17lb softshell on it that same day, thought I had hooked a big ol catfish.
01-07-03, 01:37 PM
mako, great reply! however, its funny...in Texas the threadfin seem to produce better than the gizzard. i guess its a taste thing for the fish
the most fun i have fishing is finding schools of threadfin in the middle of the summer on top...it means sand bass (white bass to you yankees
), hybrids or stripers are chasing them...i then tie on a big pop-r and usually catch 2 at a time....mmmmmm, my stomach is growling just thinking about a mess of sandies frying in the oil! cant wait for spring!!!
JA, i also agree with mako, crappie are usually better on minnows than shad. but nothing is better on MANY MANY fish than shad....stripers, hybrids, catfish, redfish and specks
01-08-03, 08:05 AM
redfish?
---
SB- when you say redfish and specs, you remind me of two of the most popular SC saltwater fish- redfish (aka red drum, channel bass, puppy drum) and speckled seatrout.

Are these, to your knowledge, the same thing? I've heard of landlocked redfish in freshwater in Texas, but not specs (at least what SC'ers call specs).

If these are landlocked redfish (big bronze fish with eyespot on tail, looks kinda like a carp but eats MUCH better) and landlocked speckled trout, I have a website I'd love for you to drop in and tell us about it.

Thanks!!!

Matt
01-08-03, 10:30 AM
sorry, sounds like i had you going for a minute...no, they are not landlocked they are speckled trout and redfish that you are thinking of. however, i do catch them in brackish water...thats kinda sorta freshwater
the place i fish is called sabine lake...which is actually more like a bay down on the gulf. the sabine river emptys into it and the specks/reds have found they like to eat shad that come out of the river into the bay. so i have found i like to put a hook in said shad and catch said fish and grill said fish
speckled trout may be my favorite fish to eat!
01-10-03, 12:22 PM
are you saying they are croakers or just look like em? I am not all that "salty"...99% freshwater, however, i make a trip or two to the coast every year to fill up the freezer...remember, in Texas it takes 11 hours to get to our coast.
p.s. i have eaten my share of croakers in my life...big enough for a knife...as they say!!
01-13-03, 05:47 AM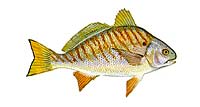 I hope that url img thing worked. If not, click below and look for the "spots" part. This is a fairly productive pier in Myrtle Beach SC about hrs away from me.
http://www.cherrygrovepier.com/fishing.htm
Spots are, IMHO better eating than croaker b/c they have a slightly denser flesh and more flavor, I've heard it's b/c they eat less fish and minnow matter and more shrimp/crab/mollusc stuff.