woo hoo, deer harvest!!
12-09-04, 09:06 AM
woo hoo, deer harvest!!
---
Just got back from 3 days in West Texas.

One 8 point, 19 1/2 wide buck

Two old, grey does

One coyote that was killing fawns

Two big hen turkey


Nice hunting trip...I have to drive back out there this weekend to pick up my venison...should fill up my deep freeze!!

I have the turkey in the fridge preparing to become turkeyjerky this evening.
12-09-04, 09:06 PM
Join Date: Jan 2001
Location: Manitoba
Posts: 9,498
All that in three days? Musta had ' tied up.em
---
Finally found a place to host my pics.
Here is a pic of my first buck.
My 2 does, 1 buck, a picture of a white rabbit hiding in brown leaves and a picture of a Peregrine Falcon took ten days!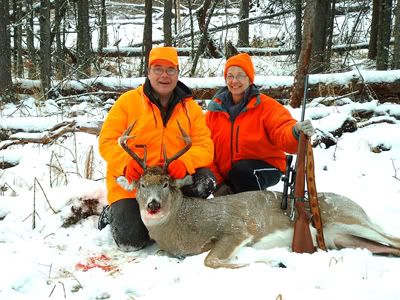 12-09-04, 10:08 PM
Congrats!
---
Nice buck. But, I would have shot younger does....better eating.....IMHO.
And, I would have to fry at least one of the turkeys. BTW, old does make good jerky too
I had my first coyote pelted, with tail, and it is a pretty neat wall hanging, but don't ask my wife about it
12-11-04, 05:44 PM
Join Date: Jan 2001
Location: Manitoba
Posts: 9,498
It weighed 145 lbs dressed.
It has 4 x 4 points, 15" wide.
If I get a chance I'll post a head shot.
Around here there are two schools of thought on counting points.
Some call mine four point and others eight.
How do you folks do it?
SB, any pics?
Mattison, my wife really likes the outdoors but doesn't consider herself a hunter.
Armed with a camera (and the necessary tag
) she really enjoyed it.
When I first mentioned her having a gun she balked, but later just ignored me when I mentioned it.......................This is a good sign!
I'm not sure about your situation, but it is only a half hour drive to our hunting spot.
This makes it pretty easy to come and go if she's had enough.
If my wife would do it, there could be hope for yours if done right.
Is it a long way to go hunting for you?
12-12-04, 07:49 AM
Join Date: Apr 2002
Location: Pittsburgh,Pa
Posts: 2,400
Upvotes: 0
Received 0 Upvotes on 0 Posts
Well it's an 8 point to me then cause that's how we count them in Pa.In the western part of Pa you need 4 points to at least 1 antler for it to be legal.The rest of the state is a 3 point per side requirement.This is a recent change started 3 years ago before that any buck with a 3 inch spike was legal.The antler restrictions are not to bad but the herd reduction is killing the deer population in Pa.They allocated more than 1 million doe tags this year and in past years the amount was similar now it's getting hard to find deer in certain areas and I'm sure it will spread.Nice buck enjoy the meat I still have muzzleloader season to try and get one but I need to see 1 first.I'm also trying to get my daughter interested in hunting but the lack of deer is not helping.
12-12-04, 09:32 PM
Greg,
My experience is about anywhere EAST of Kansas (including Kansas) it would be an 8 pointer. West of Kansas it would be a 4 pointer. My cousin is an outfitter and guide in Colorado, and he says anywhere there are Mule Deer, you only count the points on one side, or call it a 3X4, etc.
I am a little confused about the two different measurements you posted on antler spread. My experience is people measure inside spread, which I guess in your case would be 15". However, sometimes they measure height also, especially if the height is greater than the width, which we would probably do on yours, since it has such a high rack.
Any case, still a nice deer
12-13-04, 08:33 AM
greg, thats an 8 point. by the way, thanks for ruining my deer...mine was 140 BEFORE it was dressed. its true that Texas produces huge racks and small bodies. i forgot my digital camera and bought a cheap-o throw away camera...the pics of the deer did not come out. the pics of the turkeys did.
nice buck there greg.
p.s. got my meat from the processor yesterday...mmmmmmmmm!