Deer processing:cuts
03-27-05, 03:27 PM
Deer processing:cuts
---
Okay, NOT a hunter (anymore). Never hunted deer and was wondering what "cuts" of meat you get when you have a deer processed. Meaning, I know what cuts you get from a cow or pig. Do you get just steaks, roasts, and ground for sausage? Anything else? Had to ask as I have NO idea. Thanks.
03-27-05, 07:48 PM
Majak,
I personally cut my own by just cutting the most tender portions and grinding the rest.
A deer is a fairly lean animal and there is not a lot of meat on it relative to its size.
Here is how the pros do it: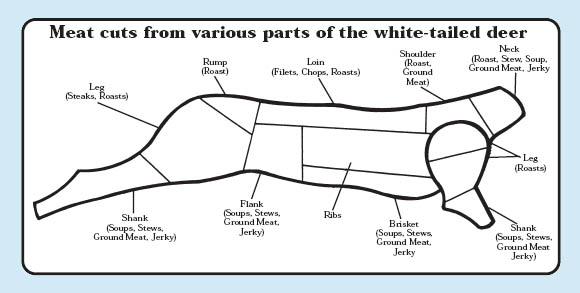 Image credit: chefdepot.net
03-27-05, 08:20 PM
Thanks for the reply and the picture. Now I have a better idea of what can be gotten should I decide to hunt one, or hit one. Will aim for the least useable area LOL.
03-28-05, 04:48 PM
The target should be right behind the front leg. Hitting here will hopefully result in a heart or lung shot, and maybe only damage up a couple of ribs.(as far as meat loss goes.)
We process our own as well, and we've done mainly t-bones, roast, ground, cutlets and jerky peices. Honestly, last year was the first year we did ground and I can say that from now on, half, at least will be ground in future years. Its just such a versitile style, you can use ground so many ways. As far as on the b-b-q goes, you cant beat a good t-bone. Betcha can't eat just one.
We get a butcher to cut our t-bones, as we bring him the whole back piece. We usually get either 3/4" or 1" cuts. Man, we have to get a bandsaw.
All this talk about venison and I gotta wait 6 months still to bag another one.
Jay
04-01-05, 08:35 PM
I had the chance to drive into a nice 8 pointer last year. About Mid Dec. I sat in my tree stand till legal time, only to see nothing yet again. I got down and went back to my truck. I was picking up a friend at work that night - he was only about 1/2 km down the road. As I pulled onto the highway I didn't drive 100 yards and this son-of-a-#$%& ran right out in front of me. Man, it was a judgement call wether to hit the brakes or the gas.
Needless to say, I didn't put any meat in the freezer that night.
Jay