Deer Everywhere!
07-02-08, 05:55 AM
Join Date: Jul 2006
Location: NH, USA
Posts: 130
Received 0 Votes on 0 Posts
Deer Everywhere!
---
When I first bought my house in 1996, I thought it was cool to see a deer roaming around the neighborhood. Up until last year I still thought it was cool. But about a year ago, the deer population must have exploded, as I see them all over the neighborhood in packs, and now I see them in my yard. And they are becoming a problem.
First they ate the hostas that are in the garden bed where my well head is in the front yard. OK, they do that every year, so I am used to it.
Then this year they moved to the new hostas that I planted along the edge of the driveway. Just planted them a month ago.
This morning, I noticed that they grazed on the hostas that are around a big tree out front, the one that is about 6 feet from the front door. They are getting braver and braver.

I had thought about planting some wild berries on the edge of the woods away from my house to attract them over there, away from the hostas. But my neighbor told me that doesn't work, as the deer avoid the blueberries and chew on his hostas...that are right next to each other.

So...how do I get rid of the deer? I really like the hostas, due to low maintenance.
07-02-08, 08:31 AM
i usually don't go for spray reppelants but we've had customers ask us to up our stock level of a product called
Liquid Fence. they say it works. i plant leftover tomato and pepper plants for the deer as a way to minimize damage to my landscape. doesn't always work. i found out this year that young button bucks like canelope leaves.
07-02-08, 12:29 PM
07-29-08, 10:32 PM
I've been living among and observing deer for a decade. Here's my take.

Repellents are generally rotten eggs, blood meal, hot pepper oil, bone meal, or cougar urine, or some combination of these. I've tried all except the urine and they all seem to work somewhat if you are dilligent. They get expensive and are annoying. As someone else pointed out, you have to be more dilligent during the rain. Dial soap grated with a cheese grater works better yet IMO, and lasts longer and is cheap, but developes an ugly scum around your plants.

I have one garden of tender plants guarded by a sprinkler on a valve that is actuated by a regular motion detection light with electrical tape over the light sensor so it works during the day. It gets me a little bit wet when I'm mowing around that garden. I've had a couple of cases where I forgot and left the sprinkler turned off, and once a brazen deer who didn't mind getting wet. Other than that it's been a fantastic system. A fellow down the road wired his lawn sprinklers to motion detectors for the deer.

I've had two vegetable gardens. With one I pounded in t-posts and used 4' high wire mesh. The deer can jump that easily but never did, not once. I was surprised. My new one is more permanent with a 6' fence and again no breeches at all from the deer.

Deer favor transplanted plants. I suppose they have less natural toxin in them. You might put a wire cage around transplants for a year or two. They definitely have less interest once the plant is established. I've had them eat transplanted yew and rhododendrons right when they were transplanted, but not much since.

As Newt said, netting allows deer to nibble shoots. Worse, if you aren't dilligent you have to tear up the plant trying to get the netting off. Netting is not bad for tomatoes, strawberries, etc in my opinion because you get in the habit of taking the netting off during the season.

Deer can be habitual and opportunistic. I have one thuja along a popular route that just won't get going because it's nibbled so much. My other thuja are mostly fine. On the other hand I planted cherry trees last year and this year found grazing evidence weirdly high in the trees. I realized that they were putting their hoofs on the support ropes between the trees and their surrounding t-posts.

Really a good dog is your best bet. It has to be one who likes to chase but won't pursue the deer to far.

Good luck!
11-06-08, 03:37 PM
Join Date: Dec 2005
Location: USA
Posts: 39,964
I've got one, too, but you have to switch to the hunting forum for that one. It is what happens when legalized hunting is legislated out of existence. The deer overpopulate and migrate to areas where humans habitate. Properly administered hunts can keep the population to a reasonable size. But I get political too quick. Nice shot of the cat!!
11-07-08, 06:07 AM
Case in point - Greenwich, Connecticut. The wealthy folks thought the deer were cute and outlawed all hunting and other preventive measures in town. After a couple of mild winters when the deer population just exploded a lot of very expensive landscaping started to disappear. They finally called in the archery brigade and now license bowhunting in town. I am told some folks even provide snacks and coffee to attract hunters to their neighborhoods first. Go figure.
11-07-08, 06:37 AM
Deer Everywhere!
---
If you have an excess of deer to where there is a problem, push your municipality to hire people to thin the herd.

Around here, it is common for this to be done every few years in areas with problems. - Some use bows and some rifles, depending on the area. One problem with the herd thinning, is the remaining deer are more healthy and have more multiple births. We now have about 2,500,000 deer in a state of 4,500,000 people. The deer are encroaching on the cities more than the cities are encroaching on environment since the large suburban lots promote good habitat.

Deer are just a nuisance. Another problem is the bears in the spring and fall. They are not real common and can be clowns, but they can also be dangerous. Few municipalities try to "thin", but do target individuals.

Dick
11-07-08, 11:47 AM
Deer Everywhere
---
It is unfortunate that the management of wildlife protection and presevation has been taken over by the "all knowing" and "intellegent" pork-barrel people in Washington (the congress via funding controls) and not the people that know something about the species and habitat.

For many years, the magnificent wolf was protected to the point where in some areas, they became to populous and could not live naturally and have had to revert to living off other species which upsets the balance of nature. - Too many animals in the legislatively (foreignly) created environment.

Even the beautiful, magnificent red fox has become similar to a sewer rats because of the protection and environmental conditions that cause a lack of their natural prey.

Where I live, the area is a combination of higher (not high) land separated by low lands (marshes, grass, etc.) with many undeveloped areas, so the deer follow the trees in developments and along the higher areas and the edges of the marshes. The hawks have free reign and can always find the food that the fox also uses for survival. This puts pressure on the foxes to expand there normal accetable food. There is even talk about thinning/managing the population to make it healthier, similar to opening up the wolf in the northern areas for controlled management where the wolf is becoming stressed and unhealthy.

I know that salt licks are an attactive nuisance for deer that give you "pretty" deer to look at daily, just like an automated deer feeder, but they are not good for the species. It would have very stuoid, but not nice to look at deer daily, but not as good a deer naturally going about normal activities.

Deer live well with humans and too well for their own good.

Dick
11-07-08, 12:36 PM
I don't consider deer nuisances at all. They're just critters trying to survive like the rest of us. I've taken steps to minimize any damage they do on my property and I toss them a few apples during the winter. I enjoy watching them. Maybe it's guilt from my having eaten so many of their ancestors.
My vegetable garden is fenced and they've never bothered much of my plantings around the yard. They're welcome to the drops from my fruit trees. Incidentally, I have hostas that are 20 years old and the deer have never touched them. I wonder if it's the variety?
Birds sometimes raise cain with my berries and cherries but I don't consider them nuisances either. I feed them in the wintertime especially when there's snow. I suppose that's bad too.
Feral cats and woodchucks have been a bigger problem than deer. The woodchucks I took care of the old fashioned way. Most of the cats have gone to meet their maker the PC way.
The real reason that there is an overabundance of deer is that in most places their only serious predator is the automobile. Hunting no longer controls the population, tree huggers do and they're doing a poor job.
09-27-10, 01:23 PM
I had deer eating the tomato and pepper plant from my upside-down bags. They were at a perfect height. I cut chunks of Irish Spring soap and hung the, with wire from the bag supports so they were about at the vegitation height. No damage since then, buy they are a little smaller from the summer rains, which may keep a fresh aromatic face. I still have not figured out the raccoon and bear solution.

Dick
09-30-10, 06:24 AM
Join Date: Dec 2005
Location: USA
Posts: 39,964
Hey, Dick, do those upside down thingys really work???? Wifey is an organic gardener, and anything "catchy" on TV, she Poo Poo's. Now the soap works, as well as dog hair after she brushed them down. It's coming up on mid October, so time is right. Gotta get ready for the "season". They all disappear about October 11, naturally!!
Wonder what this line is made of???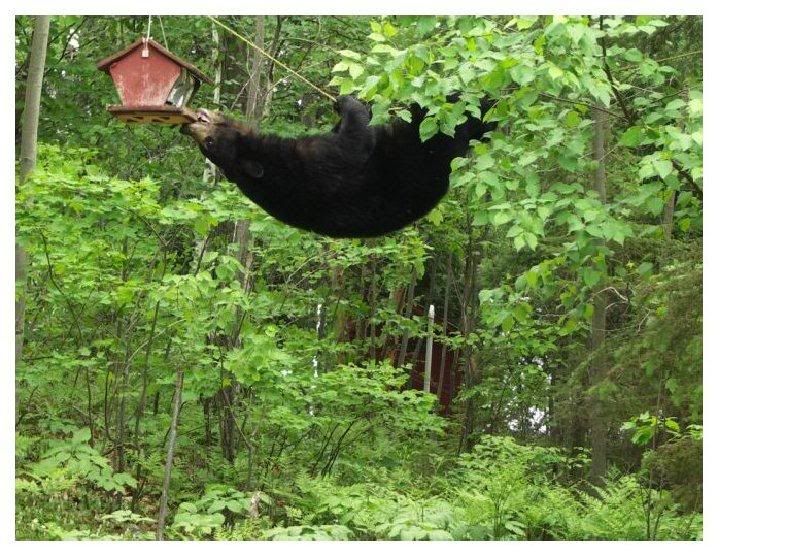 09-30-10, 08:06 AM
The upside down concept does work, but does have some problems and limitations. I use it because I am in a quad home and the area around the house does not get the right sun for some things. I use them because I can locate them in an area with the right exposure.

The limitations are that you can only plant determinate tomatoes (I plant Romas) since the indeterminate plant grow too much and hang on the ground (Cherry Tomatoes, Beefsteak, Big Boy, etc.).

The problems are the tremendous amount of water (1 gallon +) required each day when they get growing. The weight of a bag really gets up there near the end of the season (maybe 50#) and you need good support and an off-center load on a support embedded in the ground will cause leaning. I use a 4 hook stand with 4 deep spikes and change over to holding some bird feeders for the fall, winter and early spring. I can put out tomatoes much earlier that conventional because I can take them in when there is a frost and bring them out in the morning to absorb the sun's heat.

I don't do a thing about the bears because they are solitary and hiding through most of the year and only venture near people just before or after hibernating. Deer are a different problem because they love being near people and fresh plant growth. That is why hunters are hired by different suburbs and cities to clear out the excess deer and reduce car accidents. I have friends that go to their deer stand a couple of days before and hunting and start up the proved deer attractor - a chain saw. Cutting down a few excessive nuisance trees and bushes will continues to attract deer for weeks because deer have good ears and memories.

Dick