Critters in walls and attic
02-15-15, 06:17 PM
Critters in walls and attic
---
There are some critters in the attic and walls.

They can be heard moving around up in the attic and sometimes inside walls.

I have no idea what they are.

I am in South Florida so it could be squirrels? rats? mouse? raccoon? or anything else.

Suggestions?

Set traps or use bait?

I would prefer not to kill them and have animals dying and rotting inside.

Is there something I can throw into the attic that would drive them out?
02-15-15, 06:29 PM
Join Date: Oct 2008
Location: New England
Posts: 9,460
They are doing more than messing up some insulation as they don't go outside to do their thing. Not a pro, but I would set small and large snap traps and possible a medium size live trap. If they are in the walls it sounds like mice or rats, although my experience with rats is they are very secretive. Cheese and peanut butter are my choices for bait.

Have you seen any droppings or do you have any idea where they are getting in?

Bud
02-15-15, 07:00 PM
Join Date: Oct 2012
Location: Jersey
Posts: 63,093
Is there something I can throw into the attic that would drive them out?
How about an alligator.
Cheese, peanut butter and salami works good too.
02-16-15, 04:35 AM
Join Date: Mar 2005
Location: USA - N.E.Tn
Posts: 45,413
Unless you have big access holes, I'd suspect mice. I also prefer traps, no fun to smell a rotting corpse somewhere in the wall
02-16-15, 06:56 AM
Join Date: Jun 2010
Location: United States
Posts: 1,897
Without seeing the evidence such as fecal droppings, the physical damage, etc there is no way to determine what it is. Could even be birds or bats.

Someone has to get in the attic and inspect thoroughly. They will need a strong light.

First, go outside and inspect siding from top to bottom, especially the soffit and ends of soffit, gaps in flashing, etc for any openings or cracks, etc. Get on the roof if possible as you will see things that you canít from the ground.
02-17-15, 05:30 PM
I found a potential point of penetration.
Personally I have not hurt the noise, but others in the house has. It was described to me as "some critters walking in the attic and pushing an acorn around".
Here is the spot I think it's getting in. On both sides of the house there is an opening on the concrete wall into the attic, for ventilation I supposed.
This is also where the electrical weatherhead is located and phone lines, cable TV come in.
The mesh screen behind the opening has been ripped open. I honestly don't remember when. Was it broken into by critters or was it ripped open some other ways I don't know.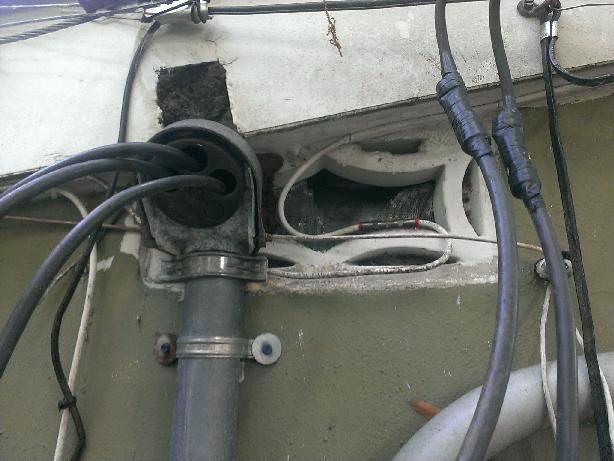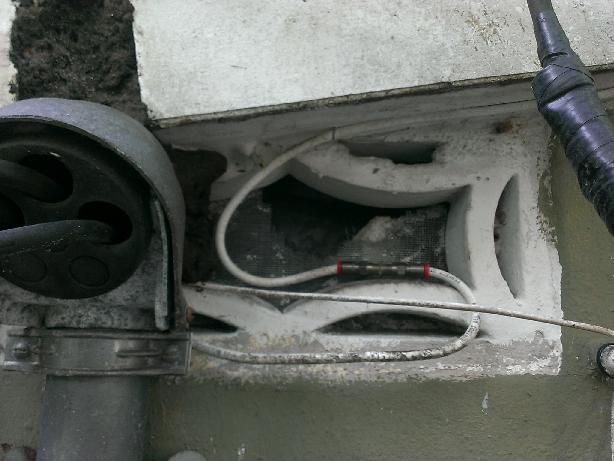 If I close it off I would be trapping in the critters right?
I need to lure them outside...
02-18-15, 04:36 AM
Join Date: Mar 2005
Location: USA - N.E.Tn
Posts: 45,413
It's always best to eliminate the critters first before closing off all access. You probably don't want to completely close it off as it appears to be a vent of some kind but it does need new screen wire ... maybe add some hardware cloth behind it for reinforcement. If there isn't any access from behind you could trim a 8x16 soffit vent to fit and attach it on the outside - but you have to be careful working around the electrical!
03-13-15, 03:30 PM
An update.
I called a local animal control guy to come take a look.
After walking around outside and inside, he agreed with me that is the spot the critters are entering the house.
There is another vent on the opposite side of the house, and that side because there is no cables, electrical lines, weatherhead etc...the mesh is solid and no sign of penetration.
This side is a problem. He mentioned that rats and squirrels love to walk on these electrical lines and this is a perfect opening for them.
So for $200 he went inside the house and opened the attic hatch and put in some bait. I forgot what kind of bait it is but it is something he has to mix in his truck and comes in a white plastic tube of about 3" in diameter and 2-3 feet long.
He said this is not an "instant" kill, but something that makes the rats or mice very thirsty, and when they go outside the house to look for a water source, they would keep drinking and drinking and most likely die outside over a few days or a week, and if they don't die off with all the non-stop drinking they would be too heavy to climb up and re-enter the house.
So when there is no more noises it is the right time to close off the hole. He quoted me $100 to do it or I can do it myself.
I end up closing off the hole myself using chicken wire mesh, secured wih tapcon screws over fender washers, and some moldable epoxy around the edges and the weatherhead.. The previous owner/occupant obviously attempted to seal off the hole with expansion foam, but with the heat in Florida and the daily rain, the foam turned into dust and got chewed opened too. So I dug out the foam and repaired the wood with wood filler then painted over.
Hopefully the rats are gone.
03-13-15, 03:48 PM
Join Date: Jun 2010
Location: United States
Posts: 1,897
Looks good ! Thanks for the update!