What animal do I have to deal with?
06-27-16, 08:53 AM
Join Date: Jan 2015
Location: USA
Posts: 450
What animal do I have to deal with?
---
From the picture you can see an animal has taken up residence in a corner of my lawn:
I have chipmunks, but this is nothing like their holes. The hole, itself, is 2 - 21/2" in diameter. The mound is wide and several inches tall. The hole is approx. 30' from a rocky, wooded area and approx. 100 yards from an area considered wetlands although seldom more than damp. I suspect a rat, but don't know.
Sponsored Links
06-27-16, 09:10 AM
My first thought is woodchucks.
Excellent diggers, woodchucks dig both simple and complex burrow systems, whose depth and length depend on the type of soil. Most burrows are 25 to 30 feet long and from 2 to 5 feet deep, with at least 2 entrances, although sometimes more. The main entrance is often the most conspicuous, with a large mound of freshly dug dirt nearby. The other less visible entrances are used for escape purposes. A nesting chamber for sleeping and raising young is found at the end of the main tunnel; a separate toilet chamber helps keep the burrow clean. Woodchucks may have 2 burrows: a winter den, in a wooded area, that is deep enough to keep them from freezing, and also a summer den, in open flat or gently rolling areas.
from ct.gov
06-27-16, 01:38 PM
Join Date: Jan 2015
Location: USA
Posts: 450
I found more, at the base of my foundation. It's on a slope so I'm concerned about erosion. Is there a solution other than killing them? I used a mixture of detergent and castor oil that worked for moles and I'll try that tomorrow. Any other suggestions?
06-27-16, 01:44 PM
I'm pretty sure rats don't dig holes underground. Not sure if a woodchuck is the same as a groundhog, but groundhogs would be my guess. I have holes all over my back. I think you have to bomb their holes closed to chase them away, but they always come back.
My last dog used to wait for them, catch them and kill them, but not all dogs do.
06-27-16, 02:00 PM
Join Date: Oct 2004
Location: WI/MN
Posts: 19,138
Likes Received: 19
I have a gopher problem and their mounds look a lot like that.
06-27-16, 02:18 PM
Join Date: Mar 2005
Location: USA - N.E.Tn
Posts: 45,206
Likes Received: 11
My stepson has a rat problem where they have tunneled under the road from the farm on the other side.
07-04-16, 08:50 AM
Join Date: Jun 2010
Location: pennsylvania, USA
Posts: 1,545
Likes Received: 2
Seems to big for a rat but you never know. Could be a young groundhog (woodchuck). They are leaving their mothers right now and looking for harborage.
07-04-16, 03:27 PM
Join Date: Oct 2008
Location: New England
Posts: 10,293
Likes Received: 8
One of the trail cameras would sure make identification easy. Rent borrow or buy.

Bud
07-05-16, 07:36 AM
Join Date: Jun 2002
Location: Northern Minnesota
Posts: 1,582
Badger?
---
Do you have badgers over your way? Brother saw two of these playing in the road then they headed for home.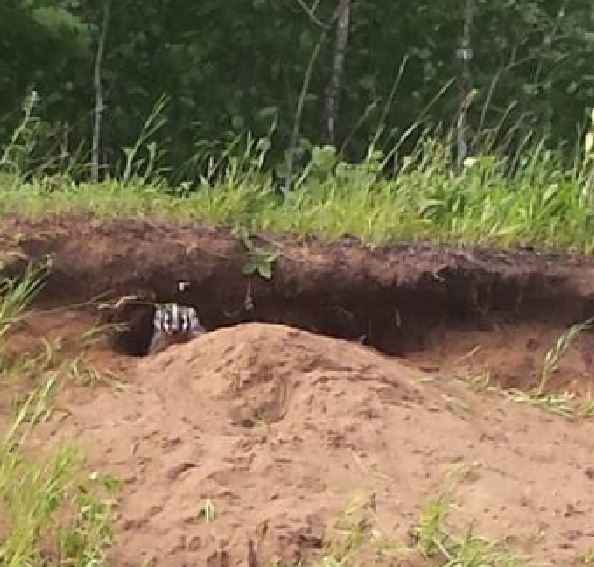 07-05-16, 09:35 AM
Join Date: Sep 2012
Location: USA
Posts: 766
I'm with stickshift... I would suspect a Gopher. That was my initial thought.
Posting Rules
You may not post new threads
You may not post replies
You may not post attachments
You may not edit your posts
---
HTML code is Off
---