Worms
07-24-18, 08:16 AM
Join Date: Jul 2018
Posts: 2
Worms
---
What are these worms and how do I control them?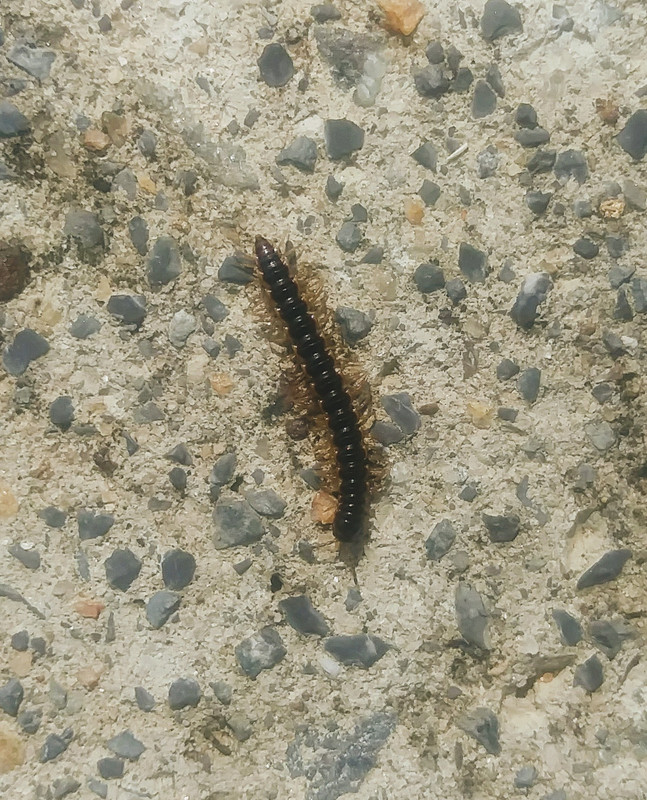 Sponsored Links
07-24-18, 08:50 AM
Join Date: Oct 2008
Location: New England
Posts: 10,308
Likes Received: 11
Google "centipeeds pictures" and there will also be guidance for keeping them out of the house. The bug pro will be along.

Bud
07-24-18, 08:52 AM
Join Date: Jan 2011
Location: USA
Posts: 4,383
Likes Received: 14
07-24-18, 09:33 AM
I can tell you that they love water and damp areas. They are typically found in basements and crawlspaces. They like the dark moist areas. If you can dry out the area.... that will usually chase them away. I use those sticky pad traps in my garage and basement where I get them.
07-25-18, 08:59 AM
Join Date: Jun 2010
Location: pennsylvania, USA
Posts: 1,556
Likes Received: 4
It appears to have two legs per body segment so that would make it a millipede. Joe's attachment is a good one to read.

They are very difficult to keep out of a house. They come from outside though sometimes they will live underneath cement basement slabs, patio slabs, garages, etc. If you are getting a lot of rain, meaning the ground is soaked, they will leave the ground quickly. Everything likes a the right amount of water, but too much is too much. AS they can come from deep in the ground, it is hard to control with a typical insecticide treatment.

They are also cyclical in my opinion, meaning that some years they are bad in spite of rain/lack of rain.

Are they in basement only? Getting into living spaces?
07-30-18, 03:32 AM
Join Date: Jul 2018
Posts: 2
Only in my basement. Our basement outback is at ground level, and on the north side, which rarely gets Sun, so it does stay moist. Ugh!
07-31-18, 08:18 AM
Join Date: Jun 2010
Location: pennsylvania, USA
Posts: 1,556
Likes Received: 4
If this is the first time that you've had them or had them to the point of pushing your comfort level, then this is probably because of the cyclical nature and/or the wet ground around the house, meaning that you might not get them this bad again, at least until similar circumstance occur again.

Otherwise the common ways they enter basements are: Overtop of the basement foundation wall between sill plate header/band board and dropping down onto floor. If this is happening then it means that they are crawling up exterior wall, going behind siding and dropping into basement. If this is the case, make sure that their is a gap between soil and siding. You could then make a slight trench/depression against the wall and apply a layer of insecticide granules. Might help and might not.

They may also be coming up from under the basement slab. If so, then consider caulking where basement slab meets basement wall, if accessible. Also if you have sump pumps, look inside the sump to see of there are millipedes.

Insecticide treatments generally don't work on these guys as it is difficult if not impossible to get the insecticide where they harbor. Oftentimes my best advice for millipedes is to hang in there, time will bail you out. Realize that they are harmless to property and health.
Posting Rules
You may not post new threads
You may not post replies
You may not post attachments
You may not edit your posts
---
HTML code is Off
---