Cant get rid of drain flies
06-14-20, 01:21 PM
Cant get rid of drain flies
---
I've tried everything from drain cleaners to having my septic tank pumped and can't get rid of these pests. I've been dealing with them for years and wanted to make a thread for people out there like me with this unusual problem. I've narrowed it down using several methods such as covering drains with tape and replacing the flipper type drain stopper with a push button rubber gasket type. At this point I know the drain flies are coming out of the bathtubs. I don't know how to get rid of them or at least stop them from coming into the house and would appreciate any suggestions.

Is there some type of mesh cover I could put over the tub overflow drains? The wall in one bathroom is down so that I can see the tub backside from the other bathroom. I suspect there are no traps below the tubs so there is no water to block them from coming up the pipes. That's why when I stop up the tubs I still see flies if the overflow part isn't taped up. I need something that can block the overflow drains of both tubs, but I can't think of anything short of rigging something up. There are plastic covers that give you an extra couple inches of water for a bath that I've seen. I don't think those would work, I think flies would come up and die in those covers, and that would get ugly quick. When the septic tank was pumped, the flies went away for a while but unfortunately they have returned with a vengeance. The only thing I can think of is putting something on the back side of the tubs in between the overflow and the tub.

I desperately need help, any thoughts or suggestions are appreciated, thanks!

Sponsored Links
06-14-20, 01:31 PM
Join Date: Oct 2012
Location: Northern NJ - USA
Posts: 57,710
06-14-20, 05:18 PM
I don't know how to modify the overflow drains or even if it should be done. Probably wouldn't hurt but hopefully others with plumbing knowledge will offer help. If you could take the overflow plate off from inside the tub you could cut a small piece of screen, metal or fiberglass, and tuck it in there. If there are no traps, or if they aren't holding water, then that is a problem that should also be addressed. It sounds like you've done a good job of narrowing it down to the drains. Otherwise, there isn't a chemical option as the cure for most of the smaller fly species is to mechanically/physicall remove the breeding site.

Just suppose there is water in the traps, but that the trap is also gunky with sludge and decaying organic matter. It can happen if the drains move slowly. The flies could still breed in the drains even though they do drain. Take a garden hose and flush the drains with force and it might blast the gunk out of there. Flush down through the overflow as well so you get it from both angles. It's kind of a "hail Mary" idea, but it should be tried at least.
06-16-20, 09:07 AM
I've thought of stuffing some window screen down the overflow drain as you suggested, and I may have to resort to that.
I'd like to be able to fix the problem without having to do that, though.
I've snaked the overflow drain on the first tub.
I didn't feel anything unusual and didn't get anything out, but it smelled awful.
I don't think it should smell that bad unless there isn't a trap, correct me if I'm wrong.
I have used drain cleaners and boiling water several times, some stuff did come up from the first tub once.
I haven't thought of the garden hose idea but I will try that as soon as I can.
I dug around in the dirt below the second tub.
I didn't see a trap.
It looks like it connects directly to the main line going to the septic tank.
I have no idea why there was never a problem for decades, but now there is.
06-17-20, 08:07 AM
It's still hard for me to believe that there is no trap in the drain but it sounds like you've looked quite well for one. Anything's possible and if that's the reality then that's what we have to deal with.

If it's too difficult to install a trap, then I'm wondering if an in-line check valve can be installed? Just thinking out loud as I don't have a strong knowledge of plumbing theory. Hopefully we can get some good advice on this aspect of the problem.

I've heard that physical changes can occur in plumbing that then cause traps to drain or at least not fill enough. That could explain why this didn't happen before, but this assumes that there is a trap. Still thinking out loud here.

Boiling water is/was a great idea yet it didn't work. It's still possible that both boiling water and drain cleaners could have drained by whatever decaying matter is in the drain line as they didn't fill the capacity within the drain line. May have removed some and gave temporary relief but it starts again. The idea behind a forceful water blast through the drain is that it should fill the drain line with forceful water and could/should scour the interior of drain pipe. I know it could be a lot of work, but I know that I'd try it if it were my issue.


06-17-20, 09:13 AM
Does your house have an unfinished basement or crawl space to allow you to look at the area underneath the tub? If so you should be able to see if there is a trap.
Snaking/auger the drain line can also determine if you have a trap but you have to go by feel. Look online at some photos (there are several different ways it can be plumbed) so you know how a tub and it's trap are plumbed and how far everything is apart and what to feel for. Sometimes the trap is right below like this diagram, sometimes it can be further down, sometimes there is a 90į fitting and then a trap. You can also sometimes hear your auger splashing water when it's in a trap.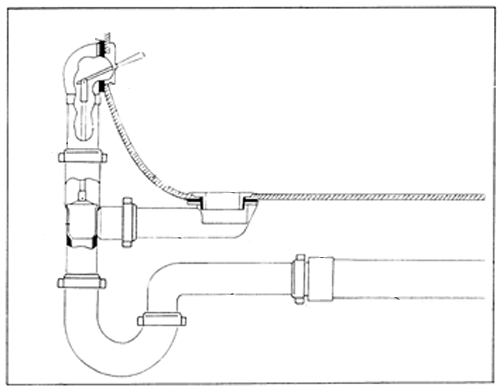 06-18-20, 10:10 AM
Most tubs have an access panel behind them, since when they are installed, you need to do plumbing connections from behind/under them... and often when they need repair, you'll need to get into them anyway. I would consider cutting a hole behind the tub and covering it with an access panel. That would get you access to the trap and see what you're dealing with.

If there's a functioning trap there, you'll at least know that you need to deal with the flies coming from the water in the trap. If it's an old house (1930's and prior), you may have a drum trap that needs to be cleaned out. Or (unlikely), if you don't have a trap at all, figure out how one can be added.
07-01-20, 08:59 PM
I used a dryer vent brush on the bathtubs.
A lot of stuff came out of the overflow pipe on the first bathtub.
After no more stuff would come out I flushed it.
I used the garden hose in both bathtubs.
I cleaned out all sink traps and overflow drains.
I stuffed washable air filter down both bathtub overflow drains. I taped up the first bathroom pipe where the toilet sits.
I taped up the pipe that goes to the sink in the first bathroom.
More flies seemed to come into the second bathroom after removing everything from the sink overflow drain and flushing it. I ran a brush down the pipe until no more would come out and used drain cleaner and boiling water on it. After making sure it was clean and then leaving the overflow uncovered, a little while later there seemed to be more flies in the bathroom. That's the strange part. I've done everything I can think of, but they're still coming. It seems like there are not as many as there used to be, but they're still coming in from somewhere.
I don't know what to do other than get everything back together and call somebody.
I don't know if a professional can help us at this point.
07-02-20, 07:01 AM
I'm assuming that at least several days have passed since the brush/hose work. Is the activity still minimizing? If so, that's a good sign; if not then the source or breeding site hasn't been found yet.

If you've closed the tub/sink drains, plugged overflows of same, taped base of toilets and floor drains and are still getting them, then i wonder if they are coming under baseboards from wall voids that have moisture issues, or worse, maybe a sewage pipe is cracked and leaking underneath the slab and they are finding a way in from there.

Are there any water pipes in overhead ceiling? If so, it's possible that a very slow leak in the insulation, etc could be a decomposing source but too slow of a leak to notice.

If you call a pro pest control guy, make sure they understand small fly and plumbing problems. So many of them (us) just want to spray as what they are used to doing is solving the more straightforward insect problems. I would think that you would need an owner/operator to come out if you choose that path but spraying won't work. Finding the source and physically removing, modifying, etc is necessary.
07-08-20, 11:50 AM
I'm not so sure that they are coming out of the drains anymore. I had both tubs completely stopped up, filters in the overflows and tape over the drains.
I noticed that with the tubs completely stopped up and the lights off in both bathrooms flies would appear more in the rest of the house.
I done some more digging in the dirt below the second tub and didn't see anything.
I left the lights on in both bathrooms and noticed flies would appear less in the rest of the house and more in the bathrooms.
I double checked everything and found something.
There is a cut in the new water spout I installed in the second tub.
It's made that way, I don't know why.
I taped it up and pulled the tissue out of the sink overflow.
Voila, hardly any flies in the second bathroom.
They were coming from the first bathroom going through the hole in the spout where water comes out for you to take a bath.
I thought they were coming from the overflow drain in the sink I had just cleaned out.
It makes sense because I left the light on to see if they were coming from the sink overflow after cleaning it out.
What I didn't know was there was a hole in the water spout, so they could get in there from the first bathroom.
If you leave the light on in there, you will see a couple sometimes.
But they are likely coming under the door. Most of the time you see none in the second bathroom now.
In the first bathroom I don't see any flies stuck to the tape over the drain.
I'm pretty sure there is a leak behind the tub in the first bathroom.
As soon as I'm able to get the other wall down and look, I'll update you.
I don't know when that is going to be, though.
It's a good guess that water is puddling in the dirt below the tub since there is a water leak.
And since the wall is down in the first bathroom, as I had been working on the second bathroom tub from in there before.
They are now coming from behind the tub into the first bathroom and under the door to the light in the rest of the house.
Although I have slowed that down some by either leaving the light on in there, or turning it off and placing a towel below the door.
07-08-20, 11:58 AM
This is the second tub, I have replaced the fixtures in it. I didn't remember there was a cut in the spout so they could come in here from the other bathroom. After taping this up they're basically all in the other bathroom. The other bathroom tub is sealed up but they swarm in there. I'm pretty sure there is a water leak behind the other tub that may have something to do with that. The wall is down in the other bathroom, so if they're behind the tub in there, they have direct access to the inside of that room. From there they can get under the door to the rest of the house.
07-08-20, 05:25 PM
Sounds like you're onto them now! Sometimes small fly issues become apparent quickly, other times progress is maddeningly slow. This one would have cause stress for pro's, too. Keep us posted; I'm interested.
Posting Rules
You may not post new threads
You may not post replies
You may not post attachments
You may not edit your posts
---
HTML code is Off
---