backward install
12-30-08, 10:09 PM
Join Date: Mar 2008
Location: USA
Posts: 61
backward install
---
Hello,

Our house was built about mid-1960.

I'm taking down the old dark distressed paneling and replacing it with sheetrock. When I take down the paneling covering the outside walls I expect to find there is no insulation. I guess my best bet in central Alabama is just to use fiberglass insulation. If I don't find a vapor barrier what can I do? This is like a backwards install! Normally you'd take that "lip" and staple it to the studs, but from the outside! What do I do here?

Much thanks for your time and suggestions.

bamakodaker
Sponsored Links
12-31-08, 05:33 AM
Join Date: Oct 2008
Location: New England
Posts: 9,999
Good morning, Your confusion is justified
. If i'm reading correctly, you are saying the insulation is normally installed from the outside and stapled to the outside face of the studs. VB to the warm side of the insulation and you are in the south, so that is correct. I'm in the north so have never actually done it that way.
A 1960 home could have plywood or board sheathing. If boards were used, you will want to air seal that outside wall before you insulate. Air can move through those boards like they weren't there, and make your insulation look like it isn't there. If boards, let me know and I'll suggest the next step.
If plywood, just caulk any seams/holes and install the fiberglass, either unfaced or faced. If unfaced, they have wire supports that fit between the studs to keep it from sliding down. If faced, staple in place to the inside face and cut slits to defeat the VB. Stapling up the kraft makes it easier to install. Note, no VB. You can install one, one stud bay at a time, but no VB is acceptable as long as there is a good air barrier.
I might as well cover the board option as you might want to use it anyway. One stud bay at a time, cut and fit 4 mil plastic. Staple in place and seal around the edges with construction adhesive. The big tubes are cheap. The gun you will have forever. The other choice I like, if your budget isn't too tight, would be to cut and fit 1/2" of rigid foil faced, foil facing to outside, and seal around the edges with great stuff. The foil will stop some of the summer heat, add r-value, and give a good air seal. If you cut it tight, no can foam needed. If you want even more value, they make, sometimes hard to find, r-15 for 3 1/2 walls. I'm assuming 3 1/2 walls.
Let me know if you need clarification and have a good new year.
Bud
02-12-09, 07:33 PM
Join Date: Mar 2008
Location: USA
Posts: 61
insulation
---
Took out paneling -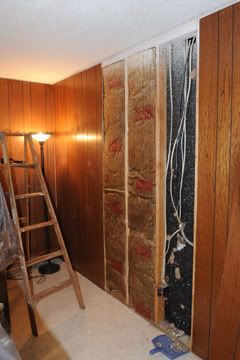 found not one but two empty runs -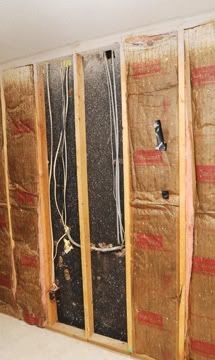 plus none with storage room -
old insulation never stapled -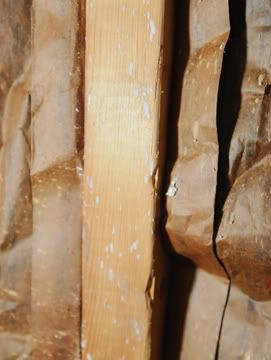 paper to brittle -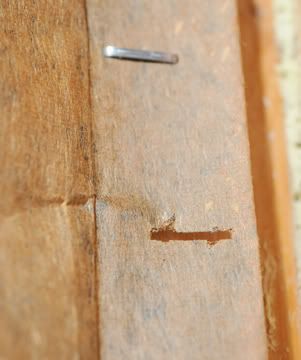 rips in insulation never repaired -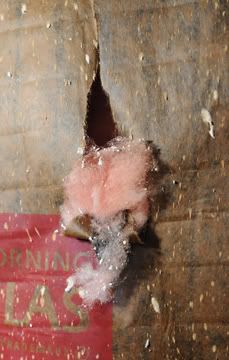 window frames poorly sealed -
holes through outside walls where dirt daubers made nests -
holes leading to attic -
all these tackled, old insulation stapled up, new put up and stapled, holes sealed, new sheetrock up and covered - I hope the room is noticeably warmer now!
bamakodaker
Posting Rules
You may not post new threads
You may not post replies
You may not post attachments
You may not edit your posts
---
HTML code is Off
---