Kitchen Undercabinet lighting install torn vapour barrier
09-20-10, 08:42 AM
Join Date: Jul 2008
Location: canada
Posts: 9
Kitchen Undercabinet lighting install torn vapour barrier
---
Hello,
I had some electrical work done to have under cabinet lights installed. Now that the lights are installed and working, I was left with the job of patching the hole in the drywall. I will then be tiling the back splash afterwords.
I don't have a lot of experience so I am trying to see if I can do this job myself or if I need to seek some professional experience. The problem I am faced with is this is an exterior wall and the vapour barrier was torn. I need to repair this vapour barrier before I can patch the drywall, and I want to repair it as good as possible. I purchased some more vapor barrier and a roll of tuck tape. I exposed another 1-inch of vapor barrier all around the hole. I am thinking I need to overlap the vapor barrier and seal with the tuck tape all around. I am thinking 1-inch of overlap is not enough as some stuff I read said to overlap at least 6 inches. The problem is now the upper part of the hole is close to the cabinets and I cant expose more vapor barrier to overlap.
Anyone know whats the best way to fix this problem?
Thanks
This is a photo of the current wall.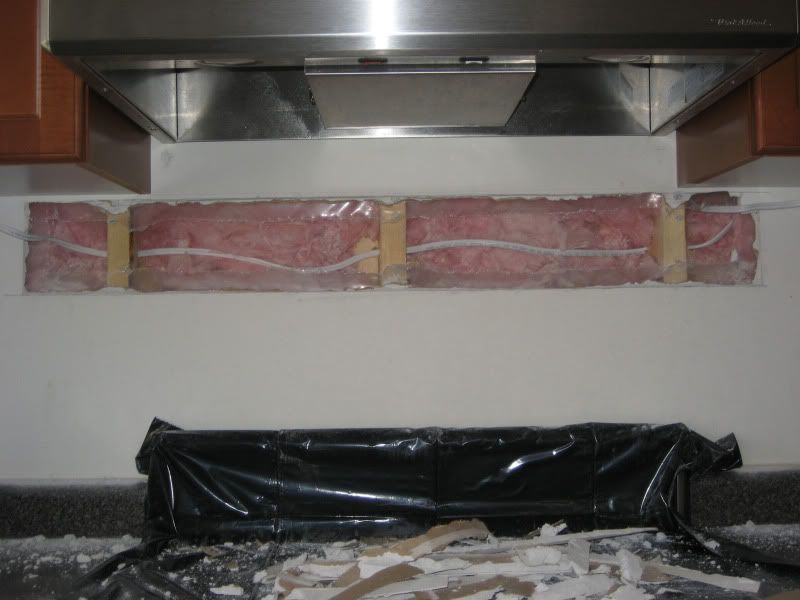 Sponsored Links
09-20-10, 08:59 AM
Join Date: Oct 2008
Location: New England
Posts: 9,990
The one inch will be more than enough. Once your sheetrock is back in place you are 90% there anyway. I'm sure you will do a more than adequate job with the tuck tape and you are done, except for the drywall.

Bud
Posting Rules
You may not post new threads
You may not post replies
You may not post attachments
You may not edit your posts
---
HTML code is Off
---