Porch Insulation
10-08-12, 10:00 AM
Porch Insulation
---
I just enclosed a 10x10 area of my back porch - the porch has a semi-flat pitch and is 2x6 construction - the ceiling of the porch is 1/2 drywall - so.. there is 5, 2' by 10' cavities that run the length of the room - the end of these cavities have the customary bird holes with screen, the amount of heat coming in thru the ceiling of the room is a little too much for the portable air conditioner to handle..
I am wondering what my options are for filling these spaces in order to reduce the amount of heat radiated in to the room... any suggestions for some type of blown in insulation that can be put in thru the bird holes? I put R-13 in the walls, so the ceiling is the only issue ( and I don't really want to put in a drop ceiling)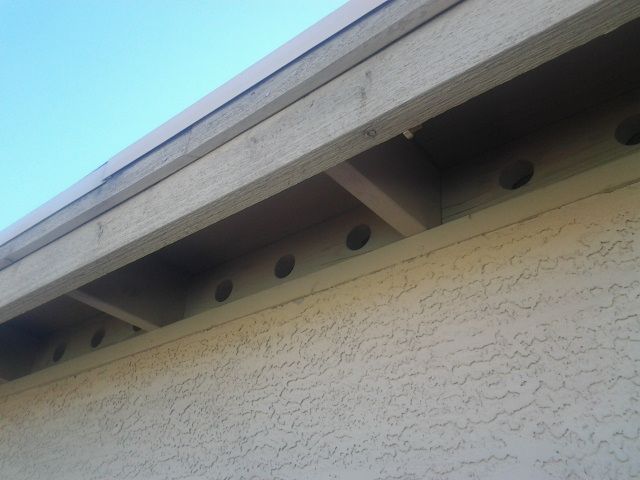 10-08-12, 12:56 PM
Welcome to the forums! Where do you propose the heated air in the cavity go? Don't worry about hot air entering those holes, worry about letting the hot air out of the cavity. I am assuming you will be covering these boxes with perforated soffit panels. Can you access the ceiling/roof area from within the porch? You said something about a drop ceiling. Are the rafters exposed?
10-08-12, 02:41 PM
There is a ceiling in the room.. if the rafters were exposed, I would just put rolled fiberglass and drywall... the ceiling and roof of the porch were pre-existing...

Tthe sun beats down on rolled asphalt roofing, this sits on 3/4 plywood, which is nailed to 2x6 rafters, and then is covered in 1/2" drywall.. between the plywood and drywall is nothing but air.. this air space gets incredibly hot, and heats the room I have enclosed...

I am assuming, that no different than a wall on a house, I can fill this area with insulation.. only problem is, the only access I have to the space is thru the breather holes on the fascia

Maybe blow in perlite?
10-08-12, 02:59 PM
It is not a question of insulation.

Your flat roof collects a lot of solar heat and there is no place for the heated air it to go. You need to provide an exit, since no amount of fancy insulation will prevent the trapped warm air from heating the warming the area below the sheet rock. - The solution is called "ventilation" that removes the hot air if you provide a way for it to get out.

Some people refer a sloped flat roof and the space under it as a "solar collector" and even to use it to heat areas and water.

You ventilate roofs to avoid trapping heat for comfort or to prevent ice dams up north.

Dick
10-08-12, 03:36 PM
The heat exits the spaces thru the "bird holes" thats why the builder put them there.. now.. how do I insulate the space so the heat doesn't radiate to the drywall? I need to fill about half of the space I am assuming ( 3 inches) to get about R-13 in there
10-08-12, 07:23 PM
The "builder" was ill-advised since hot air will not move down or even horizontally without some outside assistance. There is also a difference between radiation from heat and just warm air. Just because there is an opening does not mean most of the heat (100-140C air) will escape to a cooler area. the simplest thing to to provide an upward path and the circulation will happen.

It you box up everything, you will trap the heat, heating up the wood and insulation and allow it to warm the area below. A phoney R-value from short term steady state idealized tests really has nothing to do with your problem, no matter what the pink panther says.

Walls are vertical and have no vents. Roofs are mostly horizontal and collect heat, so some ventilation is necessary to minimize the temperature, exhaust the excess heat and extend the life of the roofing materials.

Good luck with your solutions.

Dick