Replacing Bender Board
04-13-08, 10:56 PM
Replacing Bender Board
---
Greetings,
I have established landscaping in my front yard where my bender board is very rotten and mostly gone. I'd like to replace it with new bender board but I'd rather not tear out a lot of groundcover and lawn to do it. Would someone be able to tell me how the bender board can be replaced with the minimum amount of damage to groundcover and lawn?
04-14-08, 10:29 AM
Bender board may be hard to find. Homeowners have favored plastic edging for many years. Professional landscapers prefer metal edging, which can be painted and lasts for years.
Lift ground cover to expose bender board. Use pry bar, old screw driver, trowel, or other handy tool to gently lift out decayed bender board. Place in trash bag as you go. Slip new edging material in gap left by the bender board, tamp as needed to insert. If necessary, press turf in front of edging to restore its appearance. Rake a little soil toward the back of edging to fill in and support the edging. Stakes can be used where needed. Flip ground cover back over edging material to conceal.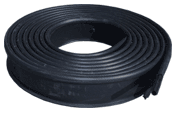 Plastic Edging
Photo Credit: Lowes