Suggestions for New Bed
05-14-08, 10:17 AM
Join Date: Feb 2008
Location: USA
Posts: 3
Suggestions for New Bed
---
Bought our home a few years ago and finally got tired of looking at the bushes in front of the house. The area is about 15 ft long and 3 feet deep so not too big, but it had rock around the bushes. I figured it wouldnt be too tough to remove it all and thought I could scrape off the rock then pull up the old plastic and replace. Boy was I wrong. The rock was mixed in with the dirt below all the way down about a foot and THEN the plastic was laid down. Couldnt even use a shovel in the dirt because of all the rocks in it. I had to use a hard rake and scrape some dirt/rocks til it was loose then went thru it by hand to pick out the rocks.

Finally have it all cleared and am ready to put down new fabric and mulch. We live in South Dakota which is zone 4 so I'm looking for suggestions on a plant to put in there. We want something no more than a couple feet high and not too wide and no tiny leaves that are going to fall off and make a mess in the fall. Something low maintenance would be nice. Wife likes a daylily but I'm not sold on it yet. Think we are going to go with a mulch this time and not rock but I'm concerned about this fall when I clean up leaves because I used to use a sucker vac to clean them before. Anyone have good suggestions for a plant to use in my area and whether the mulch is the better route over the rock?
Sponsored Links
05-14-08, 11:03 AM
Join Date: Aug 2000
Location: USA
Posts: 15,834
A mixture of shrubs, perennials, and annuals will provide the most interest. There should be something interesting in the bed each season. Growing Zone is a good place to start, but one must take into consideration soil type, rainfall, daytime temperatures, day length, wind, humidity and heat . Plant selection should also be based on size at maturity and characteristics, care and maintenance. A consultation with a local nursery or landscape business can be a reliable and informative source of information. Shop wisely and knowledgeably and do your research before committing to a plant.
http://garden.lovetoknow.com/wiki/Gardening_Zone_4
05-14-08, 06:36 PM
Join Date: May 2002
Location: Maryland zone 7
Posts: 1,716
Hi Kobe,

Great advice from Twelvepole. Since this is the front of the house, it would look best with some type of evergreen shrub, something for winter interest and to help make the house look more settled into the landscape. With such a shallow bed and so you won't have to deal with mulch, I would suggest a groundcover that will shade the soil and choke out the weeds.

I always recommend mulch or mulch and a groundcover instead of rocks. Most folks that have rocks or gravel regret it over time. It can become a maintenance nightmare.

Any chance you can make the bed deeper then 3'?

The only thing you haven't told us is the sun conditions.
Full sun - 6 hours or more
part sun - 4 to 6 hours of sun
part shade - 2 to 4 hours of sun
shade - 2 hours of sun or less.

Newt
05-16-08, 08:59 PM
Join Date: Feb 2008
Location: USA
Posts: 3
Thanks for the replies. Just today I added some new soil, laid down some fabric to stop the weeds, then cut some holes and planted daylilies and asters. Made 3 groups with each group consisting of 2 daylilies and 1 aster. I cannot make this area bigger than the shallow 3 feet it is because its in between my house and a sidewalk. The area faces south so will be full sun but there are some overhanging trees that should limit the direct sun hours. There is a little spot that goes around a corner of my patio that I"m going to be planting a single hosta in tomorrow. I got a hosta that says it is more sun resistant so I'm hoping it lasts there cause i really like the look. House had a single hosta on the east side before we moved in and it does well there.
05-17-08, 06:50 PM
Join Date: Aug 2000
Location: USA
Posts: 15,834
Making the bed deeper is a great idea. Shrubs and plants need to be out from underneath the overhang where they can get rain and sun. Too, if you make the bed deeper, you can then get away from the straight line in the landscape by making the front edge of the bed wavy. Take a waterhose and shape it the way you would like the edge of the bed to appear. Sprinkle some flour along the hose to mark the pattern for digging.
Here's a good read on shrub bed and garden design:
http://www.privateline.com/gardening/index3.html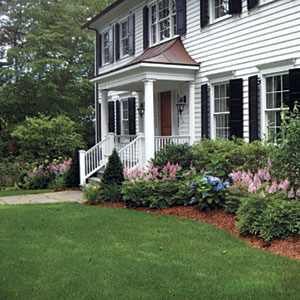 Photo Credit: thisoldhouse
Posting Rules
You may not post new threads
You may not post replies
You may not post attachments
You may not edit your posts
---
HTML code is Off
---