Huge bed problem
07-03-11, 08:57 AM
Join Date: Jul 2011
Location: usa
Posts: 2
Huge bed problem
---
Hello all. I am new to this whole landscaping deal, and I could really use some help. Right now my yard is a mess, and being the husband, I need to take it upon myself to help get it cleaned, but I am new to this and dont know exactly the right way to go about doing it. I have a couple of beds, a turtle pond, and a shed that all need something done with them. To start off, the beds are the biggest thing right now. The previous owners of this house either had someone come in that knew how to do all this, or they themselves did. The beds need to be redone, but I dont know exactly what is involved. I just want to redo them with sierra red mulch and keep the weeds out. How should I go about doing this? Do I need weed fabric layed on all of it? The rock bed is going to stay the way it is, I just need to know the best way of getting it done right. We still want white rocks to go in there, and the stones for the grill to sit on. Also, the turtle pond, we may be taking that out because the turtles were taking during the night(we think by an owl or something) and now it just sits there, but if I do want to keep it, what do I do about the weeds in there, and cleaning that bed out and getting it looking nice again? Finally, the shed. I would like to be able to put something around the shed that hides the cinder blocks that it sits on. Maybe something around the front, left side, and maybe even right side, even though that side may never be seen. I cant think of anything I can do to make that look right, but like I said, I am new to all of this. Also, that single tree bed, I have 3 of those in my back yard and they all seem to have weeds in them, but that particular one, the tree will not grow. Any advice is greatly appreciated. What should I do about all of this? See pics below.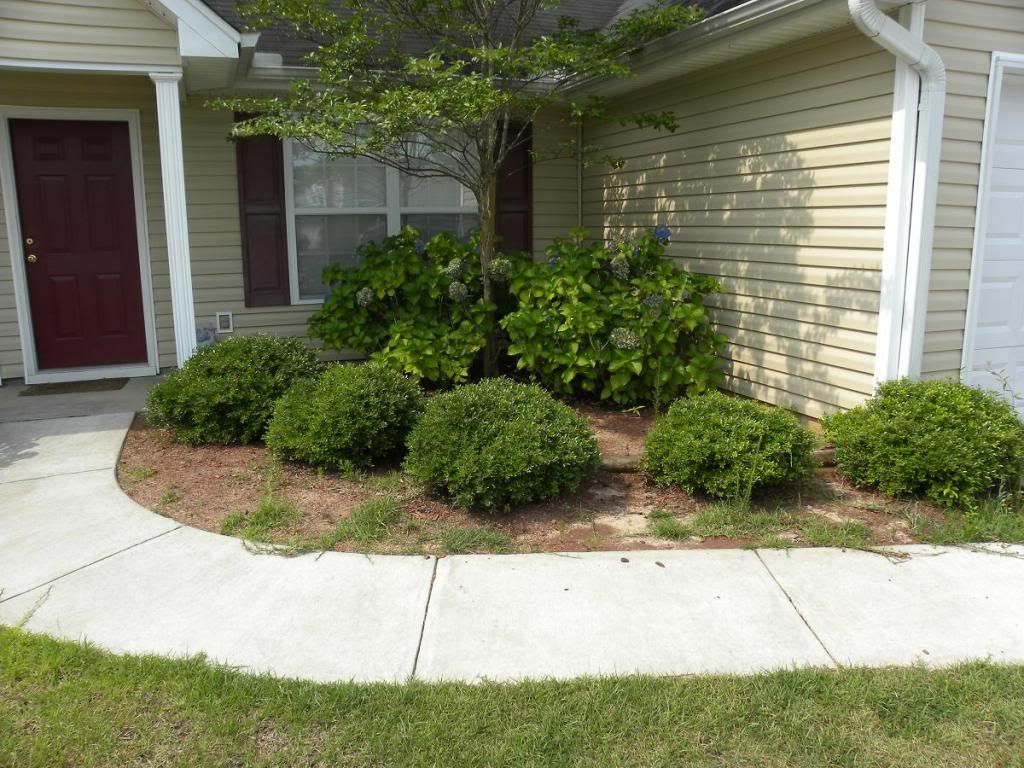 Sponsored Links
07-03-11, 09:35 AM
Join Date: Nov 2008
Location: Canada
Posts: 635
I will certainly be checking back to this thread. When I saw the pics of your backyard, I immediately thought "wow, this guy's yard looks exactly like ours" with the exception of your dog. We have two German Shepherds!

I'm in the same boat, with some subtle differences. Our backyard looks like a football field (wifey's comments), with the exception of about 40 little pine trees and our vegetable garden. I'm getting the impression I'm the one that's going to be responsible for livening things up out there.

Hope your thread gets lots of suggestions and good luck!
07-04-11, 01:35 PM
Since there is no quick fix to your problem, round-up and pulling weeds by hand will do the job. It will be slow but as each area is done I would use a product like preen to prevent new weeds. For the tree extra water and fertilizer should do the trick.
07-04-11, 02:02 PM
Join Date: Aug 2009
Location: USA
Posts: 4,946
That tree looks dead. Scratch the bark off on of the branches with your finger nail. If you see green inside, that branch is alive. If they are brittle and break off, they are dead.
07-04-11, 08:29 PM
Join Date: Jul 2011
Location: usa
Posts: 2
How exactly do I go about doin the beds though? Do I just get it back to bare dirt and put weed fabric down and lay the mulch on top? Do I have to pull up the wood borders and tuck the fabric? WhT if the tree is dead? Is it just done and I have to pull it up? I know this is a stupid question but is there a way it'll take water if it's dead?
Posting Rules
You may not post new threads
You may not post replies
You may not post attachments
You may not edit your posts
---
HTML code is Off
---