Paver Patio Leveling
05-28-13, 07:19 PM
Join Date: Jan 2009
Posts: 17
Paver Patio Leveling
---
Hi All,
I was wondering if someone could help answer a question about grading/leveling an area of my lawn that I'd like to put a patio.
What we would like to do is build an 18'x14' wide patio with an 8' circular patio coming off of it. The area where the circular patio drops around 7" over an 8-10 ft span. Hopefully that makes sense.
If you take a look at the attached image you will see the gradient in the diagram shows how it pitches. The darkest area represents the 7" mark.
Basically I'd like to know what the best approach to this would be. I was planning on digging down around 9" (5" crushed concrete + 3/4" sand + 3" pavers)
Some thoughts I've had are to:
-raise the level of that area up with dirt?
-add a second course to the design in that area?
-maybe don't add as much crushed concrete and just grade it afterwards?
Do any of these sound like the right thing to do?
Thanks in advance.
Sponsored Links
05-30-13, 06:25 AM
Join Date: Jan 2012
Location: USA
Posts: 258
I don't know about the best approach, but the worst would be to build the area up with dirt.

You'd have to add a couple of inches, tamp it down, add a few more, repeat... Otherwise, the new ground will settle unevenly and eventually wreck all your hard work.
05-30-13, 08:05 AM
Join Date: Jan 2009
Posts: 17
Thanks Louuuuu. Thinking maybe a two course retaing wall could be the solution. I could bury one block, add a second course then add the circular patio section.
05-30-13, 10:09 AM
Join Date: Mar 2003
Location: NC, USA
Posts: 18,552
I don't like the sound of crushed concrete since it can be quite unknown and variable. I would level (with the proper slope for drainage) using crushed stone. Excavate down to clean, undisturbed soil then start building up in layers about 3" thick of crushed stone and compacting. Keep building up layers until you get the elevation you need. At the outer edge of your circular patio extend the leveled area 4-6" beyond the intended patio size then slope the stone down at an angle to the existing grade. After the patio is finished bring in dirt to bury the rock slope and grade up to your new patio.

If you are considering building up the outer edge of your patio with blocks I would do a bit of reading about how to make a retaining wall. Even though you will be very low what will be holding your lower blocks in place as you compact material behind? Simply stacking pavers may work for a while but they will tend to slide out due to the pressure of material behind them.
05-30-13, 01:43 PM
Join Date: Jan 2009
Posts: 17
@pilot dane This sounds like a very good idea.
I will be using something the local landscaping shop is going to bring called I5 as the paver base. They assured me it was the best for the job. It goes in 2"-3" at a time then gets compacted.
It seems pretty straightforward, with the exception of the circular section.
As a note on the retaining wall idea. The circular section I'm using actually comes as a 10 foot kit, the plan I drew up only calls for an 8 foot circle this was intentional as I thought I may need the extra two course to build up a retaining wall. Overall I don't like the idea of having the retaining wall sort of just sticking out, I'd much rather compact, fill, and add topsoil to get the desired grade as suggested.
I'm hoping to start this weekend so I'll post pictures as I go.
Thanks again.
05-30-13, 02:29 PM
Join Date: Mar 2003
Location: NC, USA
Posts: 18,552
Each region of the country seems to call the base material something different but landscape shops (not big box stores) know what works well in your area. In my area crusher run is what's commonly used. Basically a mixture of stone sizes and stone dust that can be compacted.
I did a concrete paver circle on my patio and it looks great. It nicely offsets the straight lines of the other pavers. For my patio I overdug quite deep because of our poor soil conditions and to install the irrigation. I ended up with a situation similar to yours where I had to build up the base layer to get to the required elevation. In some spots as much as 18" and it was back filled and sodded.
You want to
make sure
your base area extends beyond your patio area. You need the flat base beyond your pavers to hammer in your edging. If your base is too big it's relatively easy to shovel away when you're done but coming up short would be a major annoyance.
Here is the first layer of base going in.
And when mostly finished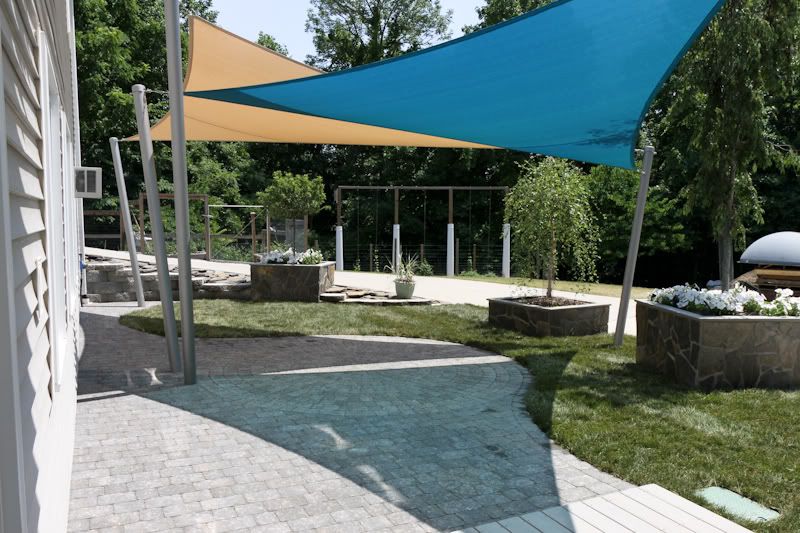 05-30-13, 04:05 PM
Join Date: Jan 2009
Posts: 17
Dane your patio looks real nice. Im going to post some progress pictures. Hopefully all turns out well. Thanks again for the advice.
Posting Rules
You may not post new threads
You may not post replies
You may not post attachments
You may not edit your posts
---
HTML code is Off
---