kitchen lighting
11-18-09, 10:22 PM
Join Date: Jan 2004
Location: United States
Posts: 1,166
Received 0 Votes on 0 Posts
kitchen lighting
---
My kitchen is completely gutted-everything is out, walls and ceiling down to bare wood. I wanted thoughts on lighting. I have attached a diagram of new kitchen plan. the circles represent the recessed lights (HALO 6"). I planned on putting them right about 24" from wall so no shadows and put them around the "U" of kitchen. I also have one over the island, and three in pantry. I have included the switch locations and also list what switches will be in each location. basically all of the "U" is on two 3 way switches on each end of kitchen. the island and undercabinet lights are on SP's on left switchbox. in pantry, there is 3-Way at each end for the 3 pantry lights and the left pantry switchbox also has SP pantry undercabinet switch and one of the kitchen light 3ways. do you think I need lights in the "walkway"? or just more lights in general? basically from that door on right you enter from garage and walk straight through kitchen and if continue to left you enter family room.
Sponsored Links
11-19-09, 07:06 AM
just a hint: switches are typically designated with an S when indicating placement.

A three way would be an S with a subscript 3 and a 4 way, S subscript 4. I do not know how to do sub numbers so I cannot type it how it is actually typically shown.


S -switch
S3 -3 way switch
S4 -4 way switch


and you would typically draw a curved line from the switch to the light controlled with another curved line to the next light on the same switch and so on and if 4 or 4 way, back to the next switch. Some folks use straight lines for that but being curved lines help keep them from being mistaken as a building line.

this way, the installer can see exactly what lights are controlled by what switches and if 3 or 4 way switches are involved, which sets are tied together.
11-19-09, 09:05 AM
Join Date: Jan 2004
Location: United States
Posts: 1,166
Received 0 Votes on 0 Posts
Yes, I know how to draw that. I guess at 2AM I just didn't think about it and thought my explanations were pretty straight forward in this simple plan. here is drawing like you requested.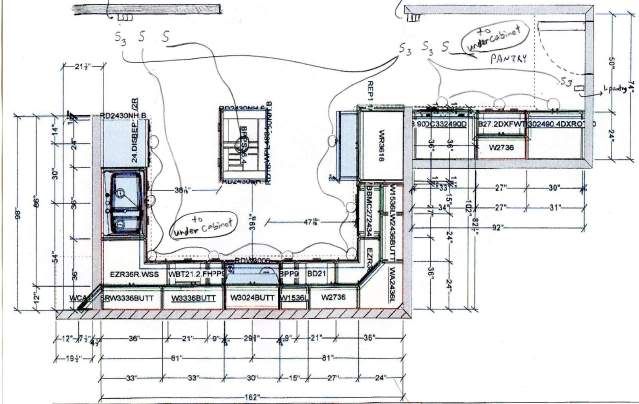 looking in pantry now, I really don't think more lights would really go there. it is only 6' wide and if the recessed lights will be at about 2' from one wall so they are near edge of cabinet, that only leave 4' to other wall. splitting difference would put lights in "walkway" 2' away from the ones over cabinet edge. and since the light over island will NOT be recessed but will be some sort of down hanging light, it will probably light up that "walkway" area enough. thoughts?
11-19-09, 09:13 AM
Join Date: Jan 2004
Location: United States
Posts: 1,166
Received 0 Votes on 0 Posts
something to note, there will NOT be wall cabinets on the left wall at all. they continue on straight along the wall on bottom. there is going to be eating area right near the sink (to left when looking at drawing). I think you can see the countertop which will be elevated from the main countertop. off topic but anyone know height of bar countertop? I am building that right now. standard kitchen counter is 36. is bar height 42? important since stools come in standard size. anyway, that eating area is also going to have its own lights. 2 recessed lights 4" apart centered over eating countertop. think better to put fan type boxes for hanging fixtures here?
11-20-09, 06:22 PM
IMHO, you have way too many lites going into that kitchen!!

6" Halos can be arranged to give off plenty of light.

My suggestion -- One in the pantry. Two more outside the pantry but directly in line with the wall at the top of your drawing -- one of those on each side of the island, centered between the island and the kitchen cabinets on each side (the WR3618 and whatever is on the other side of the kitchen.)

Then 3 or maybe 4 in the kitchen itself. Get them away from the upper cabinets, more towards the center of the room. One on each side of the island, bur cheated towards what appears to be the wall that the sink is on, and then two along the wall with the sink (one in front of BPP9 and the other in front of WBT21...)

Those, with the undercab lites should prove to be plenty, and will virtually eliminate any shadows.
11-20-09, 06:28 PM
Posting Rules
You may not post new threads
You may not post replies
You may not post attachments
You may not edit your posts
---
HTML code is Off
---