Pre-wired shed
03-29-10, 12:56 PM
Pre-wired shed
---
I bought a pre-wired shed and i was told by the salesman that I could just put a male plug on and then run an extension cord from the house to the shed and the lights and plugs would work. When I do that my breaker in the house flips. Is there a way that i can get the lights to work without running the wire to my breaker box in the house.
03-29-10, 01:24 PM
Not enough details to even guess. What are you putting the male plug on? How are you wiring it. Are you wiring wide blade to white, narrow blade to black, green to ground prong?
(White to silver screw, black to brass, green to green.)
03-30-10, 12:00 PM
It came from the manufacture already wired. It has a GFI Switch by the door and I am only trying to get a light to come on. The light comes on for 2 seconds then flips breaker..
03-30-10, 01:56 PM
As stated before with out giving us details about the wiring we can't help. Explain what you mean by GFCI Switch. Do you mean a device that contains a toggle switch (light switch) and a GFCI receptacle in the same yolk? If so it sounds like you are wiring the cord across the switch. That is wrong. The cord goes to the
line
side of the receptacle.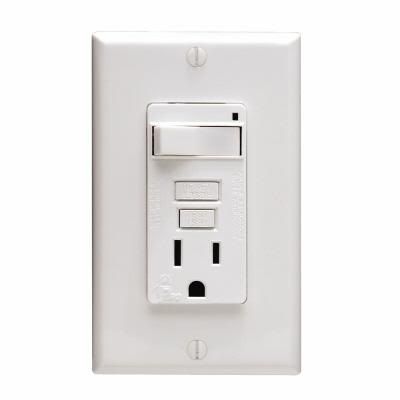 03-30-10, 07:33 PM
The light comes on for 2 seconds then flips breaker..
Have you paid for the shed yet? What kind of warranty or guarantees did they give you? I think I'd be calling the store back and tell them THEY have a problem.