Young Artist with question about LED's for installation
06-08-10, 11:31 AM
Join Date: Jun 2010
Posts: 7
Young Artist with question about LED's for installation
---
Hi, I am a young artist (25) and I am in the conceptual stages of a piece I want to make, but have a few questions that require the aid of some knowledgeable electricians. Hopefully I can present my project and get some answers without too much confusion.
What I am looking to do is find a way to suspend a tube light (fluorescent, LED, whatever I can use or works best) in space using string. The problem, is that I want it to be lit, but not have to be attached to any sort of huge fixture like the ones on my ceiling that typically get long tubes put into.
Is there a way to power a tube lightbulb, (florescent, LED, or otherwise) without it being attached to a fixture, and without some crazy wiring that would need to be done.
For reference, I have a picture of the general idea that I am trying to convey: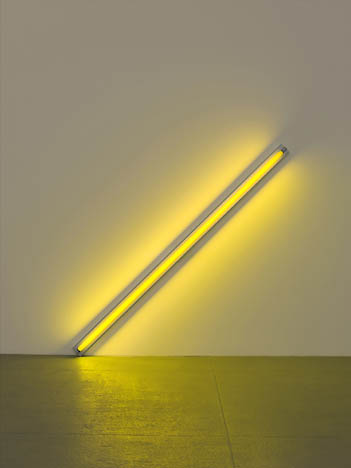 So basically I'm wondering if it is possible, LED, fluorescent, or otherwise, to do something like this and power the bulb with a battery or a wall socket or something of the sort that will not require a big heavy ballast type thing.
Maybe there is something that already exists to help do this? Or maybe there is a special bulb that isn't LED or Fluorescent that can make this happen. Just hoping I can get a few answers.
Thanks in advance for any help!
-Scott
Sponsored Links
06-08-10, 06:38 PM
LED's would be your smallest option but would require some fancy wiring.
Maybe rather then thinking of a light fixture how about something along the lines of light capturing. Think fiber optics.
The light source could be many feet away.
Another idea is using a laser (like a laser pointer) to shine into a bulb and light it up.
06-08-10, 08:00 PM
Join Date: Jun 2010
Posts: 7
Fiber optics are way too small for the look I am going for. I need the bulb to be about the thickness of a standard fluorescent tube.

And about LED's, in the pictures that I posted, all of those images are of LED bulbs, not of fluorescent bulbs, so it can indeed be done on a larger scale. I know you can purchase large LED bulbs like the ones in the pictures - I just don't know how to power them from a battery or from a wall socket (and I don't know how to do that with a fluorescent either.

So I guess the real question is

Can I power a fluorescent or LED tube light from a battery or a wall socket - or is there an alternative to doing something like this that would eliminate a large ballast so that I could suspend the light as if it were "floating"?
06-09-10, 07:46 AM
Join Date: Jun 2010
Posts: 7
So I guess to rephrase the question in a more effective way, I'll start here. I included a drawing of what I am shooting for here in the end with 2 possible solutions (unless something better comes up) One solution on the left is to plug the light into a wall. Second solution on the left is to plug it into some sort of battery. There may be other solutions (ie smaller batteries, or whatever). What I want to do is suspend these 2 fluorescent or LED tubes at different degree's of angles from the ceiling (which is why there cannot be a large ballast mount). I want them to be about the size of a regular fluorescent tube (same in circumference around and about 36" in length). I have also found a link to something that may work, so I'm wondering if this will spark any better ideas.
Plain LED Light Strip 36 Inches Long RED or Blue
I'm wondering if something like that, that can be plugged into a wall (these can only use a cigarette lighter adapter can be slid down into a frosted tube.
Maybe this new info will spark some more ideas - and thanks for all the help I've been given so far. Here is the drawing:
06-09-10, 09:05 AM
LED's would be the way to go then. Any florescent lamp would require and ballast. I think the items in your link will work well for you.
06-09-10, 06:28 PM
Join Date: Jun 2010
Posts: 7
If LED's are the way to go, which I was already thinking would be the case.

Do you have any recommendations about how to do it?

Should I use a strip of LED's and put them into my own tube? Should I buy an actual LED fluorescent type tube?

If so, how do I get power to these things?
06-09-10, 06:44 PM
Since LED's give off very little heat I would think you could put them in a tube of your choosing. From the link you posted the strips are 3-6V DC which is good and bad. Good, because you can pretty much run the wire how ever you want as long its not too long for voltage drop and doesn't penetrate any walls/ceilings. Bad because you will need a transformer with a DC output which is not too of a big deal your will just have a wall wart. Another on the plus side is the 3-6V DC, they would run an a battery.
06-09-10, 06:47 PM
Join Date: Jun 2010
Posts: 7
When you say wall wart, you just mean something that is an eyesore to the project correct?

Also, in terms of a battery, what kind of battery do you think I would need to run about 6 feet of those strips? And how long do you think they would last?
06-09-10, 07:24 PM
Well, that would depend on where it is located, how well you could camouflage it, and what you find objectionable. A wall wart is block transformer like that comes with your cordless phone, cell phone, or computer equipment that you plug into the wall. Sizes depend on the type of load they are running.
06-10-10, 11:55 AM
Join Date: Jun 2010
Posts: 7
I wanted to post over some information I was given on another forum and see what the response is.

COMMENT:

How thin do you want the strings to be? How long do the lights have to be on for?

You could either hide a big battery in the ceiling and, using LEDs, use the strings as wires. this would be low voltage and safe(not sure if it would pass like a government inspection or anything) to touch. You would probably want insulated wires but make them as narrow as possible.

You could put individual LEDs inside the tube, each one having its own button-cell battery. This would only run for a couple hours, and you'd need lots of batteries...

MY RESPONSE:
The strings would vary in length - I'm guessing 5-6 feet. Ideally the lights would need to be able to be on for a few hours a day for an extended period of time (if this piece were ever accepted into a show). I could make sacrifices to get it up and running for now, but then I would just have to re-figure everything out in the future.

So, are you saying that if I used like LED strip lighting and put it into my own tube, I could use wire that could also function as the support that leads up to a battery hidden somewhere in the ceiling?

And by "big battery" what are we talking here? Car battery? or is it something that would be custom built?


COMMENT:
Really the "big battery" can be anything that supplies you a DC voltage for the LEDs (those LED strips you linked were 12V) with enough current. You could use a car battery, a custom battery, lots of standard size batteries, OR something that plugs into the wall and converts the AC into DC, which would probably be the best choice, since you wouldnt have to worry about batteries at all and this type of converter is cheap.

The question is, how THIN are the strings supposed to be? I would imagine that the ideal solution for your project would be like fishing line or some other transparent, thin string. But if you can tolerate more width I think you could use wires both as structural support and power. We're not talking nearly as thick as, say, a lamp cord, but something like insulated 24 to 30 AWG. The diameter of 30AWG is 0.01 inches or 0.28 mm, and it can carry up to a rated 142mA. AWG rating table. series LEDs would need at most 20mA, so you can put 2 or 3 strings in parallel.

Keep in mind the 0.01 inches will not include the thickness of insulation, which will probably double or triple the thickness.
They make it in black. Actually, that particular insulation is probably thinner than what I just said. Try to find some at a hardware or electronics store perhaps and see if it'll fit the bill.

How many 36" bulbs are you trying to put up in this display? because that will affect the power supply that you will need.


MY RESPONSE:
Do I need to make sure that whatever plug I have that converts AC to DC is certain volt? Also - how do I make sure that it is able to be connected to the wires? (The only kind I've ever seen goes from the wall and has a plug for whatever device is using it (modems, dvd players, etc).

Ideally the strings would be almost nonexistent, but I know that is only a possibility if the tubes are somehow battery powered.

also, when you say 2 or 3 strings in parallel, are you talking about strings of the wire? Maybe I'm confused, but if the 30AWG can cary 142mA, and series LED's need at most 20mA, why would I need to parallel things? wouldn't the one wire be enough to power the whole series?

Thank you a bunch for your help so far, I finally feel like I'm getting somewhere with this stuff.


COMMENT:
I just looked again at those strips you linked. They try to sell a 12V car charger on the same page so I assumed they were 12V, but they are not. Looking at the technical specs page, they are 3V - 6V and 300-600mA. This is too much. You can probably easily find a 12V or 24V LED strip that will take far less current, which is what you'll need to make the wires as thin as possible. try shopping around. You might look into LED rope lighting. It is probably very easy to modify to suit your project, and it's long and cheap. If you can't find a 36" LED bar or strip that meets your needs, you can consider using 2 or 3 bars inside of each tube (3 12" bars), but again this might require triple the wire. Let us know what you find.

The 12V or 24V strip will also be convenient since most of the AC-DC converters are made for those voltages as well.
06-12-10, 06:59 PM
Join Date: Nov 2008
Location: Midwest
Posts: 27
I was at Menard's yesterday and they have 77-led trouble lights on sale for $25 plus $10 MIR, so end price is $15. These lights operate as a 60-led trouble light ot 17-led flashlight, are rechargebale via 120V or 12V adapters, and can operate cordlessly. The package said up to 5 hours of light, but this may be with just the 17-led flashlight, I don't know.

The other thing is that the LEDs do not go around the entire circumference of the light, as in they don't give off 360 degrees of light like a fluorescent does. I don't know if that matters to you or not, or perhaps you could mount two of the lights back to back to back to approximate a 360-degree illumination.

You can find this light listed on the first page of the current weekly ad.

2-In-1 LED Worklight
* Includes 12V and 120V charger and magnetic swivel hook * 60 LED flood light * 17 LED flashlight 370-5100
06-12-10, 07:16 PM
Join Date: Jun 2010
Posts: 7
Awesome find, but I really need whatever I am using to be about 36" in length (about the length of a regular fluorescent bulb).

I think I should narrow down my questions as some things seem to have gotten a bit lost in all the answers and posts (which I greatly appreciate all the info I've been given - so much further now than when I tried to get these questions answered a few months ago).

What I want:
36" light that can be suspended from the ceiling - invisible wires a plus, but not necessary
Can be Fluorescent, LED, or otherwise
Would like to be battery or DC or outlet powered

Questions:
Can I wire a fluorescent bulb to run from an outlet?
Can I wire a fluorescent LED bulb to run from an outlet?
Is there an option that I have not explored yet?
Is it possible to use LED strips and run them to an outlet/battery?
With what option can a create a nice even glow (like that of a lightsaber?

Thanks again for all the help everyone, you are all helping to eventually make this art installation possible for me!
Posting Rules
You may not post new threads
You may not post replies
You may not post attachments
You may not edit your posts
---
HTML code is Off
---