Basement Light wiring
01-29-11, 03:58 PM
Join Date: Apr 2008
Location: Montana
Posts: 50
Received 0 Votes on 0 Posts
Basement Light wiring
---
I'd like to replace that old porcelain fixture with the new lamp pictured here. It's a little busy in the outlet box though.
There are 3 different cables coming in:
1. The cable from the light switch at the top of the stairs comes into the box and the wire cover was pealed back so that the grounding wire could be attached to a screw on the bulb fixture. Then the cable was bent so that it could go back out of the of the box and runs over to the basement door where it attaches to another light switch.
2. A romex (is it romex if it's too old to have a grounding wire?!) cable runs from another light in the basement into the outlet box and the 2 connectors are attached to the 2 screws on the light fixture.
3. The one connector from an old knob and tube wire is connected to the same screw as the white connector from the romex cable.
Whew! I've had a couple licensed electricians inspect the house wiring and told me that the old knob and tube is fine. They've also seen the outlet box situation pictured here while it was screwed shut, and they made no mention of a problem with it.
So can I just transfer all the wires from the screws on the porcelain fixture to the the appropriate wires on the new lamp?
Do I need to have a lid to close the wire box, or can that bundle of wires just be next to the yellow insulation on the new lamp?
Thank you!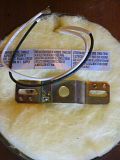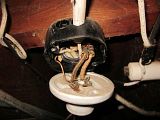 Sponsored Links
01-29-11, 05:00 PM
Join Date: Jul 2002
Location: Maryland
Posts: 14,913
Along with the bare ground that looks like it goes to one of the fixture screws where it should not go, you have other issues. It looks like that circuit is possible ungrounded.

The warning label also requires 90 degree rated conductor insulation which you do not have. That fixture should not be used with what you have.
01-29-11, 05:08 PM
Join Date: Dec 2005
Location: USA
Posts: 39,967
I agree with Jim, that grounding wire has no place attached to a fixture screw. It looks as if someone ran some 12-2 wg romex in a box with ungrounded cabling and didn't know what to do with the bare wire. Aside from the 90 degree wiring needed for that fixture, the box appears too small for the number of cables entering it. Is it a 3" or 4" box....I can't tell from the pix. And if that is a piece of conduit shoved into a knock out hole, it's gotta be properly terminated or removed.
01-29-11, 05:29 PM
Lower right picture #2 is that K&T taped to cloth NM?

You may have stumbled into Pandora's basement. You may need to run some new wiring or at least clean up what is there. Can you give us some pictures of the general area wiring?
01-29-11, 09:57 PM
Join Date: Apr 2008
Location: Montana
Posts: 50
Received 0 Votes on 0 Posts
Ray, I'd be happy to run new wire and clean up that box. That is K&T going into K&T in the picture. It is coming out from the conduit on the front part of the box. The other cord below that in the very bottom right corner is old romex without a ground, going off to another light.
01-30-11, 03:50 AM
Join Date: Dec 2005
Location: USA
Posts: 39,967
As Ray suggested, step back and give us a picture of all the wiring entering this box, as best as you can. I missed the K&T.....good eye Ray. I was more concerned with the conduit. But I agree, there are a few things you can do to get this back in order, safely.
01-30-11, 10:48 AM
Join Date: Apr 2008
Location: Montana
Posts: 50
Received 0 Votes on 0 Posts
01-30-11, 06:33 PM
You have as near as I can guess a bare wire used as a neutral, maybe. You seem to have a Chicago 3-way. Neither of these are permitted by code and both are unsafe. I'm sure the pros can find more. My recommendation is to abandon the existing wiring and rewire. Just no best practice and maybe no code compliant way to fix this.
---
Last edited by ray2047; 01-30-11 at

07:59 PM

.
Posting Rules
You may not post new threads
You may not post replies
You may not post attachments
You may not edit your posts
---
HTML code is Off
---