Ceiling Fan Hum
05-30-11, 02:51 PM
Join Date: Oct 2003
Location: USA
Posts: 40
Received 0 Votes on 0 Posts
Ceiling Fan Hum
---
I just installed a new ceiling fan because the old one hummed. Now, the new one hums. It only hums in the "medium" position: only on high or on low. There is a separate rotary switch on the wall for this to keep it separate from the light switch. I wonder if the rotary switch is the source/cause of the hum?

Jerry
Sponsored Links
05-30-11, 04:15 PM
Join Date: Oct 2003
Location: USA
Posts: 40
Received 0 Votes on 0 Posts
It is a fan speed control. I now found out that it "buzzes".
05-30-11, 09:52 PM
Banned. Rule And/Or Policy Violation
Join Date: Oct 2010
Location: Canada
Posts: 448
Received 0 Votes on 0 Posts
Jerry:
To find the source of a noise, use a tool called a "mechanic's stethoscope" which you can buy at any place that sells automotive tools. Cheap ones cost $10, and that's really all you need, but high quality ones can cost you several hundred dollars. I just use a cheap one made by a company called Lisle: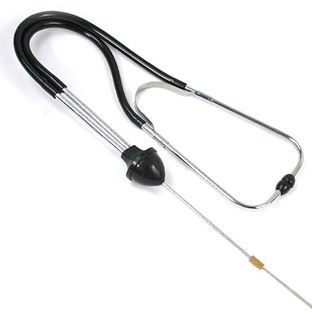 You simply touch the end of the metal probe to anything you suspect of causing the noise. Since sound is really nothing more than air pressure waves caused by vibrations (or any movement, really) the sound you hear will be loudest when the probe is touching the source of the noise. That's because the tip of the probe will move in unison with the source of the noise, and the other end of the probe is fastened to a metal diaphragm inside the plastic housing (located before the earphones).
A LOUD hum when the ceiling fan is on is most likely caused by the bathroom ceiling vibrating. I find that the usual cause is that dirt accumulating on the impeller blades puts the impeller out of balance, and the result is that the fan vibrates, and that causes the ceiling to vibrate. However, if this is a brand new fan, then dirt on the impeller blades isn't going to be the cause. Your impeller and/or the fan motor are out of balance, and it's that imbalance that's causing the vibrations.
If there's an attic space above that fan, try simply sitting on a piece of plywood over the bathroom fan (so that the ceiling joists are supporting your weight, not the fan) while a helper below listens to see if the hum gets quieter. If it works, then use something fairly heavy (like a concrete paver) on the ceiling joists above the fan. That will effectively increase the mass of the ceiling. The greater the mass of the ceiling, the less it moves in response to the relatively lightweight fan's vibrations. Also, the larger the mass, the more inertia it has and the less quickly it can change it's direction of motion. The result is that the ceiling will vibrate with a smaller amplitude (pronounced "quieter") and at a lower frequency (which your ears won't hear as well).
---
Last edited by Nestor; 05-30-11 at

10:18 PM

.
Posting Rules
You may not post new threads
You may not post replies
You may not post attachments
You may not edit your posts
---
HTML code is Off
---