Install New Outdoor Light- New Junction Box
01-07-12, 08:42 PM
Install New Outdoor Light- New Junction Box
---
Hello,

I am putting a new outdoor light on the large shed I have. This is made of wood and I can easily access both sides of the wall. The light I bought needs to be mounted to a junction box, according to the manual, however, where I want to install it there is no junction box.

I'd rather have the light mounted flush, rather than mount the junction box to the wall, then the light to the box. Is it possible to put the box inside and run the mounting screws through the wall, or cut out the wall big enough that the box is flush with the wall and then mount the light to it then?

Thanks in advance for any advice.
Sponsored Links
01-07-12, 08:47 PM
One way is a nail on octagon new work box. Cut your opening next to a stud, insert box, nail to the stud.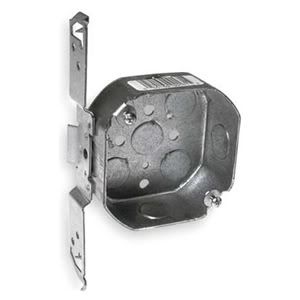 Or between studs use:
Or use a plastic octagon new work box nailed to the stud.
---
Last edited by ray2047; 01-07-12 at

09:03 PM

.
01-09-12, 05:54 PM
Thanks for your reply. I went to the store and saw some of each of these. I just need to take a closer look at where the studs fall and then I'll know exactly which one to get.
I still have one question though about two ways I am thinking of for doing this.
Cut out the hole as big as the junction box so it can be completely exposed, but flush with the outside wall
Leave the junction box inside, with a small hole in the middle for the wiring and long enough screws to go through the wall to attach the light fixture to the junction box
My gut says that leaving it inside is best because it keeps the junction box and as much wiring as possible inside with less chance of getting wet or anything, but I am new at this so not sure.
Thanks again for your help.
Posting Rules
You may not post new threads
You may not post replies
You may not post attachments
You may not edit your posts
---
HTML code is Off
---