Will my outlet box support ceiling fan?
09-07-12, 01:15 AM
Will my outlet box support ceiling fan?
---
Hi, I just moved into a home that was built in 2006. The outlet box in my room has never been used, and it seems to be a pancake box. There are four wires coming from it. Black, White, Red, and a Bare wire. Will this box support a ceiling fan?
Sponsored Links
09-07-12, 02:49 AM
Join Date: Dec 2005
Location: USA
Posts: 39,967
Welcome to the forums! The box itself and the way it is fastened to the ceiling will support the weight of a ceiling fan. I can't see the holes where the fan actually attaches in your photos. It largely depends on that, coupled with it's attachment to a framing member. If your box only has bent over ears with threaded holes, most likely they are too small for a ceiling fan and don't allow the fan to attach to anything more than the ears themselves. Although this pix is not a pancake box, you can see the attachment method for the fan. Look for a replacement box that resembles this or that says it is fan rated and replace the one you have with it.
Attachment 3222
09-07-12, 10:18 AM
I cleaned the outlet(Should have done this first) and it says...
Yeah, hate it when painters do that.
In your second picture, it appears that it is designed for the fixture mounting screws to pass through the ears and thread into holes in the back of the box.
Quick questions:
Is that accurate?
If so, are the holes in the back of the box drilled and tapped for 10-24 thread?
Does the legend on the box say it supports fans up to 70 lbs, or fixtures up to 70 lbs, or just that it will support up to 70 lbs?
09-07-12, 12:40 PM
@Nashkat1
To answer your first question, yes. To your second question, I don't know. And to answer your last question it says it supports fixtures up to 150 lbs and Ceiling Fans up to 70 lbs. It looks almost identical to this box.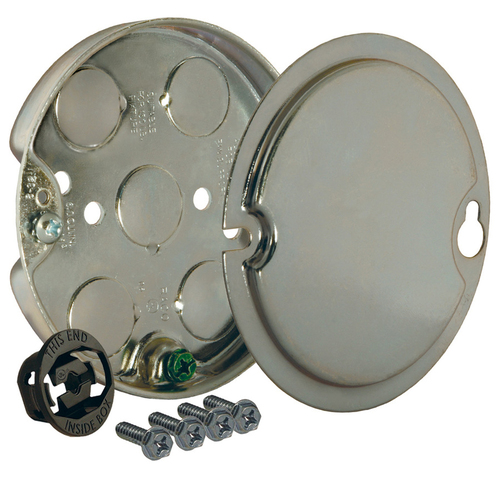 09-07-12, 01:18 PM
Should be good. Do you have the screws that came with your box? If not, you'll need to pick up a couple of 10-24 combination pan head machine screws, 1-1/2" to 2" long. Everything else should come packed with your fan.
09-07-12, 01:31 PM
Join Date: Dec 2005
Location: USA
Posts: 39,967
Rock 'n Roll. Thanks for the pictures showing the new information. Sometimes we ask questions and people get frustrated. In your case, however, it cleared it all up and you seem to be good to go with it.
Posting Rules
You may not post new threads
You may not post replies
You may not post attachments
You may not edit your posts
---
HTML code is Off
---